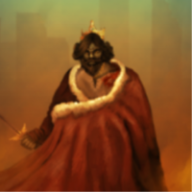 The Burger King
Original poster
Playing Style- Passive or Aggressive

I am in the middle between passive and aggressive. But I prefer to plan things out with my fellow RPers so I don't mess them up. Although I do keep plot twists under wraps. I believe planning things out helps make for better posts so I do it often.
Favorite Genres

Fantasy, sci-fi, post apocalyptic, parody.
Genre You DON'T Like

No SMUT EVER. Not big on modern RPs, not a fan of Mass RPs due to past experiences. I may make exceptions though if an RP is particularly interesting. I will NEVER get involved with anything like yaoi or furry FYI, those I do not make exceptions with. Also not too keen on perverse RPs.
Yeah, I've been pretty inactive lately anyhow but now I feel the need to make a topic about it anyhow as to why.

So starting Friday or Saturday, I have to get out of this current house and move somewhere in Nevada with my brother. It'll be chaotic and I most likely will not have internet access or much time until things stabilize and whatnot.

So, I'm going to be gone for a WHILE here. But I do intend to be back at some point. But only once I have internet access and once I have the time.

So yeah, take care everyone! Hopefully it'll all go well and hopefully I'll be back soon but, these are uncertain times so I have no idea when I'll be back.