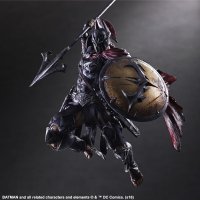 129% of people exaggerate.
Original poster
What if the gods were real? What if, instead of fading into history like we all thought, they took on a new form and blended in with humanity. As humanity evolved and the myths were replaced by science, the gods knew that if they didn't evolve along with humanity, they would fade away. Gods depend on followers. They depend on worship. They depend on the necessity of their duties. Without these, they grow weak and eventually, they become one with their myths...they become history.
To come down to humanity, the deities created avatars of themselves. Shaped and molded to their likeness, the essence of each deity was sealed inside their avatar. These avatars look no different than any other human so as to not draw attention to themselves. They have no distinguishing mark that sets them aside unless the deity designed it.
For centuries, these deities operated from the shadows while living normal lives. They spun webs and established worship in whatever way they could. Today, they are stronger than they've ever been. With social media, the internet, and fame that easily spreads throughout the world, it would not take much for them to once again return to their pedestals and force man into frightful submission. But centuries of shadows have changed these deities. Many like their new lives and do not want things to return to what they were. They simply want to exist and enjoy the things that the world and an ever evolving humanity has to offer.
But what about those who do not want that...those who long for the old ways...who have waited for millennia to finally restore things to what they were? What happens when these two ways of life collide? Can a peaceful resolution be found, or will the world be thrown violently into a cataclysm never before seen?
Besides that, a new threat has arisen. Deities are being attacked and their powers stripped away. Without their immortality, they're being slain with ease. But how does one kill an immortal? How does one steal the essence of a god? And who would be so brazen to do such a thing?
--------------------
You will play a Greek or Norse deity who has chosen to live among mankind in an Avatar. For whatever reason, you've decided to leave the realm of the gods to walk among mortal mankind. You look just like them. You have a job, hobbies, and friends. You've chosen to sever your tie to the realm of the gods and have bound yourself within the flesh of your Avatar. Your magic sustains your Avatar under a seal that looks just like a tattoo.
Let me know if you're interested!
If you have any questions, shoot them my way or at

Elle Joyner
!

CloudyBlueDay

KatSea

Mobley Eats
WingWong