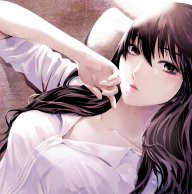 Bookworm Librarian with a pen
Original poster
Ava Radella stood on a hill, looking down at the village before her. She pounced on the balls of her feet as she waited. Should she run down and see her friend or should she simply wait until he showed himself outside the forge. It was almost noon after all, he should be coming out for lunch at any time. But at the same time, she wasn't sure if she aught to be this happy about it.

The witch giggled as she spun on the hill. Doubt hit her though. What if her friend hadn't gotten the message to meet her up here? She looked down at the picnic that she had packed. It was sitting just a few feet from her. She recalled the message perfectly:

Please meet me on the hill overlooking the village at noon, I have something I really want to show you! It will be really worth it
~Ava

She had slipped the message into his pack that held his lunch. At least she had hoped that she had. His and his mentors both looked more or less the same.

Her black and brown hair bounced around her. She had left it down so that she could let the wind that she had summoned up to play with it like she liked it to. Her hazel eyes sparkled in the sun. Her dress whirled around her, it's green material playing well with her light skin.

Focusing a little more to get rid of some of her energy, she found herself rising off the ground. She laughed and spun as the wind worked on keeping her afloat.