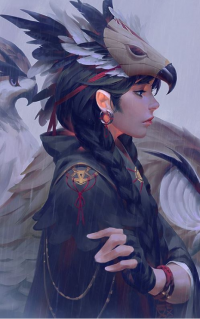 Stormraven
Original poster
Invitation Status
Posting Speed

One post per day, 1-3 posts per week
Online Availability

Really sporadic. My schedule is somewhat of a mess at times.
Writing Levels

Intermediate
Preferred Character Gender

No Preferences
Genres

I like a lot of genres such as magical, modern, fantasy. Anything with an interesting plot.
Hello! Nice having you in this thread! I hope you will enjoy reading what I got prepared for you. So without further due, allow me to elaborate!
​
Game of Thrones. It is (or has been, which is subjective whether you like it or not) a series that intrigued a lot of people. Some people like the books more while others only watch(ed) the HBO series. I will state that I never read the books but I did enjoy the first few seasons of the series. I won't spoiler you but I got a bit disappointed by the latest episodes, in which some situations were pretty 'weird', to keep it polite.
In any case, I am curious to see how many people would be interested to join and participate in a GoT-RP. I want it to be an involving experience in which characters will have to battle it out with their wits, martial prowess, intrigue or going on luck to survive the ongoing story.
---
Of course, before I am going to explain what I have in mind and want to use as setting, I want to clear out some things. I am aware that these are either very usual but still. It is better to clear out how we go along than not going along at all, right? Right!
This is what I would prefer:
* Communication:
It is key for a RP for its members to communicate. I would love people that do their best to communicate with each other. That doesn't mean I expect that you're around every day or that I demand you write every day. We all have our own lives and must respect that. However, this is a group effort, so it is only polite to inform others if you are occupied.
This also impacts writing with each other. If you aren't too sure about something, ask around. If you have an idea? Then don't just sit there! Feel free to ask!

* Collaboration:
This doesn't mean that I want every post to be a collaboration. But please do try to work together. It sounds like a silly request but we all want a pleasant and fun experience. Only we get that is if we give each other some space and time now then, both IC and OOC.

* Powerplaying and stats:
I am not a big of stats or limiting creativity by rigid stats, making it feel more restricted. However, I prefer people that don't powerplay their characters to survive everything without a scratch. Though intrigue and rivalry are going to be a thing, don't powerplay somebody else's character into a corner relentlessly. Try to communicate and prevent people to grow too upset.
Now, this is what I can offer in return as GM and as fellow writer:
* Listening:
Pretty obvious. I am going to do my best to sit down and take your ideas seriously. Of course, not everything can get a green pass but it is important that you can make an impact on the RP. Cause else it would just be dull.

* Fair treatment:
I don't do favouritism, or in any case, try super hard not to do it. You can PM and approach me about things regarding the RP. Do you feel like a decision wasn't fair? Instead of sitting it out or grumble about it, I would love to talk a bit about it and see how we can make sure it doesn't get in our way later.

* A friendly atmosphere:
This is what I find super important to create for you and others. A RP that has an interesting setting but not the right OOC atmosphere to allow people to feel at ease, won't likely succeed. I am fond of using discord as an OOC outlet and discuss stuff. But I don't mind Iwaku either to respond to PM's and such!
Now that is handled, let us venture to what I have in mind for the setting!
---
The world of Game of Thrones offers an extensive amount of settings. I have in mind to go a bit more alternative universe. This is because if we do follow the lore exactly, then we will be bound to have existent characters. And I rather much have the roleplay gain a bit more creative freedom as an impact from the partaking writers. For that reason, I want to suggest to go with the setting of 'The Six Kingdoms' - approximately a few decades after the Doom.
The reason why is rather simple: It is before the invasion of the Targayens and forming of Westeros as one kingdom. It allows us to mould and create a different story as history. The known world of GoT isn't dominated by the Seven Kingdoms in Westeros but is instead dominated by many petty kingdoms - governed by houses that would be subjugated later into forming the prominent realms such as Vale, Stormlands etc.
It also makes it impossible for a bazzilion dragons and what not kind of magic to dominate the setting. Don't get me wrong though: I like mythical beasts but if we are going full on dragons, we best shift it into another roleplay altogether.
However, I do want to focus on one area rather than the whole of Westeros. I am not certain, after all, how much attention this will garnish. And I am rather comfortable with the idea to start small and then expand further - depending on if it is feasible and obtainable. So let me draft the scenario up in a few points for you!
* The Six Kingdoms
The setting is set during the times of the Six Kingdoms (the Riverlands are subjected by the Iron Islands and the Crownlands are dominated by the Stormlands).
A map detailing the Six Kingdoms of Westeros:
- Note, I will turn to more detailed and appeasing maps when setting up the OOC. This is just to clarify the political situation in a global fashion.
I will keep in the Targaryens but I will add that I prefer to focus on one of the six kingdoms instead of having us sit on Dragonstone altogether. Because I have a few ideas, I want to see which one gain the most interest.
* This is Our Land
The Riverlands is currently owned by the Ironborn. They have conquered and subjugated the land and its houses. Though the Riverlands have been taken a few decades ago, the Ironborn still impose a harsh rule to exert their influence and extort many of the local houses for wealth and resources.
The setting focuses on a rebelling house that plots to drive these damn Ironborn scum out of the land. But this involves careful planning in both military and political intrigue. For while many local houses would love to see the Ironborn gone, the feuds between the houses of the River haven't been forgotten. And neighbouring kingdoms watch curiously, ready to strike and gain a portion of land if chaos would arise.
---
* A Storm is brewing
The Stormland isn't blessed with the same fertility as the Reach. It is a sovereign realm but has some troubling neighbours. Ironborn reavers from the north, those scheming Reachmen from the west and then those cunning snakes from Dorn in the south.
The setting focusses on a house that is struggling to keep their situation stable while the Stormland is facing a major problem. If that wasn't enough, rival houses attempt to gain more influence at the cost of the (players) house. For the survival of the house, dire measures might be needed.
---
* Winter is coming
The North is one of the largest kingdoms. It is rich in resources such as timber and iron. But it is vast with woods and areas that aren't as densely populated as far south. The climate isn't forgiven and then there is the nearby Night's Watch - not the most appeasing of neighbours.
The setting focusses on a house that is facing various problem. The usual rivalry between houses force them to indulge into political matters and try to stabilize their situation. Then the constant request of the Night's Watch to fuel their need for manpower and resources. Not to mention troubling rumours past the Wall, that a force is gathering to threaten the North.
If that wasn't enough, down south the Ironborn may be preparing to declare war on the North and expand their realm even further.
---
* A Troublesome Spring
The Reach and Westerland are prosperous kingdoms. They both have advantages that allow them to become rich and powerful. With various advantages at their disposal, they have become a force to be reckoned with.
The setting focuses on either a house in the Reach or Westerland. This house was forced to submit to various measures as the previous head had committed various crimes against the ruling monarch. However, bad blood isn't yet cooled down. There are rumours that the ruling monarch might decide to rid themselves of the focused house, even if it will be done in an act of violence, chaos and blood.
* Mythical Creatures
I am a large fan of some mythical beasts. However, I prefer that characters are humans. At the start, I don't even want to play any focus on direwolves or dragons. It is more important to establish characters and their house(s) than to request to introduce this or that creature.
I wanted the Doom to be a thing, cause it might allow for future expeditions to perhaps obtain something interesting as a dragon egg or anything along that route.
* Political situation and some matters:
I honestly am not going to turn this roleplay into a realistic medieval simulator. If you want a female character that is training to become good at swinging a weapon, go for it. However, it would be only interesting to see some 'negative' reactions - for it is going to be quite against tradition for women, certainly nobility, to invest in martial prowess. There is the reasoning of biological factors, but we can try to look a bit into the other way - as long as it isn't 'too much' over the edge.
Other than that, I want to pursue a 'traditional Westerosi' culture and politics. A ruler delegates power and influence to his subject houses to govern over regions. In those regions, these houses do pretty much the same as their overlord: delegate ruling to minor houses that provide income and manpower, by swearing fealty and etc.
---
That was it! I hope you enjoyed reading through this and have become interested. I hope to hear from you soon!
​