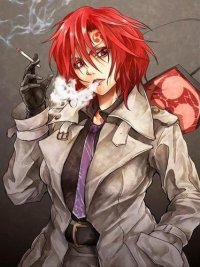 Excuse me? Do I have to kick your ass?
Original poster
FOLKLORE MEMBER
Invitation Status
Posting Speed

1-3 posts per day
Writing Levels

Advanced
Prestige
Adaptable
Preferred Character Gender

Male
Female
Genres

Horror, Yaoi/Yuri(for reasons), Sci-Fi, Modern, Magical, Fighting,
In the far cold depths of space, or well not that far depending on which planet you're looking at it from, there was a moon that held two beings known only as The Mooninites. They were strange pixelated like beings who went by the names of Ignignokt and Err. They often carried deadly intentions for the Earth as we're about to see now as they contact a human by the name of Carl Brutananadilewski. Let's watch and see how this proceeds.
"It's not often that I contact Earthlings. But when I do, I make sure it's idiots like you."
The more subdued and relaxed voice of Ignignokt spat at Carl, as Err quickly chimed in.
"Yeah, too stupid for us!"
"Yeah, uh uh. Listen, how long are you two jackasses gonna keep this up? I got some football backlogged on my DVR and you're kinda holding me up here."
"Oh? Did you hear that, Err? I think the monkey spoke. Do you want a banana?"
"Oook ook, hahahaha!"
"Oh yeah, real funny. You know you better stay away from my goddamn planet. I'm changing my friggin number. This is the sixtieth time you assmunches have called me!"
"That's cute. He thinks he can change his number. When will the Earthlings learn they can't escape from the Mooninites, Err?"
"Never! Too damn stupid!"
"Exactly."
"Well,you think you're so clever huh? Well take this and shove it up your ass!" Carl snapped before he hung up the phone and the image faded off Ignignokt and Err's screen.
"Oh, so he thinks he can hang up on us, does he? We'll have to fix that won't we, Err?"
"Damn straight!"
Ignignokt nodded once they were both agreed upon and the two made their way over to the living room era of their ship and it didn't take long before the two of them had rolled up some blunts and were busy toking their pixelated hearts out.
"Err?"
"Sup?"
"See that TV?"
"Yeah?"
"Press the power button. It's a timeline disruptor. It should teach that human a lesson by plucking him and another randomly chosen entity from another universe and putting them into a third universe."
"Shit, is that random too?"
"Of course it is. It's delightfully dickish that way. Now, press it."
"Shiiiit, that sounds awesome!"
Err said before he bounded over and pressing the button, the TV flashed a multitude of colors before return to it's normal black screen. Making his way back over to the couch, Err grabbed his joint and looked at Ignignokt.
"You think this is gonna come back and bite us in the ass?"
"Hahahahah, even as blazed as I am, the idea that Earthlings could get back at us is laughable at best."
As his concerns were alleviated by Ignignokt's assurances, the two Mooninites continued to smoke their pot, unaware of just what they had done with their timeline disruptor.

Sunagakure:Village Hidden in the Sand.

"Gaara, you just best watch your mouth! I'm your older brother so what I say goes-" Whatever scolding Kankuro may have had for his younger brother would have to wait as sand lashed out at him and smacked him across the room and into the wall with a resounding thud. As the oldest sibling, Temari watched on in terror, the youngest son of the Fourth Kazekage approached Kankuro.

"We may be blood related but that is all. If you ever put your hands on me again, I will kill you." Gaara said and from the look in his eyes, both Kankuro and Temari knew it wasn't a joke or even a threat. Gaara meant every word of it down to the last syllable. What had started out as a simple disagreement over Gaara refusing to heed the orders that his older siblings made out to him had turned out to be yet another episode of trying not to push Gaara too far.



"N-No problem, Gaara! I won't touch you ever again. I swear it. S-Sorry."



Acknowledging Kankuro's apology with only the briefest of glances, Gaara made his way out of the room slamming the door behind him.

"His outbursts aren't becoming less frequent. If anything they're becoming more so. We can't keep going on like this. We're walking on eggshells every second we're around him." Temari muttered as she helped Kankuro to his feet. "I know, I know. But what the hell are we supposed to do, Temari? He's got it inside of him. The second we push him too far, we're gone. The best we can do is try not to annoy him too much before the final details for the plan are laid out."

He snarked as he wiped off any sand that might have still been on his person. It wasn't nice saying it out loud that you were terrified of your younger brother but with Shukaku being locked away in Gaara and just the rough past he had in general, it didn't add up to a very stable mentality. "Let's just worry about surviving that long, Kankuro."

Unaware of the talk his siblings were having about him, Gaara had made his way to the roof of the building that he and his siblings called home. Glancing down at the bustling streets below, his eyes narrowed.

"It's been far too long since I've felt alive. Since I've

killed."

When these chuunin exams rolled around, that'd all change. No matter who got in his way, be it his siblings, or enemy genin. He'd kill anyone who stood in his path. But the sand ninja wouldn't get too much time to reflect on it as his vision was suddenly replaced with distorted imagery similar to what had appeared on Err and Ignignokt's TV/timeline disruptor.
"GAAAAAAAH! WHAT'S HAPPENING!? MAKE IT STOP! MAKE IT STOP!!!"
He
screamed which caught the attention of Kankuro and Temari. Was the beast inside him acting up again? Did they have to warn their sensei? Exchanging brief glances between the two of them, they raced to the roof. If they had gone and got their sensei, it might have given the beast too much time to influence Gaara even further than it already has. Kicking down the door that lead to the roof, both Sand Siblings quickly rushed in.
"Gaara!" But much to their surprise and growing fear, Gaara was gone. "This isn't good. Not at all. If he's out there alone with
it
in control, who knows what it'll do. We have to go warn sensei!" Temari exclaimed. Where
had
Gaara gone off too?
*insert blake's response here as I'mma let you get a chance to crank out your own reply once you get the chance.*
As both faunus and sand ninja were plucked from their respective universes, they'd both wake up in different sections of a third universe that had been randomly chosen out of a infinite amount of choices. Blake might have felt more comfortable with who she had ended up with as she awoke and found herself in what appeared to be an average looking kitchen area. The only difference was that there were little kitten like creatures all pressed up in Blake's grill.
"Is she alive?" "Is she human?" "She looks like a Kaka with the ears but how come she's dressed like that? I don't know!" The creatures all came up with their own suggestions but before Blake could voice her own 2cents, the sound of a door opening could have been heard and a much taller version of these cat creatures strolled in, holding what appeared to be a bowl of milk. Upon seeing this new entity, the smaller creatures quickly began jumping around in joy. "Tao's back! Tao's back!"
"Mrrow! I sure am! Enough milk for one, two, three, four and me!"
The one known as Tao stated adamantly as she set the bowl of milk down on a table. But before she could dig in, one one of the smaller creatures tugged at her hoodie. "What about our new friend, Tao? Doesn't she get some milk?"
"Oh! Tao didn't see you there, mreow! Pleasure to meet you!"
As for where Gaara ended up, well pray for the poor soul who had the misfortune of stumbling across him. Rubbing his eyes, Gaara found himself on what appeared to be the roof of a building. But it wasn't like any building Gaara had ever seen before. In fact this didn't seem like Sungakure at all! Had he been kidnapped? Were the ones who had taken him here responsible for those headache inducing sights he had seen before blacking out? Before he could hypothesize any further, he was greeted by a rather obnoxious welcome.
"AH! I'm glad to see you are awake! It was not easy carrying you with that heavy gourd strapped to your back, young one! But have no fear! You are safe as long as you stand in the presence of the hero of Ikaruga, the protector of justice, BANG SHISHIGAMI!"
Gaara wasn't too impressed to say the least and let out a menacing growl.
"Where am I?!"
Sand began to seep out of the gourd and snaked it's way towards Bang.
"That's an excellent question my friend! Why I was scouting the city and found your prone form unconscious in the middle of a dirty alleyway. It'd be a great grievance against my spotless record if I were to leave you there unattended to! So here you stand now beside me!"
Bang was so busy explaining that he hadn't noticed the sand looming over him.
O.O
"So that's what's within your gourd. Fascinating. How is it that you make the sand move like that?"
Bang asked, genuinely unaware of the threat to his life that Gaara was posing. Wanting answers and wanting them
now,
the sand swung downwards to try and grab Bang. But the ninja was too quick and instead only got one of his legs grabbed as Gaara held him upside down.
"Tell me where I am or you'll die. Simple as that."
Frantically waving his hands to show he meant no harm to Gaara, Bang quickly decided that giving this strange sand-manipulating boy the answers he sought was a much better alternative than dying.
"My boy, you are in the territory of the Novus Orbis Librarium or the NOL! Otherwise known as a tyrannic ruling system that I wager my life in fighting every day!"
What? The NOL? What was this fool talking about? That didn't sound like any village Gaara had ever heard of. All this thinking wasn't doing wonders for him however and smashing Bang down against the floor, the sand receded away and back into Gaara's gourd as he turned to walk off.
"I'll find out more on my own."
This 'Hero of Justice' aggravated Gaara and would have only impeded his progress in finding answers in this damn place. Which was why of course that Bang after sitting up from being smacked down watched as Gaara made his way off. Wary of angering the boy further with that sand of his, Bang decided that he'd keep a watchful eye over him from the rooftops and the shadows! No one, not even one as apparently misguided as this boy would fall to any harm while under the ever vigilant watch of
BANG SHISHIGAMI!
@Schnee Corp Lawyer
​