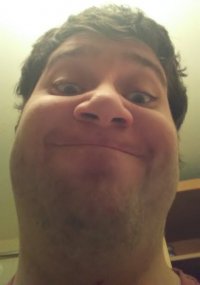 Previously Gwazi Magnum
Original poster
Basically funny stories and such about your pets.
For me earlier today my Dog Rocky was in my room and wanted out.
So simple enough I open the door for him to leave, and he proceeds to go...
But mid-way through, after I began shutting the door he just randomly stops.
This causes the door to
slightly
touch his butt, to which he jumps about 5 feet forward and then just gives a stare right behind him.
Giving me a look that I could only imagine meaning "How could you... You betrayed me...".
----------------------
And then there's this noise he makes whenever he thinks he's home alone.