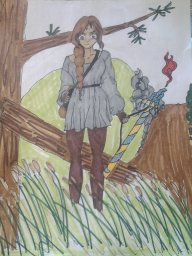 Authoress
Original poster
LURKER MEMBER
FOLKLORE MEMBER
Invitation Status
Posting Speed

Speed of Light
One post per day
One post per week
Slow As Molasses
Writing Levels

Intermediate
Adept
Advanced
Adaptable
Preferred Character Gender

Male
Female
Transgender
Primarily Prefer Female
Genres

Fantasy, Romance, A bit of horror, magical, and almost everything.
Werewolves pride themselves on keeping their packs hidden in the real world. As humans go about their day, none take notice how sometimes unrelated people all live in one house or certain apartment buildings always seem to be full. All these nuances are hidden well with strict rules and regulations. Every werewolf must have a pack, and every pack must be responsible for their werewolves. Despite how carefully these laws are constructed, Character A defies them by living alone running a cheap and small motel for humans and werewolves alike. So far they've been living a low life and avoided the werewolf council when Character B, a young female werewolf, rolls into their motel looking scraed and suspicious. There's a strange scent about her and Character A needs to figure out what it is. The whole situation only gets more complicated as a pack quickly sends out a message claiming a missing member.

Oftentimes it wasn't unusual for a lone visitor to come to an inn and ask for a few nights. In all honesty, it was probably expected if anything. Whether it was a human looking for shelter or a werewolf waiting out a full moon while on a business trip, the occurrence happened far too often to elicit suspicion. It was just another guest, another person coming to stay for a few nights and spend their money. It shouldn't have brought up any skepticism, and yet this one did.

The young girl looked like she should have been in college, not standing in front of the counter asking for a room. Yet there she was. Standing there asking for a week in the hotel. She fidgeted in her way too big hoodie, a black one with the hood pulled over her wet brown hair. It seemed like she had been in the rain for quite a while before stumbling into the motel. She only had a back pack, probably with only a few pairs of clothes in it. No suitcase or other bags like normal visitors. Her hair hid her face pretty well, but one could almost swear they saw bruises underneath on her somewhat tanned skin. She seemed so small in the oversized clothing, her short stature doing nothing to help her. She smelled like a wolf, having the signature sharp eyes. Her green eyes darted around, looking for some sort of threat. She shuffled as she waited for her keys, shoulders tense. The young woman looked huddled in the mass of fabric that was her hoodie, her jeans large and ripped in certain places. To most the poor girl just looked like she needed a shower. However, to the lone wolf there was a strange smell about the girl. Something smelt off.

However, the girl couldn't just be denied her keys forever. She had legitimately paid for the room so by all means she should have just gotten her keys and left. The girl, Layla Jones she had written her name down as, shuffled from one foot to the other, her grip on her backpack tightening. She kept her posture small, a clear sign of someone low in the pack status. The strange smell surrounded the girl, seemingly permeating everything around her. How could one smell be so strong?
Last edited by a moderator: