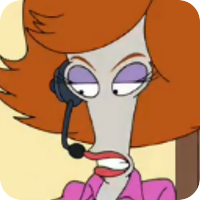 Can I transfer you to my manager?
Original poster
Roleplay Invitations

Group Roleplays, Chat Roleplays
Writing Levels

Intermediate, Adept, Advanced
Genders You Prefer Playing

Male, Female
Playing Style- Passive or Aggressive

I'm good with both! I can lead or follow and I'm equally okay with either. (Although it can change depending on the scene too!)
Favorite Genres

Adventure stories! They can be fantasy, modern, sci-fi, all kinds! Give me some good world travel stories and I'm all over it! I also enjoy romance stories and even though I tend to play females I love playing gay men.
Genre You DON'T Like

Smut. It's not that I dislike it, I just can't write it out, I'm better at just writing smut scenes by myself.
My family was eating the other night and my grandmother offered me squash, now for as long as I've been alive I've HATED squash!

What kinds of food do you absolutely despise/refuse to eat/nearly vomit at the smell of?

I personally hate squash, it smells gross to me, I've always hated the flavor (unless it's cooking INTO something) and I find the texture absolutely horrific!