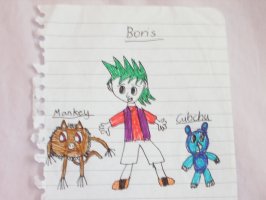 Edgeknight
Original poster
LURKER MEMBER
FOLKLORE MEMBER
Invitation Status
Posting Speed

Multiple posts per day
Writing Levels

Beginner
Elementary
Intermediate
Adaptable
Preferred Character Gender

Male
Female
Genres

anime and modern mostly
but fine with any genre i guess
Hello everyone. Well I've done a few Full Metal Alchemist Rps in the past, I think I started up only one of them myself, hence this is my second one that I'm starting, and the rest I just participated in. But yeah I thought it would be fun to do another one. Participants can rp as their own characters, as canon characters from the anime, or both if they like.

Name: Shane Mustang
Age: 18
Alchemy Element: Water / Wind (He can use the element of wind rather decently as well in a fight but he uses element of water in the majority of his battles.)
Background:
With his mother Riza Hawkeye and his father Roy Mustang both in the military, Shane basically grew up with his great aunt from shortly after his birth. After he got old enough, to where she waited until he was 5, Shane's great aunt started to train and teach him how to do the kind of work she did and he'd help her out a lot with it and to this day he assists her.
Shane made acquaintances and soon friends with his father's friend Meas Hughes. This was due to Meas accidentally overhearing King Bradley talking about Shane, to which Shane was 7 at the time when he met Hughes. He couldn't really see who Bradley was talking to, but he heard Bradley pretty much spill to the individual that Riza had gone in to the hospital and that it was Roy who had taken Riza there, and Hughes heard him say that Riza had Shane after being put under anesthesia, but that due to Bradley's orders to the doctor over the phone that they had to contact him and report what was going on with her, he heard of Shane's birth from them but then he told them not to tell Riza or Roy either. Hughes couldn't believe what he was hearing when Bradley confessed to that, but for the time being he decided to keep his mouth shut until he found out more about what was going on. Instead Meas himself took a trip out to where Shane was, introduced himself to Roy and Riza's kid telling their child who he was, and then after getting permission from Shane's great aunt, Roy's aunt Madame Christmas, Meas took Shane to meet his wife Gracia. Meas then made it a point to have a meet up with Shane on a weekly basis, to which during those times, Meas would either go to meet Shane at his location, or Madame Christmas would bring Shane to him. Shane would even go with Hughes to his office at work on several occasions. And wherever they met up at, Meas taught Shane how to do investigative work like him.
Shane had also worked and progressed with his alchemy skills. He was friends with Edward Elric from the time they were both 6 and had the same teacher as Ed and Alphonse did. With Ed and Al's father, Van Hoenhiem, in the military as well, like Shane's own father, Roy Mustang was, Shane felt like he was on common ground with Ed and his brother, even if Shane felt admiration towards his own dad, while Ed felt a lot of anger towards his.
And Shane also had another teacher sort of, though this one didn't officially teach him. Due to Bradley knowing of who Shane's parents were, though Bradley never shared the fact of Shane's existence with neither of them, Bradley did however want to knows Shane's skill level in battle. So after about Shane's 10th birthday, Bradley sent Envy on a periodic time to time schedule, about 2 times a month, to visit with Shane and spar with him to record Shane's skills regarding his alchemy and use of combat skills. So Shane got to know Envy pretty well too while he was growing up.

_______________________________________________________________________________________

Shane had just finished up with the afternoon rush at his great aunt's Restaurant and Bar about a half hour prior to the current time and was now putting things away. He was going to go and meet up with Gracia and Elicia Hughes at Meas' grave in about another hour. He was thinking at the same time that in was the week that they were recruiting for the military and the state alchemists. Due to him being 18 now, Shane was now able to join. He sent in his application to Fuhrer Grumman earlier the last week requesting to be recruited. He was eager and a bit nervous equally about meeting his mom and dad for the first time also. Roy and Riza knowing nothing about him, Shane knew it would take a while to explain his life while he grew up to them, and how he came to being raised up by his Great Aunt Madame Christmas instead of them, and also why they weren't told about his birth in the first place.