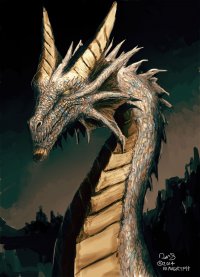 I don't know what I want to be when I grow up...
Original poster
(( If you are not already a part of this RP, please visit : OPEN SIGNUPS Fly With Me - A Story of Survival to join))
Weak morning sunlight filtered through the old space in the Drer wall onto Ariéas's scales. The warmth sent a shiver through his spine and he opened his eyes barely into a slit to see it was dawn. He reluctantly pushed himself up onto his massive haunches and yawned, white fangs glistening against the peach light. Looking down he smiled slightly seeing his mate still asleep next to him, her beauty something of a blessing to his newly awakened eyes.
He exited the tower silently through the cracked ceiling and clawed his way up to his perching point, a single beam of rusted steel overhanging the side of the tower and allowing him to see the entire Drer as well as into the forest around them. The trees swayed lazily in the now strengthening light and he inhaled deeply. The scent on the wind was fresh and crisp, it was a cool morning and as the frost that dusted the shadowy places of the Drer began to melt away, Ariéas decided it was time to rouse the others. Their pack was small but it was time they knew the truth about the brood of eggs resting beneath Rya's breast. For months they had all been awaiting the sound of hatchlings breaking through their tough shells and scampering about for food, but despite the best efforts, the eggs failed to thrive. This was the second attempt to nest and Ariéas was beginning to feel like the gods had cursed him.
No matter, they would simply try again when Rya went into season again. Nesting is an incredible source of pride among dragons and shows an alpha's ability to support their pack, this was a stinging blow to his image but as alpha Ariéas's duty was to bring the truth to light to his pack.
A deep sigh escaped Ariéas's jaws, the time had come. Without leaving his perch, Ariéas threw back his great head and from deep within his chest let out a bellowing grumble. It was low pitched and rasping, loud enough even to shake a few Kalu from their bedding trees and into the lightening sky. He relaxed on the perch with his tail dropping over the side and his wings curled tightly to his back, awaiting the members of his pack to awaken and respond to his call for a gathering.
Despite this failure, the pack must go on and continue to function. They still desperately needed hunters and Ariéas was keeping a close eye out for a second in command.