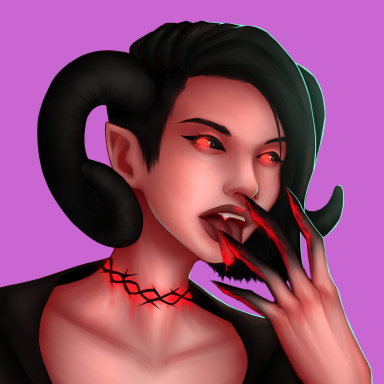 Vampiric Demon Liege ~ He/They
Original poster
FOLKLORE MEMBER
Invitation Status

Looking for partners
Posting Speed

1-3 posts per day
One post per day
Multiple posts per week
1-3 posts per week
One post per week
Slow As Molasses
Online Availability

It varies. I can't promise much consistency due to my chaotic life.
Writing Levels

Intermediate
Adept
Advanced
Preferred Character Gender

Male
Female
Nonbinary
Transgender
Primarily Prefer Male
Genres

Horror, Sci-Fi, Fantasy, Superpowers, Drama. Also, romance is required with me because I will get bored without it.
Greetings, wanderer. 👿💕 Have you been seeking us out? Or, perhaps, you've lost your way?
You seem to have found yourself at...
*~*Fluff's Character Crypt*~*
​
Here, you will find yourself in some rather strange and unusual company. Not to worry, though! All of them are lovable in their own special ways. If you wish to show them such love, do not hesitate to contact me.
Other than that, this will be a useful place to store some of my brain babies. I'm trying very hard to keep my writing passion alive in these dark hours. Updates will be made to the characters as needed. There will also be character profiles actively under construction, and some written work that relates to them when I get the chance. :]
IMPORTANT NOTE: As you can see, some of these characters are grouped into universes or categories I've designed. For extra story spice, I may have characters show up in RPs to start up family dramas, initiate fights, do wholesome family or friend things, and whatever else may come to mind.
Character Index;;
~~~~~~~~
​
**BEHOLD, OUR BELOVED CREATIONS**
NOTE: Characters who are not available for RP will be marked with the following:
[
CLAIMED]
Vampires, Werewolves, Various Beasties, Witches, Dark Creatures, & Specialized Hunters;;
🩸
Cain Valamir
[
CLAIMED]
🩸August (not yet added)

Damon Shadowmaw

Unnamed Werewolf Boi (not yet added obvs)

Edgar "Animus" Madden (not yet added, reworking him)

Alastar Harris, AKA Dralmaron the Devourer (not yet added)
🗡️Tormund Spade, aka The Shadow Lancer (not yet added)
The Demon Family;;

Mallikar - The Firstborn, Son of Demon Queen Aliza & Demon King Qalfire (Not yet added)

Zekas - The Secondborn, Son of Demon Queen Aliza & Demon King Jorkoron (Not yet added)

Vazithan
- The Thirdborn, Son of Demon Queen Aliza & Demon King Jorkoron

Arrin
- The Fourthborn, Son/Daughter of Demon Queen Aliza & Vampire King Maxius
👑Demon Queen Aliza (Not yet added)
👑Demon King Jorkoron (Not yet added)
Miscellaneous Demons;;
💙
Varaim
The Reaper Family;;

Cordelia
, a Reaper of Animal-life and Stars

Callisto
, a Reaper of Sea Life, Sailors, and Stars

Xenos, a Reaper of Animals and Vampires (not yet added)

Celestria, a Reaper of the Stars, Mother to many including Cordelia & Callisto (not yet added)

Norrix
, a Reaper of Animals, Father to many including Cordelia and Xenos
Superheroes, Supervillains, & Anti-Heroes;;
👓❤️‍🔥Percy Nadir & Dark Pyre
🌊
Wyatt Roosevelt & Enu, aka Leio
🔥Edria Takao, aka Firelily (Not yet added)
Dragons;;
Cyrus (not yet added)
Etenphyr, aka Tenten (not yet added)
Fantasy World Characters (still thinking of a name for it);;
🎼
Princess Melodee

Weeping Willow
Random Characters;;

Agent Molly Levine
🎥
Lewis Foster
[CLAIMED]
🏴‍☠️Captain Scarlett (not yet added)
⚔️Lady Paladin Winnifred (not yet added)
Fandom-Inspired Characters;;
[Overwatch]
Cassius
[CLAIMED]
[Overwatch] Lotus (not yet added)
[Overwatch] Casper (not yet added)
[Star Wars] Male Mandalorian Bounty Hunter who still needs a name (not yet added)
[Star Wars] Korvas (not yet added)
[ATLA] Sila Takaani (might rework the name, also not yet added)
~~~~~~~~~


~~~~~~~~~​
Last edited: