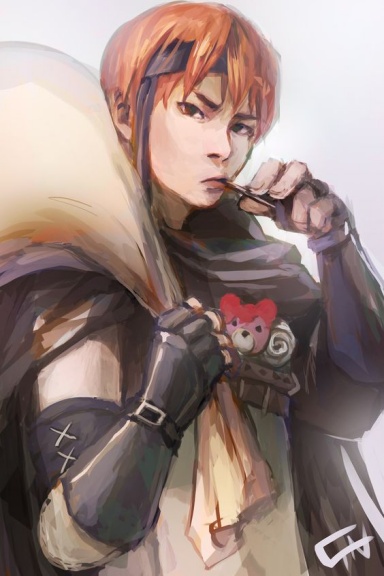 Roleplay Invitations

Group Roleplays, One on One Roleplays, Private Convo Roleplays
Posting Speed

A Few Posts A Day, One Post a Day, A Few Posts a Week
Writing Levels

Intermediate, Adept, Advanced, Adaptable
Genders You Prefer Playing

Male, Female
Playing Style- Passive or Aggressive

Fine doing both, depends on the character
Favorite Genres

Fantasy, Scifi.
Genre You DON'T Like

Heavy Smut,

Islas de Abaroa seven days after the fall of Thalia

Down the dock, following a man with a thick grey beard, hearty laugh, and a pension for succeeding at gambling, came another man of a rather different sort. Young as a spring breeze and just as light with a shock of black hair, the man colored his speech to make laughing conversation with the old sea dog who seemed to have a liking for the man whose dress, despite having a black base, was colorful and festive. Most notably was the two swirling designs that nobody could seem to agree if they were clouds at dawn and dusk or open flame. The sun seemed to glint in his green eyes as his nostrils flared, taking in the sea breeze. Upon his back was sword and sack, both of which held all the young man's worldly possessions along with a series of simple brown spheres with twine sticking out of them on his waist. Up the gang plank they went still chatting up the day. The takeover had never touched their conversation.

"Ahoy, Captain!" the first mate called, "this the new crewman?"

"Aye, Rendan Hadomi is his name."

The ever suspicious first mate squinted at Rendan, "how'd ya meet?"

"Ha! You sound like me wife."

"I am your wife!"

"Then there won't be a worry! See here, Rendan has already earned his first pay!"

"What?"

"Met him in the pub."

"Course you did."

"And he caught a cheating scum from robbin' me at cards."

"And he didn't catch you?"

"Course he did. But he knew I was the better man."

"Ha! So what'd he do?"

"Well, I was playing me good game. The ones where I win by just enough," the Captain whispered, But the scum was cheatin to beat me just a bit better. An' the pub I was in was one of those where ya can't just call out a man without solid proof."

"So what yer saying is that you can't tell if ya being cheated."

"Shush woman! Anyway, Rendan here had figured out we were both cheatin. He came on over and, at almost random, tripped. Spilling something all over my opponent's cards. Two of which wilted! Fake cards they were and obvious proof a cheater! I got a nice handful of coin and, in return for this generosity, I've taken him on with a day's pay. He says he's a fighter and willin to share his skills in creating neat little tinctures."

The captain's wife glared Rendan up and down, before saying, "alright, boy, you git moving those barrels below deck while I talk to the captain."

"Mam!" Rendan saluted jovially before settling into work as the wife began to berate her husband.

Rendan Hadomi ambled across the deck, an easy grin having split across his face from since he had been taken on. It'd been too long for him to have been at sea, even if the ship hadn't even left port yet. Taking his time, he began to roll a barrel towards the central grates. He was pleased to see that nobody was moving quickly. Case in point was the lad with an absurdly thick coat for the weather simply staring off into the sky. Completely distracted.

After moving three barrels, he finally settled upon a plan. Quietly walking up behind the redhead, Rendand softly placed a small stick with a wick. A quick little flick of flint and steel caused a soft hissing, prepping the sparkler pop.