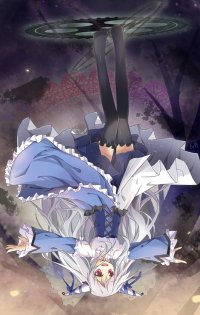 The Slightly Villainous One
Original poster
200 years have passed since Lucina and friends travelled back in time to try and destroy Grima. They succeeded in sealing him, but they did not finish him completely. His minions still wander the earth and control much of it now, including the Fire Emblem. The land has calmed down somewhat now. The Risen are much less destructive, and act like a military dictatorship, ruling over the normal people. 3 days ago, discreet messages were circled around about developing a rebellion against their zombie overlords. Curious, several people have gone to the meeting point, a grove within a forest several hours from Ylisstol (the capital city of the land) to lend a hand.

So, yeah. basically, fire emblem RP. Classes can be from any game. Please provide a link to the wiki entry for the class, especially if it's from a japanese-only game that most people haven't had a chance to discover. Characters will start at level 1, and may have 2 ancestry skills (skills handed down from parents), as well as their level 1 class skills and a Personal skill which can be anything (provided it's not too strong.) If you're unaware on how the personal skill system works: [spoili]

In Fates, each character has their own special skill that they and only they can learn, and that can never be unequipped. This consumes a 6th slot, so they can still have 5 other skills. For example, Anna, the merchant, has a Luck% chance to gain a 1000 gold bullion upon killing anything. The ability that does the same thing on the Mercenary class would theoretically stack with that, for a 2xLuck% chance of getting 1 bullion and a half luck% chance of getting 2 of them.
[/spoili]
There will be opportunity to reclass to gain that OP af Astra / Lethality / Rightful King combo Great Lord we all love. And on the note of Great Lords, you can use classes like those too which would be unique to "main characters", as long as you come up with a valid reason they'd have it, ie they're the descendant of one of them.

CS:
Name:
Gender:
Appearance:
Age:
Personality:
History: (Including why they decided to rebel)

Class: (Level one of any base class. Please provide a wiki link to the class, too. Any class from any game is fine.)
Skills: (Level one skill of the base class, + up to 2 ancestries, + 1 personal)
Weapon: (No powerful ones like named items or Brave items, yet)

All characters start at level 1.
All characters start as a base class (or a level 30 max class).
All characters start with their Personal skill (which can be anything) as well as 2 Ancestry skills (which can be anything), and the level 1 skill from their starting class.
We'll be using the fates style of Weapon affinities, so for example, if a character is a Garou (Werewolf like creature from Fates), they will start with affinity B for stones and will never increase that. If they promote to the upgraded form, they gain S affinity for it.
There are probably more but I forgot them. Oh well.