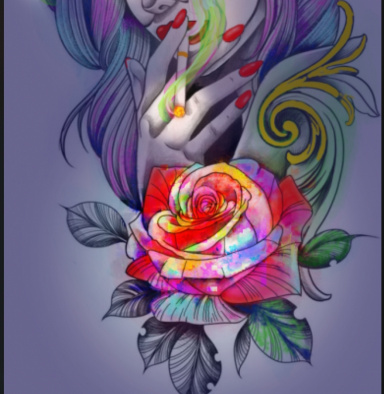 Rogue Of Collective Imagination
Original poster
Invitation Status

Looking for partners
Posting Speed

Multiple posts per week
1-3 posts per week
One post per week
Slow As Molasses
Writing Levels

Beginner
Elementary
Intermediate
Adept
Advanced
Adaptable
Preferred Character Gender

Male
Female
Genres

Fantasy. Supernatural. Magical. Modern. Medieval. Romance. Scifi. Horror....somewhat in that order.

The flames seemed colder, the stone it was encased in made of ice. Warm blood hasn't flowed through the Queen's veins in centuries and the vampiress should have been used to the cold by now, but the once golden-haired monarch had always been fond of the grand fireplace within her castle walls and the comfort it brought her skin. Flames she had once called 'friend' mocked her now, licking lazily at the air it refused to warm as if showing her what power truly was. For all the authority she had, she could not make the fire release its heat.
Queen Xerces held the teardrop pendant hanging from around her neck between boney fingers, twisting it this way and that in thought. She stood staring at the heatless flames, the crimson gown she wore doing little to warm her gray skin. It's only when the door to the study opened that once bright blue eyes now dulled to a clouded gray trailed to acknowledge the one who entered.
Guardian Valdred Mael Firenze was her most trusted, her most loyal, and it was his face she smiled a greeting for. "Dearest Valdred." Her voice was only a dry whisper as if straining to speak any louder would surely shatter her body. She turned from the fireplace with hands reaching up to unclasp the necklace and when he was near, she took one of his hands and carefully lowered the pendant and chain onto his palm.
It was a simple exchange made easier by warning him prior. She had already pricked a finger and added a drop of royal blue blood into the teardrop. It was a tool to be used to locate the true heir to the Vampire Throne. "It will glow," she reminded softly and gently closed his fingers around it. The guardian dwarfed her by a foot and she smiled up into his face, allowing her hands to slip away from his. "You have always been so faithful to me, but now I must release you from my service as protector."
She stepped away, turning back toward the cruel, icy fire. Catching her warped reflection in the silver vase upon the mantel, she allowed a soft sigh to escape her. Her head was wrapped in silk the same color of her gown, hiding away the baldness of her head. She had lost her hair months ago and had been deteriorating rapidly since. Even at such an age, vanity still seemed to hover over her and she could no longer stand her reflection. "A war is brewing, my friend." It was suspected, but now she confirmed it. "Our race is in jeopardy. It is imperative you find my heir."
☆°☆°☆°☆°☆​
"Did you hear about the blacksmith's son? His body was found just outside the city gates." Gabrielle chewed on the stem of a honeysuckle in thought, long fingers tapping her chin she held in a palm. Dark eyes were casted up at the clear, sunny sky, gazing at it through the leaves of the tree she sat under with her best friend.
"The blacksmith?" Rose only responded to what she heard, licking a finger to turn a page in her book, only to squeal at one that suddenly jabbed between her ribs.
"Are you even listening to me, Rose Greene?" Sage eyes shot to the dark glare of her friend and Rose couldn't help but smile.
"Not truly," she replied honestly, her smile growing at the glower that deepened on Gabrielle's face. Rose calmly shut her book onto a finger marking her page and pulled her legs in to cross beneath the skirt of her blue dress. Settling the book in her lap, she straightened her spine, giving her friend her full attention. When Gabrielle didn't respond right away, Rose simply lifted a thin brow, her lips pulling wider in amusement.
Her dark haired friend finally huffed a sigh. "Well, the whole city is talking about it!" She informed pointedly, gesturing toward their left with a sweep of an arm to the buildings that lined the way. They sat outside Rovid's Market District. Rose's mother had tasked her with buying some fabric and sweet bread from the market this day, but the sun had driven the fair-skinned maiden beneath a tree. On days as cloudless as this, her skin itched in the unfiltered rays within moments. An hour had passed since being in the shelter of the shade and yet, her skin still held its pinkish hue and threatened to flake. "They're saying it's another animal attack."
Rose blinked, her smile slipping. So there's been another death. "You'd know this if your nose wasn't stuck inside a book all of the time." The statement from her friend was a cross between a reprimand and an apology. Her gaze dropped to the one resting in her lap and she wondered if she truly spent too much time reading inked words. Though, what would be the alternative? Engaging in the city's latest gossip?
"Do they still think it's the wolves?" Rose lifted her gaze back to Gabrielle's face, finding that her friend was now focused on something of interest in the bustling Market Square.
"Mhmm. Rabid beasts. Though I've heard some say
monsters
." Gabrielle flickered a dark gaze to her, a twinkle in her eye. Rose blamed her for sparking the interest she had in what lurked in the shadows. Gabrielle was eccentric in that regard and Rose had learned more about the possibility of a hidden world through her than anywhere else.
Her brow crinkled. "Monsters." It wasn't exactly a question as it was an exasperated statement, but her friend nodded her head nonetheless.
"Third body this month," Gabrielle mused, only to fix Rose with a dark gaze. "I'm worried about you."
Rose couldn't help the laugh. "Whatever for?"
"You live in that big ol' place just inside the forest." Rose didn't need details to understand that the location of her house outside of the city walls was cause for concern.
She shook her head. "If anything is going to kill me, it's going to be this wicked sun," she quipped lightheartedly, her gaze now rising up through the leaves to the sky. "Think a cloud will drift by anytime soo--ow!" She started, jerking away from the finger that prodded the skin of her forearm.
"Boy, you're the only I know with skin that ripens the way it does in the sun."
"Yes, well, that doesn't mean you can poke it," Rose chastised, gently rubbing the area now stinging from the assault. Gabrielle only sighed, seemingly uncaring as her gaze drifted back toward the crowd of the market.
"I don't want to be here until nightfall," she grumbled, plopping her chin back into a hand. "Should have brought that umbrella."
"I told you, Tulip's dog ate it," Rose sniffed, only to smile. "Tell you what. I brought some extra coin for those cinnamon pears we both enjoy. Perhaps you can bring back two and we can have ourselves a little picnic. By then, the sun's ire should have waned and I'll be able to leave the safety of the tree's shade."