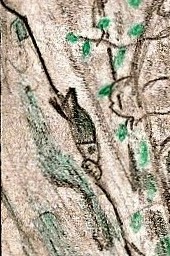 Ghost with no home.
Original poster
Roleplay Invitations

Group Roleplays
Posting Speed

One Post a Week
My Usual Online Time

Late night PST
Writing Levels

Intermediate, Advanced
Genders You Prefer Playing

Primarily Prefer Female
Playing Style- Passive or Aggressive

Passive > Aggressive, but a mix.
Favorite Genres

Fantasy, Post-Apocalyptic, Superpower'd, and some Sci-Fi.
Genre You DON'T Like

Anything heavily sexualized or silly. I tend to avoid hard sci-fi, horror, and slice-of-life roleplays.

Welcome back to FFS
(short for Flash Fiction Selections)
, a challenge of brevity in storytelling!
In under
750 words
, we challenge you to tell a complete story! The judges will read and review each entry, looking for cohesiveness, engagement, originality, and polish, before selecting a set of finalists. With a challenge to strive for, the goal is to help the community to flex their writing muscles—and show off some of the best storytelling Iwaku has to offer!
Now without further ado we announce the fourth theme! This October, the theme shall be:
Ignorance is bliss, but it can also be strength; some of the greatest accomplishments come from the most unassuming among us. Can you tell who is the trickster, and who the tricked?
Include one (or more) of the following prompts in your entry. They don't need to be used verbatim—change a couple or words or the syntax—but it should be recognizable.
They tricked me into thinking it was my idea.
Wise enough to play the fool.
Voice behind the throne.
Wise men don't need advice. Fools won't take it.
Nobody notices second best.
With that out of the way, be sure to read the guidelines and rules! For returning participants,
please note that we have removed the word minimum
—that is to say, you can write entries with less than a hundred words if you so wish.
Two weeks are provided to complete the challenge, effective immediately. The deadline for submissions is the end of the day October 15th; as soon as the date rolls over into October 16th, entries are closed and late entries will not be accepted. Date rollover is based on the site's local time (North American Central/GMT-6). Send your entry via a single Inbox Conversation to all current FFS judges: @Turtle of Doom ,

Nemopedia

, @Eru, and

Holmishire

.

Once submitted, the entries will pass through our panel of judges, who will review and nominate entries based on the quality of the storytelling, the narrative, and the editing. Following this, the panel will make a joint selection of the top entries to be awarded the title of Finalist. Each finalist will receive a spot in the FFS Hall of Fame, as well as theme-specific badge to do with as they please!

In each iteration of FFS, there is a chance for one entry of exceptional quality to be awarded the title of Grand Finalist. It is the highest accolade we can give, and not one we take lightly, so there's no guarantee we'll reward one every time. Be ready to work hard for it!



Entries must be completed and submitted to the judges prior to the stated deadline.
Entries must be no longer than 750 words in length.

We recommend wordcounter.net, for consistency.

Entries must be written in prose, however, snippets of poetry or script may be included within entries so long as they are not the focus of the entry.
Entries may contain sexual content, so long as none of the participants are under the age of thirteen.
Entries written to harass, demean, or criticize Iwaku members and other persons living will be rejected.
Entries must be written expressly for this iteration of the contest. Any entry found to be plagiarized from other works or written prior to the opening of the submission period will be disqualified, and the entrant may be banned from this and other future official contests at the judges' discretion.
Entries may contain elements from other works, such as settings, events, themes, and characters, so long as they are sufficiently developed beyond the confines of their original representations. Settings, characters, events, and themes previously established by the entrant may also be used.

When using previously established elements in an entry, please keep in mind that the judges will only consider what is included in the story. Foreknowledge from other works or previous iterations of the contest should not be relied upon.

Collaborative entries are not permitted. However, help from outsiders and fellow Iwaku members (excepting judges) in the form of feedback and editing is encouraged.

Please distribute drafts in private messages if posted on Iwaku. If seeking help offsite, ensure that authorship can be clearly linked back to Iwaku to prevent false accusations of plagiarism.

Only one entry per entrant, per iteration of the contest.




Send completed entry in a single private conversation to all current contest managers with a subject-line that makes it clear that it is a FFS entry, as well as which iteration of FFS it has been written for.

For example: FFS #3: (insert entry title here).

At any time prior to the submission deadline, an entry may be edited or replaced in the same private conversation as the initial submission. Please bump the conversation informing the judges of this change to ensure it isn't missed when the discussion thread is created.
Please note whether the entry is to be kept anonymous. Anonymous entries will not be credited with the author's username in either the discussion thread or the Hall of Fame. Entrants may revoke their anonymity at any time; to make it official, please ping one of the judges.

When a preference is not stated, entries will default to being credited.

Please note if the entry is to be closed to public reviews. Closed entries will not be open to reviews from non-judges. Additionally, while all entries will be reviewed by the judges, entrants may opt to have these reviews posted publicly, privately, or not at all.

When a preference is not stated, entries will default to being open to public reviews from both judges and non-judges.

If the entry contains sexually explicit content, it must be marked as such in the subject-line of the private conversation submission.