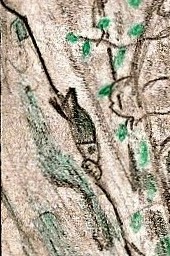 Ghost with no home.
Original poster
Roleplay Invitations

Group Roleplays
Posting Speed

One Post a Week
My Usual Online Time

Late night PST
Writing Levels

Intermediate, Advanced
Genders You Prefer Playing

Primarily Prefer Female
Playing Style- Passive or Aggressive

Passive > Aggressive, but a mix.
Favorite Genres

Fantasy, Post-Apocalyptic, Superpower'd, and some Sci-Fi.
Genre You DON'T Like

Anything heavily sexualized or silly. I tend to avoid hard sci-fi, horror, and slice-of-life roleplays.

The fifteenth has passed, and the entries are in! We tasked our bright Iwakians to come up with a story in only 750 words
(or less)
, and this month five challengers have presented themselves! For this October, the theme and prompts provided were as follows:
Play the Fool.
They tricked me into thinking it was my idea.
Wise enough to play the fool.
Voice behind the throne.
Wise men don't need advice. Fools won't take it.
Nobody notices second best.
As a quick reminder, the FFS challenge is not up for public voting—but that doesn't mean you can't comment on the entries! Just make sure to be respectful. ;)
The judges will review and discuss each of the entries privately, before selecting our Finalists. Once that is announced, we'll also be providing our own reviews of the entries, to give you a taste of the judging process!
Your judges for this event are:
@Turtle of Doom
,
@Nemopedia
,

Holmishire
,
@Eru



Feel welcome to leave a review or critique of the entries, so long as you keep it constructive and civil. Pointing out mistakes is fine, but insulting the author outright is a no-go.
You are encouraged to read every submission; they're at most 750 words anyway. We know we can't enforce this rule, but try to give every piece the attention it deserves!
Not all entries are open for reviewing: please refrain from reviewing entries marked "No reviews" or "Judge only reviews". Unless the author told us otherwise, we've defaulted to allowing for public reviews.
In a similar vein, if an entry is marked as anonymous, try not go blabbing in the thread who you think it is! Respect their privacy and let them reveal themselves at their own discretion.
We encourage you to lay down the strengths and weaknesses of the submissions instead of letter/numerical grading, because the latter can vary in interpretation and understanding. Be descriptive!
The rubric provided is entirely optional for use: you don't have to follow it. It is merely to give you an idea on how the judges will review the submissions.
Submissions may contain graphic material. Only entries with explicit sexual content are marked with NSFW.


Cohesiveness


Did the author manage to bring a complete story to the table?
How did the entry match the prompts given? Did it fit, or did it feel forced?
Is there a clear beginning and end? Does it flow seamlessly from beginning to end?
Were there any lines, or details that you felt like unnecessary? Or did every line have its function?
How engaging was the story?


Engagement


How did the author convey the emotion in the story? Did it sway you, manage to pull you in?
How engaging did you find the story to be as a reader?
Did the mood feel appropriate for the setting given? Did it make sense?


Originality


How creative did you find the entry accompanied with the prompts given? Was the plot a refreshing take on the prompts, or did it show a lot of imagination?
What about the plot twists? Did the writer manage to surprise you?
Did the author make use of any literary devices (foreshadowing, euphemisms, personification, etc...)? What did you think of the execution of it?
Are there any underlying themes or subplots that you could find?


Polish


Are there any spelling/grammar errors in the piece? If so, did they distract or add up in the story?
What about punctuation and sentence structure? Did they vary, or was the writer lacking in that department?
Were there any words that you would have replaced, or that confused you?
What did you think of the paragraphs? Were they properly formed, or perhaps too long? How did it affect the reading?
---
Open to reviews. Written by
Draugvan
.
(749 words)
Trigger warnings -
rape, sexual abuse
​
Busy minds worry not​
We were trying to raise a decent family, despite the German occupation. Stores closed when armed men began dividing food, and I had been unable to hold a job.​
Avital returned home late. She didn't look at me as she put two loaves on the counter.​
"You said you would be back before sundown."​
"There was a delay in the shipment of flour. I had to work late or they would not give me bread."​
Avital hung her coat before heading upstairs to see our sons. She spoke over her shoulder on the way up.​
"Tell me you wouldn't do anything for them? I love my sons. I love you. I make bread for the soldiers, so stop giving me that look, Ilan. I can feel you staring."​
I finished my drink and followed her upstairs.​
Avital cared so much. She was right; I would do anything for them. Little Calev and brave Dima, lights of the brightest star. They were sleeping side by side in the middle of our bed. Avital brushed their fringes and kissed them a late goodnight. She smiled upon their faces and as she smiled, she cried.​
We wouldn't let them go hungry.​
She slept in her dress again.​
* * *​
Avital was missing when I woke the next morning.​
I got Calev and Dima ready for their lessons by my own. They asked about their mother. They were five and eight, what could I tell them?​
"Your mother is out making bread. Her new boss wants to share her baking with all the boys and girls. Your mother is the best cook, isn't she? Right now, we need her to keep working. It keeps you two fed!"​
I ruffled their heads and sent them off to lessons.​
Noam stopped by for lunch. He had sold his jacket for a wheel of cheese, so he wore a grey long coat with rat-holes in the sleeves. His textured face was grey of a kind.​
"These are trying times, Ilan. You can't stand up to men with guns. If they say 'eat', you eat. If they say 'die', well…nothing about this is rational. It will do more harm the more you think about it. One life is not worth a jacket. If a soldier wants to stay warm, who am I to stop them?"​
Noam laughed at that and for a moment the lines on his face were mirthful instead of desperate.​
"It's not about the jacket, Ilan. They want to make a statement. Let it fall on deaf ears, I say. Sometimes it is wise to play the fool."​
* * *​
Avital returned after lunch wearing the same dress.​
"Where were you this morning, Avital? You can't go out without telling me like that."​
"They wanted me on the morning shift –" she began, but I cut her off.​
"How much bread do solders need? You were just out last night! Who will spend time with the boys when I can find a job, Avital?"​
She stamped three loaves on the counter and stormed past without a glance.​
"The soldiers are giving out more food. They need us to come in to keep up with demand."​
"Noam was here today. But you wouldn't know that. He had to sell his jacket for cheese. The soldiers aren't giving out food. Noam is starving, and his neighbors too. What's going on, Avital?"​
"I'm the only one feeding our sons right now, Ilan! Is it too much to ask that you trust me? I'm doing the best I can."​
She left with tears in her eyes, the sour smell of fermenting alcohol wafting after her.​
* * *​
Next morning Avital was in the same dress and she reeked. She had spent the night sobbing, holding Calev.​
Soldiers came the next evening when the bread was finished. They needed Avital for more work. She had asked me to trust her. So as long she returned with bread, safe each night, I took her at her word.​
* * *​
She continued to cry at night. Her mood worsened until I found a job as a labourer three months later and I could provide for our boys.​
Then Avital took her own life.​
I told myself she went out baking, but soldiers only want one thing. I made pretend it was alright. I told myself she did what she had to, and I didn't stop it or find another way.​
I looked away for the sake of my boys, but I am responsible because I chose to do nothing.​
Open to reviews. Written by

neobendium
.
(750 words)
"They tricked me into thinking it was my idea." Areon's shaking voice rose from where she was crumpled on the collapsed floor, surrounded by the burned rubble of what was once a home.

"They? Who the hell is 'they'?" Jason's tone was something akin to horror, and rightfully so. It was painful enough to come home to a pile of rubble, but it was even more so to find his little sister, of all people, sitting in the middle of it.

Hesitantly, he took a step forward. Charred boards crunched under his feet, sending plumes of ash into the grey sky. She flinched at the sound, shaking her head in response.

Areon had always been much smaller than him, but seeing her so dejected and ashamed almost made her look even tinier. "Answer me. Who is 'they'?" His voice had gone softer, trying to coax a reply from her rather than shouting.

She just shook her head in response. "I don't remember."

"Don- what?" Jason frowned deeply at her, now standing in front of her. She had been a bit slow from the day she was born, but he thought Areon at least had a good memory. It was one of the few things about her that was...well...normal.

She raised glimmering green eyes to meet his, tears tracking down her freckled cheeks. Thin red hair spewed wildly from the hasty bun she'd tossed it into, and her arms were absolutely covered with the soot from his once sturdy cabin.

Jason sighed heavily and ran his fingers through normally well-styled auburn hair, causing it to stick up in all directions. Around them, forest stretched out for miles.

Life was funny that way, wasn't it? You work all your life for something and then it gets destroyed before you can even live to enjoy it.

But right now, he was so concerned for his sister that the home didn't matter to him anymore. "You're too gullible," he murmured, stooping to offer her a hand. "Come on. Let's go get a hotel and some food before you burn something else down."

Areon sniffled and swiped her arm along her face, ridding of it of tears but at the same time leaving dirty streaks of ash along her cheeks. "Okay."

"I'm not letting you out of my sight anymore, got it?" Jason helped her up, took another look around the rubble, and then back down at her. She was staring up at him with an apologetic expression, her lips twisted downward and her shoulders hunched in shame.

"I'm sorry."

"I know. Just...don't touch fire anymore. And ask me before you listen to strangers."

It was probably those neighbor kids again. They'd been messing with her for years, but he'd always been around to stop the damage before it started. This time, it must have been different.

A sharp pain suddenly erupted in his ribcage. Jason lurched, choking on his next words. He tore his eyes from the treeline, letting them drift down to his younger sister. Her face had changed, morphing into something chillingly calm. Blood mixed with the ash on her hands, red and black streams flowing down her fingers and soaking into her rolled-up sleeves. The knife she was holding had sunk into his chest, all the way to the hilt.

How had he not noticed what she was holding?

"What-"

He didn't get a chance to finish the sentence. With a snarl, Areon yanked the blade from his chest and kicked the back of his knees with a movement that was surprisingly quick and graceful. His body fell to the ground, the weight of it causing blackened wood to spiral up into the cold breeze. He clutched at his chest, a pained yelp escaping him at the action.

He raised his eyes back up to her. She listed her head to the side, and they stared at each other for a few moments. Jason's face was twisted into a picture of betrayal. Hers? Neutral, and chillingly so. Not even a glimmer of guilt revealed itself.

As the world around him faded away, he caught his sister's movements in his swimming vision. She lifted a hand to her ear, still staring at him, and spoke with a clarity in her voice that he'd never heard before. "It's done."

A few moments passed, and Jason eventually sunk down to his stomach as he felt his life start to leave.

"Of course he didn't know." Her eyes cut to him. "Nobody expects second best."
Open to reviews. Written by

Jays
.
(743 words)
Sin of the Father

The king had died, and they didn't let the young prince see his father's body.

Barely more than a child, the prince entered the Throne room with a heavy heart. He looked upon his father's throne, a magnificent symbol of white and gold with a curtained chamber behind it where the king's advisor had used to give discreet council centuries before. As members of the Court filled the hall, the prince lowered himself to the Throne , his body cold with fear.

Then a voice behind the curtain spoke to him: "Do not be afraid." Startled the prince began to turn around, but the voice hissed alarmingly. "Do not look upon me." It said, "Not now, not ever. Only hear my words so I may guide you."

Frozen with trepidation, the prince looked out to the faces of the Court, seeing hunger and greed plain on their expressions. They questioned his youth, challenged his strength, disclaimed his rule and birthright. The young prince could not refute or defend himself, but then the voice behind the throne started to speak, and in a numbing trance the prince repeated its words.

He knew not what he spoke, but the predators' faces turned from glee to confusion, to worry, to dismay, then fear. The voice rose in pitch and the prince followed, bellowing the words like clapping thunder. Slowly, in an inevitable wave, the Court fell to their knees and bowed their heads with reverent respect. The prince was King.

The King grew from a boy to a man. There were obstacles in his path, high as mountains and wide as the sea, but the king forced through them resolutely, and when he stumbled, he would come to the voice behind the throne. The voice was wise and knew many things, its council always sagely and full of lessons.

The voice taught the young King the treacherous ways of the Court so he would not be made a fool. It accompanied the king through many sleepless nights of the campaign against a neighbouring kingdom, its foresight and caution accorded the king's eventual victory. When the King's mother died, he wept by the throne for a day and a night where the voice offered its rich silence that spoke more than a thousand comforting words. As the King grew older still, their bond changed from teacher and pupil to an ubreakable friendship. When the King was plagued with self-doubt, when he first fell in love, when his children were born, the voice was always there behind the throne, like a loyal shadow. And never once did the King look behind the curtains, never once did he break the silent pact they made.

One day, the King sat on his throne in the empty hall, weary and grey in his old age, but content and happy for all the great deeds he had accomplished in his time. But the voice spoke up and its words froze the King's blood in his veins. "Kill your son." It said.

The King sat frozen on his throne, fear and turmoil warring on his wizened features. "Why?" He asked.

"A terrible fate awaits him." The voice replied. "It is better to kill him than to let him suffer that fate."

The King dared not believe what he heard. But the voice was wise and knew many things, that much had been proven a thousand times over in their long years together. But how could he murder his flesh and blood, no matter the circumstance? Nevertheless, how could he disregard the prophecy of the voice that had always been right?

Stricken with trepidation that slowly turned into a fury to great it clouded his vision red, the King did the unthinkable. He rose from his place on the throne and threw wide open the curtain behind him.

There he saw with great horror, his father, the King before him, his body half-fused into the back of the throne, his hands and feet bound by chains as black as the night. His father's eyes were mournful, full of sorrow and regret.


The king had died, and they didn't let the young prince see his father's body.

The prince stepped into the massive hall with grief and worry weighing down his heart. He looked up, and there it sat, his father's throne, magnificent white and gold, the very symbol of power. And on its back a single curtain of velvet and fire concealing the chamber beyond.
Open to reviews. Written anonymously.
(244 words)
Taxes need to be raised.

Lord so and so is not one of your well-wishers.

Such and such country must be taught that you are not to be trifled with.

So many whispers. So many words and ideas have slipped from my mouth to the ear of the young, naive king. I was his guardian, his mentor, his right hand man; to him, whatever I said was righteous and the truth. It was as if I was the father he lost so many years ago.

And to me? He was but a pawn, a minion to be used to bring whatever changes I thought the kingdom needed.

Perhaps I have no right feeling hurt over being cast aside for a prettier face who has joined the king in matrimony. A pretty face I had suggested he marry for the sake of the kingdom.

If only I had known then that she too was a conniving bastard, with sweeter whispers than mine.

"Any last words?" I look to the king and queen. The latter seems smug, a smirk dancing on her lips.

"She will lead you astray! Please, my king, you must know this!"

"Let it be done." My words ignored, I am forced down to the executioner's block, my neck resting where many I had sentenced before found themselves.

Perhaps this was justice?

The crowd jeers and pelts rotten fruits and vegetables in my direction. Footsteps near me and stop.

God have mercy on-
Open to reviews. Written by

Aero Blue
.
(746 words)
The halls, of black steel and crisis-red lights intersecting the walls, were queer in their silence, emitting wordless echoes of 'do not be alarmed; we are yet asleep'. Four legs and their masters, who knew better, trod upon chrome, the sheen of their cybernetics the blur of nano-fields that muffled their steps to a nullstate. Noiseless interlopers of hallowed new-world tenements, marching to the barely audible applause of constant droning ambience.

"Some job you wrangled us into." Gack Seven. Best thief of the Fourth Sector. Not so roguishly handsome when drenched in sweat, not so suave speaking in panic-bluster. "Not much of an 'us' anymore either, Longtooth."

No, there was not. Serenity-Pink had phased through a thousand bullets during the initial run before being bisected by an aetna cannon. Vex's brain had turned to pulpy mush jacking in to alter the security drone pathing. Leland Chow was reduced to a fine mist by those very same drones. Snotbuggy hadn't shown up. Even in the brave new-world, running a caper on Mount Olympus was an overwhelming order. Then there was him, Longtooth -- 'long in the tooth' abbreviated -- one of two remaining, and not willing to defeat the purpose of the nano-field particulates by fucking talking.

A gate presented itself before them, steel spun chromatic and true, rainbow colors reflected off its surface. Two lion-heads, crowned in the same prismatic light, flanked it, kaleidoscope eyes staring nowhere and everywhere all at once.

"Time for me to earn my keep or die, pops."

Longtooth could see Gack's fingers begin to tremble, and yet the boy's muscle memory kept his approach languid. Closer. Closer. Closer still, before the lion-eyes rotated and cycled before focusing on Gack like crosshairs, their mechanical forms pouncing at bullet velocity. The steel floor cracked and fissured in fractals as the mecha-beasts landed, though the thief had not met his end beneath their pneumatic claws. He had disappeared in a burst of movement like a loaded spring unleashed, appearing suddenly at the back of the first beast, planting a device of shimmering blue upon its back. From it, he stretched a filament of coiled lightning given form, lassoing it around the second -- with a sputter and crackle, the beasts seized, and deactivated.

He swung from the strand of lightning onto the cracked surface, and struck the gate with a whip -- with a similar gasp and sputter, it opened to reveal their prize; Hephaestus's forge, and all the weapons of the God-

Longtooth watched as half of Gack's torso vanished -- melted away by beams he could only feel the temperature of -- and as the rest of his body seemed to harden, his body charred and cooled like obsidian in a moment.

And across the empty -- empty -- room, he saw him. Hephaestus of the new-world, his deformed leg replaced by cybernetics, glass-eyes listless and glazed.

"You intrude on sacred ground." He intoned, with boredom only the gods could muster.

Longtooth, however, was an old man waiting, and his words were proud, "O' Lame One, Artificer, One-Leg, and the Hammer. Hephaestus," He proclaimed, as the gears of his hands tore themselves apart to form the gaping maws of flak-cannons, and his determined, blue gaze was replaced by target-system clockwork ticks, "I am -- was -- a blacksmith, a crafter, like yourself. For years, I have worked alongside corporate demigods, bringing to form artifice with which to seize life and claim dominion. I am the Aetna Cannon. The Astra Cybermag. Militech Arms, whose weapons ashed the first-world. But they will never recognize me as the paragon of artifice so long as you, indolent and complacent, rest in your forge, resting on laurel and name alone.

Procure your finest weapons, O' One of Devices Many -- I challenge you."

But he procured nothing.

"I remember you, Longtooth, Roland Drizek, Blacksmith. You developed the Aetna when you were but twenty-two, and my brother Ares smiled upon your instrument of carnage. And when my father wished for the remnants of the first-world insurgents to be made ash, he looked upon my forge…

… saw that it was empty.

So I swung my hammer, allowed its errant spark to fall upon your head like inspiration. Militech Arms."

And so he understood, Longtooth, Roland Drizek, did, as the fight left him. He was not the challenger, the imagined demi-god. He had tricked him into thinking it was his idea.

He had been the brand beneath his hammer.
Last edited: