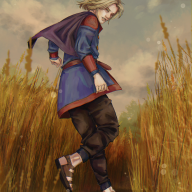 Love yourself to death
Original poster
I love to look at art and have found many artists I greatly enjoy, but I seem to be having a harder time finding more artists to stalk (if they are current) or admire (if they are dead or no longer doing art). I am also curious as to what kind of art the people of Iwaku like. Share your favorite artists with me and maybe even tell why you enjoy the art they make.
I have many artists I enjoy, but for now I will share two.
The first is Liger. She is the person I commission when I have to money, and she never fails to amaze me. It is like she is a mind reader when it comes to drawing my characters how I imagine them. My avatar is by her and to see more of her art here is her tumblr.
Celestial-Artistry
The second artist I want to talk about is Matt Sorensen. He is a spray paint artists and one of my favorite people to talk to. I see him once a year (if lucky) at the fair where I live and spend all the three days watching him work, and occasionally get into deep conversation. I think I got four pictures from him over the summer and will post them if I can get good enough pictures.