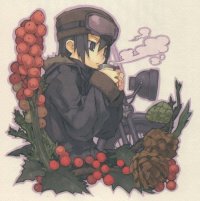 Edgepeasant
Original poster
Posting Speed

Multiple posts per day, 1-3 posts per day, One post per day, 1-3 posts per week
Writing Levels

Adaptable
Preferred Character Gender

No Preferences
Genres

Fantasy, Mystery
The Grail was thought lost. The Third War over the wish granting chalice lasted less than a week. The fledgling town of Fuyuki saw the arrival of troops from both the Imperial Japanese Army and the German Wehrmacht to do battle in place of the fragile magi who laid down their lives in the first hours of the conflict. As both nations prepared for the largest war in human history neither dared to abandon a true, omnipotent wish. Two angry children pulled at the tablecloth to hold the vessel which witnessed the last supper, only to watch it rip and cast their treasure into the abyss. Fuyuki was utterly destroyed, most of the region following suit as the fighting followed the defeated German expedition back into their landing at Kyoto. With the war closed in stalemate, the Empire was left to lick its wounds. They were not alone, as the world of Magecraft reeled in abject, cataclysmic loss. The Three Families, the pillars of the Magic Association, had been left shattered, the best among them dead in Japanese fields. Their precious relic, the one grail in hundreds of imitations that promised Magic and more in its gilded depths, was destroyed. Ages of scholarly pursuit turned to ash under iron bombs and tank treads, and those that could have continued to chase the legacy left behind were dead.
The silence that followed lasted almost a hundred years. Talk of the Grail gradually left the lips of those seeking the Root, its mentions once again restricted to long dead legends and obscure references to lost, occult relics. It was the Church that finally broke it, declaring proudly that the genuine Holy Grail had been found and identified. The 727th Holy Grail, the 'Final Grail', had appeared on South America, in the city of São Paulo. Such was their claim. As if by miracle, the branded began to come forward. For the first time since the 1930s, Magi of the world were being selected. The tense relations between the Mage's Association and the Holy Church boiled into the opening movements of war overnight. The Fuyuki system had been destroyed. The irreplaceable core of its process, so much more than a simple ritual cup, was a secret of magic forever lost with the Einzbern that crystallized it. It was impossible for a duplicate to exist, and yet, from the dark recesses of the cathedral housing its sacred body, it called.
No one who knew the absurd truth of the Third War survived to tell its tale. No one could know the twisted story of the Reborn Grail. Whatever you know of Magecraft know this: You are marked. The red seal upon your body oozes blood as it materializes, as if cut through the flesh by an invisible, painless blade. Dark, far reaching hands have selected seven souls to bear their mark to war. The signs come in your sleep. Infinite voices; singing, roaring, screaming. All at once they plead for you to come. Glimpses of city lights and a towering, desolate metropolis flood in between. Even without the formal announcement of the Grail War those touched by its fell influence would know by instinct to where they were called. You know that you can not go alone. The seals burn for want of authority. Your hands are guided towards history, to pluck its pieces and offer them to the Throne, to call down your Servant for the last Grail War. Dozens have stepped forward to show how they have been touched by the chalice, any number more could lurk in the dark. Only seven lights ring the city in your dreams. All but one must fall before a wish will be heard.
---
Hello and welcome to Fate/Vagabond Ardor. If you didn't catch it by now this is a thread based on Fate/Stay Night, its surrounding stories, and the Nasuverse. The players are those who have been called upon by the Reborn Grail to fight in a resurrection of the Fuyuki Holy Grail War in 2021, and the Servants who are accompanying their Masters on the way to São Paulo. Currently the Thread is set up around the normal seven Masters/seven Servants arrangement. This thread will be fairly freeform, with my intention as GM being to facilitate player driven storylines and furnish the world for them as best I can in the character driven atmosphere common to a lot of Nasuverse setting works. There is an underlying plot important to the scenario, but the scenario is also a deathmatch in which the notable competitors are all players. It is my hope as GM to create a thread that everyone feels free to enjoy. If you have any questions, comments, or anything else please contact either myself or my co-GM,
@DrowsyPangolin
either through this thread or through PMs. Thank you for reading.
Masters

Yukari Kamei Yggdmillennia
by
MechanicalHorse
Seth Finch
by
@DrowsyPangolin
Christopher Luft-Hampton
by
Jitt
Martin Urias Holcomb
by
ArmoredScout
Mary McAlister
by
Telute
'Angel'
by
@Supremacy
Akise Motoyo
by
@Akashi
Servants

Saber:
Tachibana Dōsetsu
by
@DrowsyPangolin
Archer:
Sun Tzu
by
@Sightles
Lancer:
Longinus
by

MYTH*
Rider:
Unknown
by
CasketCase
Caster:
Abe no Seimei
by
Vania
Assassin:
Yarankash
by

ERode
Berserker:
Mary I
by

Epsir
Teams
Team Saber:
Tachibana Dōsetsu
and
Mary McAlister
Team Archer:
Sun Tzu
and
Seth Finch
Team Lancer:
Longinus
and
Martin Urias Holcomb
Team Rider:
Unknown
and
Akise Motoyo
Team Caster:
Abe no Seimei
and
Christopher Luft-Hampton
Team Assassin:
Yarankash
and
Yukari Kamei Yggdmillennia
Team Berserker:
Mary I
and
'Angel'
NPCs
Name: ??
Age: ??
Alignment: Lawful Evil
Origin: Eternity
Magic Circuits:
A sense of the number and quality of the Overseer's Magic Circuits is not immediately perceptible even to those adept at peering into the capabilities of others. The reasons for this obscurity however, are easily visible. Her constant proximity to the Grail and the almost assured presence of an Overseer's bounty of Command Seals distort any value to be had in natural measures of magical ability, trickling mud over the truth with the sheer amount by which they outshine the human underneath.
Magecraft/Abilities:
An Archbishop of the Holy Church, the Overseer should be capable of performing the modern sacraments common to all practicing members, those typically used in the rituals of the Church and without great benefit to the Magi and their search for truth. As a representative of the Assembly of the Eighth Sacrament overseeing a Holy Grail War there are also certain freedoms granted to her regarding methods that would otherwise be deemed heretical in the event that her duty requires her to personally retrieve the Grail. Given the dangerous nature of the assignment it is not without reason to believe that the Holy Church would have invested an agent with knowledge of the greater secrets used by the bloodthirsty heretic hunters and exorcists of the other Church Agencies.
Mystic Codes:
An ornamental staff dictating her rank within the Holy Church is usually found around or upon her person. It is capped in gold and covered in gilded ornamentation, depictions of creatures from the Testaments and the iconography of angels. The main body is made up of ash wood toned a stark, blinding white. Naturally, it serves as a device for the sacraments of the Church though the exact nature of the Thaumaturgy housed within is lost to time, somewhat akin to its true name. The sacraments it is suitable for performing are soft, subtle miracles unlike the great works of healers or exorcists. While the works of the Church's most notorious agencies focus on the purification and protection of bodies, the quaint staff of the Archbishop of São Paulo is a tool for the mind, an equally valuable piece of the spirit.
Weapons/Other Belongings:
The telltale jingle of metal accompanies every footfall of the Overseer, the clatter of hidden weapons is unmistakable to the warlike ear even when it is sweetened with the chime of holy jewelry.
Name: ??
Age: ???
Alignment: True Neutral
Origin: Forgiveness
Magic Circuits:
Number: E
Quality: E
A sense of the number and quality of the Observer's Magic Circuits is easily perceptible to those adept at peering into the capabilities of others. It is just a human.
Magecraft/Abilities:
A creature with such minuscule prana, regardless of identity, could never be capable of Magecraft. While powerless in a conflict of Mages it can be reasoned that the man possesses at least some martial capability based on muscle tone, though not much is evident with his choice of unflattering, baggy clothing. He has a demonstrable competency with English and a gait that suggests the seemingly middle aged male is in acceptable health.
Mystic Codes:
Despite the lack of magical ability there seems to be a prana not quite the creature's own lingering about his person, a transient spirit not unlike a familiar or a Servant forgoing their physical form. Whatever the Mystic Code may be, it registers upon supernatural senses in a way reminiscent of a Command Seal: Magical potential stored on the body without the circuitry to activate itself.
Weapons/Other Belongings:
He does not appear to carry much on his person. Tourist-grade cargo shorts appear to be carrying a wallet and a phone at most, with no obvious weaponry. A gaudily crafted aloha shirt poses even less questions, its baggy form devoid of pockets and taste alike.
Name: Elfriede Fellgiebel
Age: 29
Elemental Affinity: Wind
Alignment: Chaotic Neutral
Origin: Surpassing

Magic Circuits:
Number: D
Quality: B
Magecraft/Abilities:
Basic Magecraft: Elfriede is astutely learned in the Kabbalistic traditions of Association Magecraft, a former darling of the Clocktower who was on course to graduate with distinction, and duly qualified to execute all of the fundamental crafts which identify one as a Magus. The creation of bounded fields and workshops, the binding and control of familiars, as well as various technique for clairvoyance sit comfortably within her repertoire. Simply being a master of the basics is not enough to earn one distinction, however. With her disappearance from the Association most details of Elfriede's work were also lost, but what remains of the deviant Magus' legacy makes it abundantly clear that she was an individual who could not have had allies among normal mages.
Mystic Code Creation (Runecraft):
Elfriede's true power lies in her ability as an imbuer. With an unremarkable magic crest from a family unknown to the world of Magecraft she is conspicuously well-informed on rune magics spanning from Celtic to Norse traditions, with a latent gift for inscribing the plethora of runes she possesses upon various objects. Owing to her elemental affinity's association with the transference of energy the most immediate utility of her Runecraft is in creating support-type mystic codes for other Magi. While she was a student she was known to study industrial design at mundane schools, holding qualifications in engineering and theoretical physics from the University of Cambridge by the time she left Clock Tower. She was deeply interested in applying rune magic to mundane objects, taking inspiration from the widespread use of self-targeted Enhancement spells among Magi. Ordinary substances could be transformed into wonder materials with the use of prana, with especially magically conductive elements like glass taking to the process exceptionally well. The short life of her runes was the great undoing of her endeavors, however. Concrete infused with runes could be made to make steel look like tissue paper... But only for so long, and the substitutions to the mixture which enabled easy enchantment made the material too brittle to survive in any real world application unless constantly maintained. Her techniques only proved to have any real use in situations where equipment, and thus the enchantments, only needed to be single-use.
Runecraft:
Despite spending the majority of her career coming up with novel and usually pointless ways to use her runes to supplement technology, Elfriede didn't get to the level she holds by being a slouch. She is able to use the vast majority of the runes she is aware of, inscribing ancient symbols to call upon dormant Mysteries with the ease of any true blooded rune user. Runecraft, owing to its ancient nature, is typically used to achieve simplistic effects such as setting a target on fire or helping the user to navigate. Enhancement and healing runes exist, though they unpopular with modern Magi due to the prestige associated with Crest-based Magecraft and the (typical) supremacy of refined techniques over the boorish and primitive capabilities of modern runes.
Other Abilities:
Language Lover:
Bouncing around Europe through her youth and studying in the multicultural academic nexus that is the United Kingdom has blessed Elfriede with a tongue for language. Though German is her mother tongue one would never be able to perceive it, as her London accented English flows effortlessly besides the many languages of the continent. While some of the niceties of Brazilian Portuguese elude her, perhaps giving the correct impression that she learned in Europe, she has been adapting swiftly to her new environs.

Industrial Revolutionary:
Industrial Economics, Industrial Chemistry, Industrial Psychology, every field she has dipped into seems to have one important identifier in common. Industry. In addition to her considerable knowledge of the magical world Elfriede has something that the vast majority of Mages do not: A degree in a field that is not teetering on the verge of irrelevance due to a metaphysical dilution of the human race's magical potential over time. The fact that most industrialists are not hunted down by their host agencies and put into magical preservation simply for doing something a little bit better is also something she is quick to bring up. She did not originally revile the world of Magi, having to live in its center may have played into that, but as she distanced herself from the Clock Tower she has found it easier and more satisfying to mirror the contempt her peers had for her instead of pretending it didn't exist.
Mystic Codes:
She is a walking arsenal and factory for Mystic Codes, able to turn ordinary household objects into magical items with little effort. That said, there are entire classes of Mystic Code outside of her capability to produce, chiefly those which result from Alchemy. Her ability lends itself to magical modification of the mundane, not creating magical substances from mundane origins. Potions, salves, compounds and such are things she has no familiarity with, but mana batteries and impromptu weapons are commonplace productions. Most effects possible through rune magic can be imparted on materials simply by engraving them. Since mana batteries are almost pointless for her she only produces such things for allies. In terms of weaponry, Elfriede has toyed with many effects. Cursed weapons can be made of anything, overcoming rune magic's limited range by engraving effects onto objects which would be passed to the target on impact. Sledgehammers which engulfed foes in explosions, bullets engraved with the guiding and destructive Tiwaz runes, land mines made of ordinary floor tiles... She grew very frustrated while exploring legitimate, profitable uses of her craft and found catharsis in demolishing failed prototypes.
Personality:
The mind of a prodigy is always an enigma and there are few success stories with lesser warrant than Elfriede's, a survivor who rose from nothingness, proving nothing to no one and excelling only for her own sake. She is driven by a personality that makes itself too strong for the people around her, turning away most relationships with a compulsive need to assert herself. In short, she is madly in love with herself. She is best described as self serving but does not possess a capacity for greed, having only ever sought profit in order to fund her endeavors or as a measure by which she can prove the practicality of her dreams. A dreamer she most certainly is, an aberrant Magus who spurns the root and longs for a second industrial revolution, one driven by a new generation of magitech. Science without limit, Magecraft without decay. Elfriede is someone who has always had her beliefs questions and criticized, and so freely tears at the traditions of Magecraft without a care. She is not a terribly serious person outside of her work, though she was never personally wealthy the company she kept at university usually was, and the errant industrialist is not shy about her love of luxury. It is self indulgence that drives both her work and her play, and although she is fortunate enough to be successful Elfriede is not a person of great discipline or tremendous virtue: Simple, naked ambition has always done the trick in place of either. Her greatest doubt is whether she strives to prove her ability to herself, or to spite the people who turn their nose up at her.
Short History:
The official history of Elfriede Fellgiebel begins and ends in the records of the Clock Tower. A family that had never sent a student to the Association before suddenly enrolled their obstinate daughter, whose sharp-tongued conviction made her immediately (and uncomfortably for all involved) of a kind with the jaded, bitter elite of European Magi. Her tuition was paid in raw materials, artifacts and gemstones flowing from unnamed connections which continue to be the greatest mystery that surrounds a talented but insignificant Mage. She excelled, and while her passion was deemed distasteful it was not yet known to be heretical. Elfriede was tolerated, and that was enough for her. Her notoriety never rose above anything more than a sideshow, one of the many freaks deemed acceptably harmless and 'okay' to allow to pursue their craft at the Clock Tower. Her legacy ends there, as a woman scholar singlemindedly chasing a novel application of an obscure and degraded school of Magecraft. Five years ago she simply disappeared, not as an act of expulsion and without an official notice of withdrawal her and some of her belongings simply vanished from her quarters. Her family never asked questions, and with several years in advance still paid the administration was simply happy for the reduction in obnoxious clanging noises. Her disappearance did not affect anyone, but the sudden loss of one of Clock Tower's C-list personalities did not go unnoticed. The vanishing of Mrs. Rockefeller was the subject of rumor and speculation, but not serious inquiry. Much as she lived, she 'died' as a curiosity, an "Oh, what's her name?" on the tongues of those that may have once heard of her.
Master CS

Name:
Age:
Elemental Affinity:
Alignment:
Origin:(The basis of your character's existence)
Appearance:(image or description)

Magic Circuits
Number:(A-E) (We'll assume C is average)
Quality:(A-E)

Magecraft/Abilities:(Spells and/or powers your Master has)

Other Abilities:(Skills not related to magecraft)

Mystic Codes:(Any magical items your character has, from potions and mana batteries to priceless, one of a kind family heirlooms)

Weapons/ Other Belongings:

Personality:

Short History:


Servant CS:

True Name:
Class:(No 'extra' classes ((Ruler, Avenger, etc.))
Alignment:
Appearance:

Stats
Strength:
Endurance:
Agility:
Magical Energy:
Luck:

Class Skills:(Skills your Servant possesses that are tied to their class)

Personal Skills:(Skills your Servant has because of their identity)

Weapon:

Noble Phantasm(s):
Name
Title
Rank:
Type:(anti-unit, anti-army, etc.)
Description:

Personality:

Legend:

Summoning Catalyst:(If any)
1: Be courteous and follow all general RP rules (no autohitting, godmodding, metagaming etc). Your characters might not respect each other, be the asshole of your dreams IC, but the joy of trying to murder each other in game is made better when we, as a community, respect each other and collaborate towards a fun game.

2: There will be combat in this RP. Please try to be reasonable with one another and remember we're all here to have fun. If disputes arise, I will settle them.

3: Characters will die in this RP. That being said, I take serious issue with 'falling rocks' style unreasonable deaths, so I'll try to be as fair as possible in that regard. Also, your character's death doesn't necessarily mean you have to leave the thread. You're obviously welcome to hang around in the OOC, but if you have a Master that dies and you wish to continue playing, PM me and we can work something out, remember, there are numerous third parties interested in the Grail War.(Also take note that Servantless Masters can still participate) If your character is a Servant that dies and you wish to continue... be sure to PM me, there may be some shady stuff you can take part in.

4: Nasuverse rules are almost always made to be broken. I'm not going to be overly pedantic about canon restrictions when the canon goes out of its way to modify them with every new addition. Generally speaking, if it can be backed by even the slimmest modicum of good old logic and mythology, we'll be good.

5: Please try to post regularly. Stick with us, engage in the OOC, and lets get a rotation going. If you've got to go, either on a break or for good, please inform someone. You have my solemn promise that there will be no hard feelings either way: No game is better than a bad game and sometimes one just isn't for you, I just need to know if we're down a poster for the good of everyone else. If you're gone for a while and I can't get in touch with you after trying, your character will be controlled or replaced for your partner's sake, but you will be welcomed back if you return.

6: There's no problem with apping canon Servants as long as they're actually eligible to be here, but I would strongly encourage people to remake their favorite Servant or draft up a legendary spirit new to the Fate treatment to keep things interesting.

7: As far as reserving character spots, I'm fine with you guys reserving a particular spot if you wish to do so. I understand it takes a while to make a character. If you reserve a spot and disappear though, I'll have to give up your spot to another interested member.

8: You are welcome to run both a Master and a Servant if you'd like, the only restriction being that they cannot be paired together. Actually, I strongly encourage running Masters(they always seem to be in short supply). You're certainly not required to run more than one character though.

9: Master/Servant pairings are at your discretion. Find a partner, try to keep them alive. If we're down a person and you're all tired of waiting either myself or my Co-GM will fill the slot if the player wants to get on with it. Trust me we've got Servants and Masters stockpiled for this so it's no hassle! Ideally, we've got enough people to go around though. Tell your friends!

10: Tact is always the word of the day. I prefer to keep things relaxed and communal when it comes to the thread. Please do your best to do the same and treat your fellow roleplayers with respect and dignity. That doesn't mean you've got to be up front and greeting everyone in the OOC if that's not your style, it just means these things work better with the understanding that we are all working together. I am always willing to help you and hear you out.
Last edited: