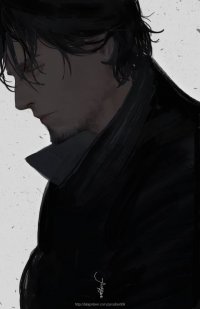 Invitation Status

,
Posting Speed

Multiple posts per day, 1-3 posts per day, One post per day, 1-3 posts per week
Online Availability

9 A.M to 12 P.M - 6 P.M to 1 A.M
Writing Levels

Intermediate, Adept, Advanced, Prestige, Adaptable
Preferred Character Gender

Male, Primarily Prefer Male
Genres

Fantasy, Scifi, Modern, Magical, Horror, Romance,
[fieldbox="Akira Hideyoshi, #CC99FF, solid, 12, Courier New"]
Appearance: Akira is noted for his very frail, very delicate--almost feminine appearance. With his long, silky black hair usually drawn back into a ponytail and his lavender colored eyes he is quite attractive. He is shorter than most men, but he doesn't seem to mind this. He is very athletic his his capability, able to run for long periods and leap off walls. His maneuvers can seem acrobatic to say the least when he's in combat. Akira commonly wears traditional Japanese cloth; a hakama and iaidogi, although there are times when he wears other things, this is what he is usually in.
Name: Akira Hideyoshi
Age: 24
Sexuality: Heterosexual
Height: 5'11
Weight: 145 lbs
Insignia Place/Color: Back, between the shoulder blades. It is a bluish purple.
Skills And level of skill:
Swordsmanship/ Master
Hand-to-hand/ Master
Writing/ Adept
Cooking/ Proficient
Tracking/ Proficient
Magic:
Crash Magic (粉砕 (クラッシュ), Kurasshu lit. Pulverization)
It is a very advanced Magic which gives the user the ability to smash everything they come into contact with. Non-elemental magics are manipulating magical power as a form of pressure, or matter; and Crash works by constantly pressurizing magic of the user's own body, or the magic surrounding them, to the point where any impact causes pulverization. Because the immense pressure causes the movement of the magical particles to become so aggressive that everything is overwhelmed by it, because the immense pressure causes the movement of the magical particles to become so aggressive that everything is overwhelmed by it. If the person is unfocused, they may destroy objects such as houses unintentionally. When used against an opponent to effect, this Magic can send the person flying several meters with incredible force. Despite being a natural offensive Magic, Crash does have other capabilities too. It can be used as a sort of deflective barrier, sending an attacker flying back.
Crash has various offensive and defensive properties. Using its inherent nature of being able to crush anything it comes into contact with, the user is able to nullify the effects of certain Magics by smashing them to pieces. By imbuing their fist with Crash, the user is able to send an enemy flying numerous meters with incredible force. It is also capable of being fired as a burst of energy at the opponent. This Magic can also be utilized effectively as a defensive means. For example, by crushing the ground underneath them, the user is able to create a cushion of sorts against enemy attack. It is also possible for Crash to be used as a deflective barrier, sending an assailant flying backwards when they come into contact with it.
Personality: Akira is very level-headed, so it's extremely rare for him to ever lose his temper. When, and if he does, one would not notice immediately. However, those who know him best, can see it--he'll usually 'toy' with an opponent like a cat plays with a trapped mouse. When he's angry he becomes almost like a sadist in disguise. Nevertheless, it only those who hurt his friends, or someone he view as a truly despicable and dishonorable that is usually subjected to his wrath in this way. He views his guildmates and 'friends' as nuisances, but will often go out of his way to make them happy and go even further to ensure their safety. There has been many times he's saved guildmates weaker than he is, and other times he takes damage from their mistakes but has been found teaching them and encouraging their paths in their magical fields.
Skill level: Adept
Disassembly Magic: (分開 Punkai) is a Caster Magic that involves the separation of objects.
Disassembly Magic is a Magic which allows users to disassemble and separate their targets. The effect of the Magic seems to be different if it is used on a living target than on a non-living target.
The user makes a net-like pattern which runs straight through whatever it touches. The target is then separated into cubes. The object, however, does not lose its properties, as when fire is disassembled it will eventually burn out.
The user makes a net-like pattern which runs straight through whatever it touches, tangible or intangible. However, instead of being destroyed, the living target splits apart and reduces into small, doll-like versions of themselves. This spell doesn't cause permanent damage since the victim will return back to normal after a while. Gildarts has also shown the ability to reconstruct the victim by motioning at the disassembled person.
Skill Level: Adept
History: (optional)
Theme Song(s):
Twelve Titans- "Dust and Light"
"Unravel" (Acoustic) by TK from Ling Tosite Sigure
[/fieldbox]
​
Last edited: