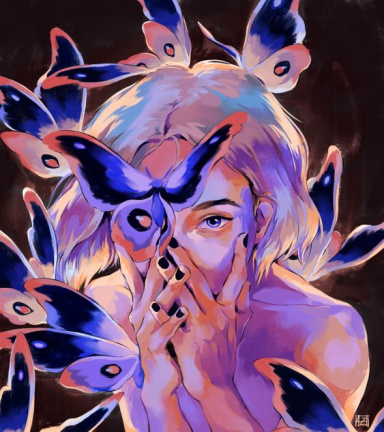 The Suffering Slav Problem Child
Original poster
Invitation Status

, ,
Posting Speed

Speed of Light, Multiple posts per day
Online Availability

On weekdays I come online at 5 am, then I go offline until 5pm, but on weekends I'm always online.
Writing Levels

Intermediate
Preferred Character Gender

Male, Primarily Prefer Female, No Preferences
Genres

I generally like a little bit of everything, but my favorite would be Romance and Drama.

Hello!
So, this is my first post here. I apologise in advance if this comes off cringy.
Anyway, yes, Hi. I am looking for a longterm-partner/long-term partners. I actually prefer one on one roleplays in PMs, or other platforms. I usually roleplay on Discord, or google Hangouts..And since I grew a little tired of people ghosting me, I decided to try a forum for the first time in my life.
A few other things worth knowing, is that I'm still a student and art school is draining as ever. The fact that I have to travel everyday by train is more exhausting, but I always try to post as many replies as I can, whenever I can, so don't worry, I won't leave anyone hanging.
(I know it's frustrating to get ghosted.)

Regarding the roleplay, I am an open minden fellow. As the title says, my roleplay ideas would be romance-drama centered. Some of my roleplay ideas are the following :
Frankenstein's Girl
What if your uncle was a slightly insane sceintist? What if he may have created a mutant? Well, you being an aspiring scientist, your uncle did put in a word at his boss, which led to you finally getting your dream job at the laboratory he works at! And you might just get to work on his ongoing project with his creation.. (Looking for a scientist)

Accidentally Hellbound?
A young man gets hellbound accidentally when he and his friends try out a ritual from the internet, because that doesen't sound dangerous, now does it? Well, turns out it was legit. This little action turns out to make him a hellbound soul, but since the Queen of Maggots was in such a good mood, she decided that she needs an errand boy. Since he was in such a good health, she gave him some 'almost immortality', which means that he is not an easy nut to crack. (In other words, he isn't fully immortal, he ages slower than normal humans and can regenerate) Anyway, fast forward to his thirties. He is still hunting down escaped souls and he is pretty good at his job. Well, until a girl is at a bad place at the bad time, witnessing the man killing off someone and sending their soul to hell. The girl happens to pass out, then the man carried her to his place only to meet with his boss, who seems quiet amused by this. And that is how he gets a partner in crime.
To make everything clear int his universe witches exist as well, but they are either hunted by angels/witch hunters, or fellow witches. (Looking for the hellbound guy)

The Vampire King
When a King's kingdom is at stakes, he has to sacrafice his daughter to some monster. Now, this may sound more dramatic than it really is. The king panics. He doesen't want to sacrafice his eldest daughter, so at first he is thinking of giving his younger daughter off to the monster to be his bride, but hearing this, the eldest daughter gets herself together and sacrafices herself. The ceremony takes place and she is taken away in a carriage with the horrible monster the Vampire king is. (Looking for the vampire king)

Aliens? ALIENS!
When a simple girl gets up and just vanishes one faithful night, everyone would suspect some serial killler..Except this time it's aliens. A common tradition in this universe, is to give a gift to the young prince of one of the most powerful and dominant alien races among the extraterrestrial life forms. They are bringing him slaves/pets of all kinds. Now, it was a bold move to abduct a human woman out of all things, but suprisingly, the prince is more interested in the human woman, so that's either good, or bad for the girl. We'll have to see. (Looking for the Alien Prince)

The Affair
Some relationships last for a lifetime, while others just..Don't. When highschool/college sweethearts decide to tie the knot, after a few years of marriage, it hit the rocks quiet fast. The couple who always looked like they had it all turns out to be at the end of their time together. Since they have always lived in a fancy and quiet luxurious home, driving expensive cars and always dressed to impress, noone ever gets the wrong impression. Well, the husband is quiet tired of always getting blamed for everything, so after getting the documents and talking to his wife, he heads out. Well, he gets thrown out, so he decides to spend a few weeks in a hotel so She can calm down. Suprisingly he meets a young woman, a photographer and he feels something that he didn't feel in quiet a while. This roleplay sure would be drama packed. (Looking for the Husband/Man)

Some shows/movies I'd roleplay:

Criminal Minds - Being a huge fan of the show, I binge watches the first two seasons in a spam of one week. So, being the fangirl that I am, I'd like to try out a roleplay involving the show. I would like my roleplay partner to either play Spencer Reid, or Derek Morgan. I personally suck at playing canon characters, so I would like to play a character which I created.

The Strain - Now, this show is something else. I am usually not a big fan of vampires, but this show changed it. So, I personally love all the characters and I am okay with anything really, as long as I can play my own character/characters.

And lastly, but not least anything Marvel, or DC. I like both universes, but I'd still like to play my own characters.

This would be it. I think it would be worth mentioning that my roleplay ads/posts are always open and that I'm happy to try out new things, so if nothing really tickled your fancy in this post, feel free to suggest something.
Anyway, that's it, have a nice day!
Last edited: