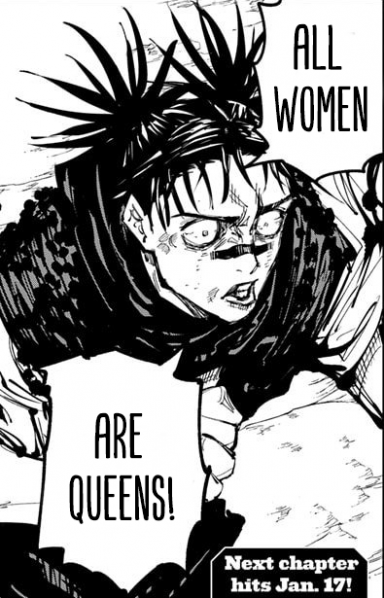 Only Jujutsu sorcerers are the true humans.
Original poster
Invitation Status
Posting Speed

One post per day, 1-3 posts per week
Online Availability

28:21 to 25:30
Writing Levels

Give-No-Fucks, Intermediate
Preferred Character Gender

No Preferences
Genres

Fantasy, modern fantasy, Magic.
I'm thinking of a roleplay were strong warrior, mostly mercenaries, or working as mercenaries will travel to an Island or possibly a newly discovered Continent. I'm setting it in the 16th century, with people from continents base on the known world at the time. The world our characters inhabit would already be your typical magical world with friendly creatures such as fairies reaching all the way up to dangerous monsters like Dragons.(which would be very rare) The reason for the expedition isn't entirely understood by me yet beyond looking for riches and possibly ancient relics. The idea of a roleplay where characters travel to a Dark Continent stims from HunterXHunter.

I imagine the land we arrive in is South America. The people there have a tendency tp worship Demons and the magical creatures are strong there, thus the warriors are themselves. Still not sure if I should have it be an Island like in Greedfall or just go full continent. The current state of the world is moderately peaceful with few wars . World travel is possible, and reasonably safe so finding a Japanese Samurai, an Assassin from the mid-east or African tribesman in a medieval European isn't unlikely, especially for this expedition. We can all build a magical fantasy world based on their respective real world counterparts. I'll have to think of names for continents, or I could just leave them as is for simplicity sake.

There would also be mages, witches or wizards in this world of course and you're free to play one as long as your main magic is defined. I think the world Seven Deadly Sins would best compare to this world for its setting. The magic system will be simple and will take some inspiration from Magi since they had the regular magic you'd expect and Chi for warriors to enhance their own normal attacks. Not like they won't have access to magi, but through magical weapons and techniques. This is still a work in progress, and things will be changed or explained in more detail.