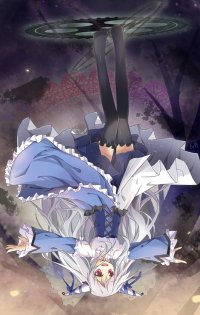 The Slightly Villainous One
Invitation Status
Posting Speed

1-3 posts per day
Writing Levels

Intermediate
Adept
Preferred Character Gender

Female
Genres

Fantasy, Modern Fantasy
I feel we need a villain in here. Too many good-aligned characters. Out of sheer curiosity and not at all because Shiome's villainous sub plot depends on it, can Death be killed? If so, what happens if he is killed?
GENERAL CHARACTER STATISTICS
Character Name:
Shiome
Alias:
Quicksilver
Gender:
Female
Species/Race:
Fairy
Age:
Over 703. She kinda lost count.
Place of Birth:
A mysterious land far to the west, known only as the Forest and Associated Labyrinth of Incredible Mysteriousness (not to be confused with the Forest and Associated Maze of Mundane Obviousness, which is situated in the east)
Current Residence:
A house in a small village on a plain biome, enchanted to be slightly bigger on the inside than the outside. One meter on the outside equates to 1 meter and 4 centimeters on the inside. No one really knows why she did it. Just for shits and giggles I guess.
Occupation:
Witch, Enchanter and part time Evil Villain
Family:
703 year old witches don't have living family.
PHYSICAL CHARACTERISTICS
Height:
Average 703 year old (By which I mean average 16 year old cos of all the immortality 'n' whatnot. Also, she can change her size at will (capped at her human size) so...)
Hair:
Silver
Eyes:
Silver
Distinguishing Marks:
There's a very very faint aura of shininess around her, that you could only see if you held her up to the light and stared at her from an angle.
Strengths:
Incredibly intelligent, most proficient living enchanter (the dead are unfair competition 'cos they figured out how to enchant themselves to reanimate upon death. Hackers.) Good alchemist.
Weaknesses:
Relatively fragile, physically. Never really got the hang of that directly using magic to damage things thing.
More:
MENTAL CHARACTERISTICS
Allies:
?
Enemies:
?
Current Goal/Purpose:
Evil. Possibly. Maybe. Who knows?
Aspirations:
To be Evil. Or not. She's bi-tagonist
Hobbies:
Enchanting shit to do shit it shouldn't be doing.
Likes:
Frogs, enchanted frogs, doing ridiculously stereotypical witchy stuff
Dislikes:
Pretty much nothing.
General Personality:
Spontaneous and childish. Has no cares and does things purely because they'd be a fun thing to do.
More:
SPECIALTY CHARACTERISTICS
Special Items:
None
Weapons:
None
Magics:
Everything!! Shiome can enchant anything to do anything else. Her abilities are a little more limited on living things. She can do all your typical witchy stuff, all through enchantments. She can enchant a frog to become a dragon, she can enchant water to become wine, she can even enchant a wet frog to become a wine-breathing dragon. All enchantments will fade after a while. Stronger enchantments last less time. Enchantments may be refreshed. She may even make enchantments that refresh other enchantments, but those take quite a lot of power and in all her 703 years, she has only done this successfully once. She uses this self-perpetual refreshing enchantment to refresh her anti-aging enchantment. She is currently seeking a way to build more perpetuation enchantments.
More:
HISTORIC BACKGROUND
General History:
Shiome has been known from a young age as the Quicksilver. She in fact discovered quicksilver, (known as mercury in our world), which has the highest affinity for enchantments of all earth elements and is now widely used by all enchanters and most alchemists as well. She's still the most famous enchanter, but thanks to her unpredictable nature, she's no longer particularly in demand. She settled down to focus on doing whacky shit in an out of the way village that just somehow happens to also be the village where a world-scale quest would begin, 300 years after she moved there.