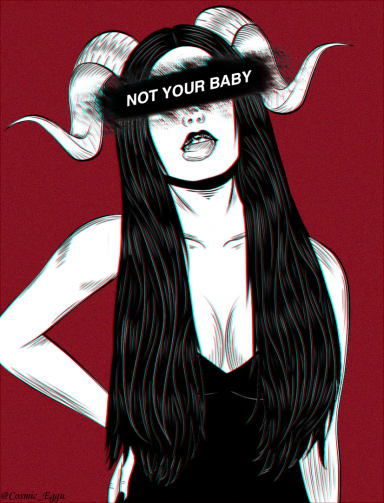 Forever Bound to Him
Original poster
LURKER MEMBER
FOLKLORE MEMBER
Posting Speed

Multiple posts per day
1-3 posts per day
One post per day
1-3 posts per week
One post per week
Writing Levels

Give-No-Fucks
Beginner
Intermediate
Adept
Advanced
Prestige
Adaptable
Preferred Character Gender

Male
Female
Genres

Romance , Heated , Modern , Historical , Fantasy , Fandom , Flexible to any kinds
The Hero's conquered all Wicked in the land and banished them away to a secured island bound my magical boundaries and limits impossible to be breached or left from the inside... The children of the Wicked One's lived a life in a joined banishment with that of their parent's. One day it is decreed by the King and a select group of Hero's children that a set amount of children of the Wicked One's would be sent to attend Enchantsia Academy where all the children of hero's and those of the good attend. A second chance. They will be faced with the choices of good over evil and that of the drama's and issues of being a teenager and the fates they wish.. Romance.. Drama.. Magic.. Choices. They will all be tested by their bonds with another and the strength they have in themselves. In the end they will be asked to on Fate's Day to sign , Delevore , The enchanted book.. This book contains the fates they can follow in the steps of their parents to become precisely like them. They all must sign if signed they have chosen to follow in their parent's steps or not to sign and choose their own path in life. Write their own story.. Make their own path... Meet Fate.

Will you follow the path destined , or choose your own fate?
Now... Are tale begins in the town of the Wicked.. A new chance begins for them whilst the Hero's ultimately prepare to accept them in as one of them.
Our tale begins... A day in the lives of the Hero's and Villain's.
~ The Island of the Wicked ~
~ Lizzie Heart ~
Lizzie scaled atop the roof tops as the heel's of her black leather boot's clattered with each movement. Just another day she wished she could say that still.. Today , she and many of the other Misfit's were to be shipped off to attend Enchantisa Academy by a decree. She wasn't sure whether to be happy or not over such.. She all but sighed a bit as she made a sprint atop the roof only to jump off the edge and grab hold of a laundry rope as it swung down low with her held to it. She released the rope and jumped down with nimble ease to the ground below as she whipped her hair back over her shoulder. It was time to just forget about all these dumb worries.. At that her lips curved into a devious grin as people backed away at just passing near her as she stepped in close to one." Boo.

" In that moment the boy yipped and ran off as quick as his damn legs could take him. She laughed as her eyes glimmered at the action taken.. Mommy dearest sure had set her path into being feared and she couldn't help but love all the little perks that came with it. Stealing , crashing , no rule's and ultimate freedom. Which left her mind to wonder where the rest of her little crew was off at or hiding from the impending doom as she roamed the streets in search of them with a slight commanding strut in her step as she went on looking for them to prepare for the bloody madness ahead as her hair lit like fire against the sunlight.
~
Alissia B. Beastly ~
"
Your highness? Could you please turn around?
" Alissia's head shot up quickly as she broke her gaze away from the window.. Her thoughts had strayed away as she thought of day to come as she watched the Island. Only days ago had her father the King.. Asked the Student Council if they truly wished to allow the offspring of the Wicked One's attend their school. Many had been so very cautious but in her mind all deserved a chance. She gave a slight nod as she smiled to the seamstress as she turned just a bit as she finished off the last detailing to her
dress
. At that the woman stepped back and gave a curtsy before collecting her things and departing from Alissia's room. Alissia gave a sigh of relief as she stepped down nimbly from the stool as she shook her darkened locks back over her shoulder. Her eyes lifted to look to the clock as she all but smiled a bit to herself.. Only just a little longer until they arrived and yet so much for her to supervise as the school's student body president. With that she fetched her satchel off the chair and quickly exited her room to walk down the slightly crowded dorm halls. She received many a smile and wave as she nodded back in her constant polite way. She knew quite a few were always kind to her due to being the next in line to rule over several of the protected kingdoms of Enchantsia.. It was something that always laid heavily on her heart and a form of worry swarmed around it. But today , it just wouldn't be as she exited out the doors to feel the crisp breeze greet her. She watched as several animal trailer's larger and small began to enter.. Many a noise echoed forth from them as she knew all to well that they were the pet's of the Wicked One's... She watched several cages of birds , weasels , snakes , bats be taken out only to be followed by several large horses and big cat's amongst other creatures.. They were to arrive before that of their owner's and only shortly would they arrive. She finally caught sight of some of the Council member's gathered about the entryway courtyard as she noted a few others were still missing. Alissia clapped her hands as she smiled warmly to all as they turned and she spoke up."Glad to see that most of you are here. Now , you all know your jobs so let's make sure everything is in tip top shape , alright?

" They all agreed loudly as they dispersed to do their jobs as she accepted a clipboard with all the new names as she grinned a bit to herself... As she began to speak to another as she waited for the other members. A new year and a new chance hopefully for them all.
~ Arabella J. Snow ~
Arabella sat at her desk with a smile held ever constant to her lips.. Her eyes beamed with a sense of joy as she all but glowed. Today all the new little people were coming to join her at their school! Now , she knew all to well that some had been against it and made sure to put out those terrible things as quickly as they began. Oh , how she disliked those that judge before the other's are even given a chance. It scared her just a bit to think that things may turn out awfully wrong. In her heart though she knew Arabella and the other's would keep everything just peachy! She giggled a bit to herself as she slipped up from her chair to only feel Isla purr against her leg. Arabella kneeled down just a bit to scratch behind her ear's as she dashed away to go lay by the window sill. Arabella lightly fluffed her blonde locks as she paused to take a quick glance of her outfit in the mirror as she gave a gleeful spin.. Oh how she did love a pretty outfit! She remarked in her head as she turned and whistled as Tirzah , her large white tiger padded over to her side. It was than she spoke up in her silken honey tone." Well Tirzah we best get going before we miss all the fun!

" At that she beckoned Tirzah to follow as she padded closely behind as she exited the room with a skip in her step. Many did wonder as to how she kept such a happy spirit going... I mean she was to sign the book soon and fall into a poisoned sleep.. The tale did scare her but she decided to never let her be seen as weak or foolish. She knew all to well she would have to sign but , she always wondered if there could be more to life than what had been assigned to her to take over in the time to come.. Sadly , it didn't seem like they would ever have a choice in what she wanted for herself and her heart. Her lips still remained curved in a smile as her eyes differed. At last she crossed down the stone steps as her heel's clicked and Tirzah took up her perch on the wall to watch all things
occurring. Arabella stood tall with her constant smile as she waved happily over to Alissia as she awaited for the Welcoming Committee . Oh , how today was going to be so much fun and all the new people she's have a chance to spread the joy with and oh how she hoped it would be a good day to come. She stood there and waved to all as they smiled happily to her in that given waiting time.
​
Last edited: