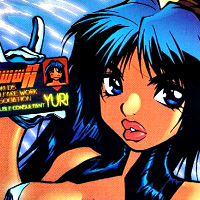 死神
Original poster
FOLKLORE MEMBER
Posting Speed

Speed of Light
Multiple posts per day
1-3 posts per day
One post per day
1-3 posts per week
One post per week
Writing Levels

Beginner
Elementary
Intermediate
Adept
Advanced
Adaptable
Preferred Character Gender

Male
Female
Futanari
Primarily Prefer Male
Primarily Prefer Female
No Preferences
Genres

Fantasy, Scifi, Modern, Magical, Mecha, Furry, Anthro, Horror, Historical, everything really.
Plot
For countless years the Emperor of the Yang Kingdom and the Empress of the Yin Kingdom have been battling for domination over the human world. In effort to finally overpower the other Kingdom, the rulers have created manifestations of their being and fused them with an element, creating an entirely new being. Because Yang is male and Yin is female, these assassins can only be the gender of their creator. Neither male nor females know what the other kind looks it—and their battles will be a first for having met the opposite sex.
Their goal is to kill the ruler of the opposing Kingdom.
Setting
Our assassins will start in the heart of their Kingdoms, creating a battle plan for when they arrive in the human world.
Rules
Follow Iwaku rules.
No god-modding.
Be friendly in the OOCS and a fun opponent in the ICs! =D
All deaths and amputations must be discussed and approved.
You can app one of each gender (not the same elements, however) if you please.
Humanoid characters only.
Please remembers, these young assassins have never seen a person of the opposite gender.
Enjoy the Rp!
The Realms
Sun (Yang) Kingdom





Moon (Yin) Kingdom
Human City
The Elementals
Elemental Assassin Males (Yang Clan)
Fire
Water
Air/Wind
Earth
Lightning
Gravity
Metal (Claimed by: Catz)
Wood/Plant (Claimed by: Thomas McTavish)
Dark
Light
Ice
Anti-Element (Cancels out ALL elements but has zero abilities and is handicapped in some way)

Elemental Assassin Females (Yin Clan)
Fire (Claimed by: YuriLucien)
Water (Claimed by: Shayla)
Air/Wind
Earth
Lightning
Gravity
Metal
Wood/Plant
Dark
Light
Ice
Anti-Element (Cancels out ALL elements but has zero abilities and is handicapped in some way.)
Name:
Clan:
Element:
Gender:
Age : (Between 15~30)
Species:
Race:
Appearance: (Picture please!)
Personality:
History:
Strengths:
Weaknesses:
Likes:
Dislikes:
Skills: (not related to their elements)
Other:

Companion: (choices: Familiar, Shikigami, or Wekufe)

Familiar:
A familiar is an elemental creature summoned by the assassin. I.E. Ice Elemental's familiar appears to be a dragon carved of ice. With enough concentration, and Elemental can see through their familiars are for some time.

Shikigami:
Small spirits found in paper and are skilled at spying, stealing and enemy tracking. They are the only companions that can steal. If a Shikigami is discovered, it cannot be traced back to its creator.

Wekufe:
A shadowy spirit that has been invited into to an Elemental. Wefuke can communicate with the dead and ancient spirits. They can also offer protection and healing.


Create up to three signature moves.

Signature Move 1:

Signature Move 2:

Signature Move 3:

You get fifteen *'s. Choose wisely.
Physical Strength/Endurance:
Stealth:
Agility/Dexterity:
Luck:
Signature Move 1:
Signature Move 2:
Signature Move 3:

Star Chart:
0 - Poor
* - Okay
** - Good
*** - Great
**** - Skilled
***** - Supreme
Stronger
à
Weaker
Fire
à
Ice
Water
à
Fire
Air/Wind
à
Wood
Earth
à
Gravity
Lightning
à
Metal
Gravity
à
Lightning
Metal
à
Air/Wind
Wood/Plant
à
Earth
Dark
à
Light
Light
à
Dark
Ice
à
Water
Anti-Element
à
None
Last edited by a moderator: