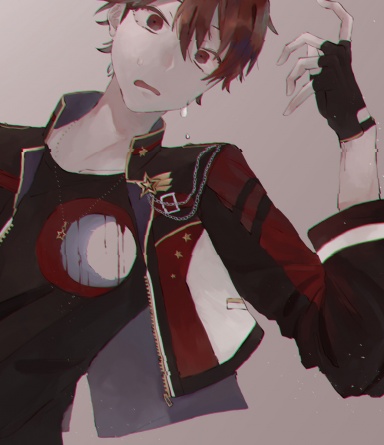 With an ever-bleeding heart...
Original poster
Invitation Status

Not accepting invites at this time
Posting Speed

One post per day, Multiple posts per week, 1-3 posts per week, One post per week, Slow As Molasses
Online Availability

10 AM to 12 PM (BRT)
Writing Levels

Intermediate, Adept, Advanced, Adaptable
Preferred Character Gender

Male, Female, Nonbinary, Agender, No Preferences
Genres

I'm mostly used to Modern-Fantasy and things with some level of Slice of Life to them, though I'm willing to try anything even dice RP. I do think my fight scenes read a bit odd though, it's a work in progress... I also have a penchant for Comedy.


​
I'm here.

I stand alone, in the middle of what appears to be dense woods. Where have I come from? I'm, not sure... I can only observe... myself, surely in a different form than what I'm used to. If it is that I have really come from somewhere else. Still, I can be assured that somehow, in some way,

I exist.

The 'others' sing in-between the silence, content at the pouring, the sky water that falls softly. Somehow I know the word for it, whispering it low to myself as I try to make sense of this world I didn't previously know: '

雨(Ame)

'. Behind me is a tree, big, majestic, proud, as if it reigned over the forest land.

The Tree.

I suddenly remembered why I was here...

I had heard its call.

For what purpose? That, I still don't know... The bark-covered being did not answer to my inquiries. I suspect that it cannot relay words the same way I do...

Under the rain, I sit down observing this environment I had found myself in. Flowers, bushes, tree, grass... They all danced in the wind, their satisfaction and happiness soon becoming my own. They sing with their souls at the gently all-encompassing rain.

I too, hum something softly to myself.

---

Time has passed. I don't know how much, but I am certain that it had indeed, passed.

Today too it rains, a rather strong one. It seems that I cannot get wet the same way the woodland critters can. The rain doesn't bother me. It is oddly... welcoming.

It turns out I was not as alone as I initially had thought.

Nearby, passing the bulk of the forest and into a clearing, I have managed to find a community of bipedal animals, quite unlike anything else I had seen before. They can themselves '

人間 (Ningen)

'. I knew at a first glance into their habitat that despite looking very similar,

we are not the same.

Some days, their saplings would get lost further in-between the greenery, unable to find their path back. I assume that it must be rather daunting to suddenly be in such a situation, though honestly, I wouldn't actually know... Still, I'd guide them back through the paths I was already quite familiar with, back to their tall wooden dens.

First time I had seen it, it had filled me with... bitterness. But I had come to understand that like all animals, these humans were merely making use of what nature provided them to survive. As much as it fills me with sorrow for the fallen trees.

The saplings too, would grow rather content in not being alone, merrily following me on the memorized pathways. They can get wet, so I shield them with a big leaf to the best of my ability. The fully-grown one's would greet us at the entrance. They too understood that I'm not the same, but only a portion of them seemed to react with fear. A lot of it was... gratitude. Without knowing how to react to their gentle words, I simply blink back at them, turning around and leaving for my place of origin.

I'm not sure if I enjoy them, and yet, the humans aren't all that bad... When they dance and sing in some special occasion and it happens to be raining, I watch them from afar. Eyeing the different lair located by the entrance. '

神社 (Jinjya)

' its what the energetic saplings would exclaim loudly when they ran.

I think... that if it continues to be this way, we can actually coexist peacefully. I'd be satisfied with that. At least that's what feels right to say right now.

---

What a fool I was...!!

I should have known, should have readied myself as soon as I had seen how they built their homes.

It's all gone

, from the flowing stream forwards. The forest that had once been there was mercilessly slaughtered, burned alive, chopped down as if meaningless. I've never seen this much destruction before, I'm numb with horror, but also the need to thank the favor...! Yet, it's not like I can actually act on it. I can only watch as my companions cease to exist at the hands of greedy creatures.

How much time has passed since then? Once again, I only know that time

has gone by.

I don't know any of the faces wandering the ever-growing village.

A different generation, much less respectful than the ones I've come to know...

I can only watch, keep my own concerns to myself as I look back towards the tree that has become my origin point.

...How long until it too is gone? How long until

I am gone too?

Certainly, without this tree I cannot exist. Not in this way that I've grown used to. Where will I disappear to, I wonder. Will I remember all that has transpired here? I don't know... The unknown is... unnerving.

I sing again, a sad grieving melody that will last for who knows how long...

Perhaps, it shall echo through the leftover wasteland even after I'm gone.

Somewhere in America, a park.​

​

I am... not gone yet.

Still, this is surely a new location. New flora, yet the same tree,

It was calling to me again...

How??

It doesn't really matter all that much... Well, it does, but it's secondary. Soon it is the last thing in my mind.

The humans,

they come and go, day after day, wandering into this space and later wandering out. Unlike the woods I had gotten familiar with, this environment seems deliberately constructed,

artificial,

it had filled me with aversion for the first few times I had ended up here, but it eventually had grown on me. It wasn't as if I could easily move either way...

Here too, their saplings would wander outside in the rain... Why did they do so when they could get wet and cold? Maybe I'll never understand it. We've chatted a couple times, mundane, sapling things. They're very... lively and innocent. Quite unlike the fully grown ones. I don't think those ones can see me, or perhaps, they're just not acknowledging it. It's not like I want to interact with them either. Not after what they've done.

Every time is rather peaceful. They don't really come out in the downpour willingly. I don't think they like it. I just observe as they run this and that way, hurrying to find shelter or maybe to get back into their solid dens. These ones are colorful and a lot more sturdier. They've learned, they've progressed. They took over countless other spaces and then built these tiny fenced prisons as if it made everything right... It doesn't.

Everything has changed,

but me.

I'm still the same, lonely humming under the rain, watching over my plant companions.

If there is an ending to this story of mine, I suppose it is yet to come...

~About the Plot~​

A university student meets an Ame-Warashi (rain spirit that looks like a child, loosely based on the

character by CLAMP

, that may be based on the

Amefuri Kozou youkai.

) and through an unlikely friendship, both learn to be, on the girl's case more human, and on the boy's case truer to his feelings.

Modern fantasy, primarily slice-of-life, filled with heartwarming moments but also its fair share of slightly bleak and heartfelt moments. A bit of a roller-coaster. Romance is not necessarily planned but always a possibility for the future.

And oh, the OP is written like a monologue, but just the OP I swear!

---

~About the Writers~​

Heyo,

Loveless

here! Huh, what to say about this... Well, I like Japanese culture a lot. I quite enjoy reading about their beliefs, habits and rituals, it's quite fascinating to me and I love how nature-centric it is. Preaching that we should respect it not because of some benefit or future goal, but simply because it is, and has been for a really long, before us humans even.

I also enjoy exploring the human psyche a lot, it being one of my favorite things about roleplaying, the fact that I get to explore what makes my characters who they are. What makes them 'tick' so to speak. So, I decided to mix both things I love, Japanese youkai and the exploration of emotions together in this RP! And guess what, my boyfriend liked the idea and I was very excited!

I'm going to be playing the (at this time) still nameless Ame-Warashi through this and I'm soooo looking forward to seeing where this shell of an individual will develop!!! Anyway, enough about me, I'm going to let him type something now~

​

Thank you Loveless~

Riri

here! And I share many of the same reasons I wanted to try this that my writing partner and partner mentioned. There is just something fascinating about exploring human psychology and human psyche.

On my end, I'll be exploring the journey of someone finding themselves and their own identity, after having suppressed and contorted themselves to fit into society and not have issues... which lead to strong depression and a feeling of having no clear path in life. But through a fateful meeting and friendship, and through introspection he shall grow and develop, and finally come into his own as the full person he is, or at least, eventually will be~

Name:

N/A

Actual Age:

400+

Species:

Ame-Warashi

Gender Identification:

Female

~Overall Information~​

An ancient spirit bound to an even older sacred tree,

it is unknown whether she's the one summoning the rain with her presence by itself or whether she's only allowed to wander through the physical plane when it's raining.

Either way, the Ame-Warashi is never seen out in clear weather, without a doubt getting dragged back into the spirit realm as soon as the rain ceases. The process is just up for the course to her, who will have a memory-gap from her last visit on the physical world to the next, current one. Whatever occurs to her while a formless spirit, it leaves no traces nor recollection behind.

The Ame-Warashi is emphatically connected to plants, being able to feel when they're in suffering due to conditions not being the ideal to them.

She might talk to them, but the plants can't exactly reply back, only that disconcerting feeling of something being wrong being transmitted emphatically to her. As a consequence, Ame-Warashi is rather attached to flora, taking them as company and growing increasingly distressed at the complete lack of greenery in an area.

The sacred tree, itself, is quite important to her given that it acts as a gateway between the spirit and physical realms at each new occurrence of rain.

If the tree was to go, the Ame-Warashi would be locked in an intangible state as a formless spirit until a new gateway could be found, IF there was such a thing. It's most likely that she'd never be able to return, a thought that's rather bothering as it is a permanent journey into a limbo-like existence.

~Personality~

(?)​

​

---

Name: Yuki Hisakawa
Age:
Species: Human
Gender: Male
Occupation: College Student​

~Overall Information~​

(TBA)
Last edited: