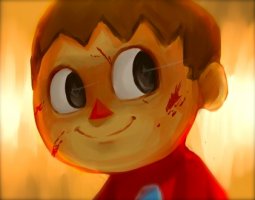 Genders You Prefer Playing

Male
Playing Style- Passive or Aggressive

Moderate to aggressive.
Favorite Genres

Fantasy, Horror and Sci-fi. I'll try basically anything though. I also love strange and unusual RP genre concepts. Different is good!
Genre You DON'T Like

I'll try just about anything. I'm not overly into RPs where the prime focus is romance. I'm not too hyped on fan based anime rp either.
DOUBLE MEANING

Ok, So here is the basic break down. Write down a sentence that can have two meanings depending on punctuation.

Example taken from Diana's signature:


Asmodeus helped the mod jack off a horse.

Asmodeus helped the mod, Jack, off a horse.


Now that is funny as hell! The ones you post don't have to be funny (But its better if they are) just as long as they make sense.

Have fun and Enjoy the game.