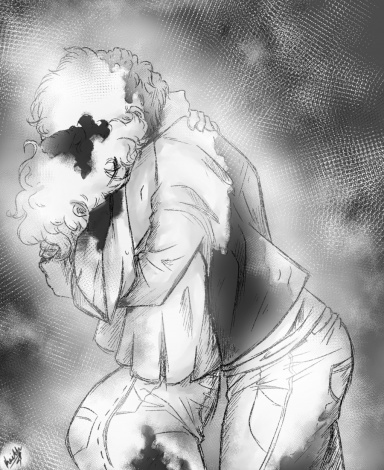 Consume. Smother your doubts. Be fulfilled.
Original poster
Empty Redemption

|

Interactions

: Hana and Bungee |

Location

: The Corner


Lulling Bombay to sleep was as difficult as usual. Perhaps a tad harder, due to the Dog Fights edging ever closer. Hana was forced to cradle the child's head in her lap and sing soothing songs in her mother tongue, nimble fingers running through his thick dark hair. After a while, after the shivers had died, after his nails ceased digging into the fabric of her jumper, sleep possessed him and she decided to excuse him from Group Reflections that night.

On her way to the session, a face stood out among the lazy speckling of prisoners here and there. Cold masks, dead eyes, madness bubbling beneath the surface...and then him. Pure, unfiltered bitterness. Piercing through her skin and crashing over her soul in a wave of guilt.

Bungee met her head on, forcing the woman to halt in her tracks. "...Bungee," Hana said, voice carefully devoid of emotion. Despite the front, her thumb and index fingers twitched, tapped against one another like a nervous tick.

"Farhanah," Bungee grumbled, gaze locked onto hers like frozen ice caps. His lip momentarily curled, holding back a sneer at last moment. Sharply, he held a hand out to the older woman. "Come, we must do the discuss. In private."

Hana stared at the offered hand, unease bubbling up her spine. It would be foolish to join a prisoner fueled by wraith, especially to an isolated and lonely location...But the guilt flourished. Roared. Loud and unnerving. Before her mind could fully concede, she accepted his hand and suddenly found herself tugged down the halls--in the opposite direction of Group Reflection.

She would be late, she knew it.

Bungee lead her into what appeared to be the famous Corner. It was a tucked away and grimy corner on a lower floor of Hagur, just above the Corpse Dispensary. Heat radiating from the Put Down furnace below filled the air, sprouting little bullets of sweat along the pair's faces. Hana never associated herself with someone who ever occupied the corner, and for good reason. She was never interested in sexual rendezvous, drug trades, dirty deals with guards…

"Farhanah." Bungee snapped Hana from her musings. She pulled a grimace, shaking her head.

"It is just Hana. You the know this, Bungee."

"I've forgotten the care," he grumbled. The man folded his arms, expression as stern as steel. "I thought we had the agreement. You stay the away from Dog Fights and I stay the away from you. That is our condition."

"And let my children die?" Hana snapped, a growl slipping through her teeth. She stomped forward, closing the distance between them. In a snap of movement, she slammed both hands to his chest, nearing forcing him to stumble. "You are crazy!"

However, Bungee merely recovered the lost distance and bared his teeth. "No! You are the crazy! I swear to Sky Father, Farhanah! You enter the Dog Fights and you will be death!"

Another shove. Another recovery.

"Fine!" she yelled, eyes burning, "If I shall die then I shall! But I will do this and protect my children!"

"You are such the stupid woman," Bungee seethed, tapping two fingers to the temple. A wild fury nearly seeped into his eyes, lurking beneath the his last flimsy wall of defenses. "And a coward! You're "Mother Hen" stupidity is just that, the stupid! Useless! You can't repent, Farhanah! You cannot the redeem your actions!"

"It was not my fault!"

"Then whose was it? Huh?!" Bungee seized Hana by the shoulders, pushing back as he used his scant few inches to tower over her. "Fate! Mine! My brother's?!" Nails flew up to his throat and clenched, attempting to push him off. However, he kept steamrolling forward until her back slammed into metal. "That is all you do! The blaming game! You blame my brother and kill him in the cold blood! Then you go and do the blaming on me--I am trying to help you live!"

"Enough!" Hana stomped down on Bungee's foot, forcing the man to grunt in surprise more so than pain, and his grip slackened. She shoved him off completely, breathing heavy. A frantic pounding cracked against her ribs. She extended a shaky finger, glaring the man down with a promise of pain in her eyes. "I...will fight in the Dog Fights. If I die, if you kill me, then that is that. And you. Will not. Stop me."

"Stupid," Bungee growled, nails raking across his scalp. "Stupidest damn woman. Stupid, stupid, stupid…" He slumped to the floor, the molten rage from before fleeing through is pores by the pound. A pained stutter infected his words, fingers curling around one another and resting over his mouth. "You...y-you put me in here. Stupid woman..."

The guilt returned, far more powerful than before, and Hana's insides rippled with agony. She stumbled back, shaking her head slowly. "It's...not my fault," she repeated, "I...I must the go. Do not follow me."

Without waiting for a response, she left Bungee alone in the Corner.