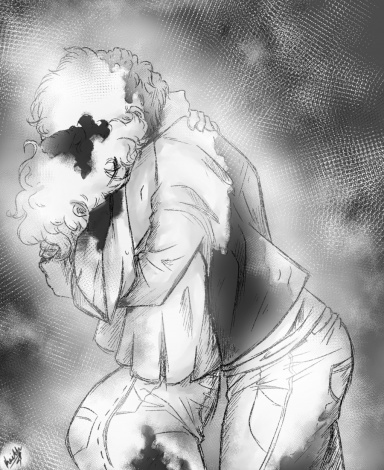 Consume. Smother your doubts. Be fulfilled.
Original poster
Year

: 2813
Location

: Hagur-343 |

Boiler Chamber
Time

: 3:40 PM |

Free Period
"Time's rolling around damn quick, ain't it? Twenty four hours and we'll be scraping dog shit from the walls." An adjustment to the brim of his cap, square jaw shifting in tandem with the gum rolling between his teeth. It was damn hot. Always damn hot. He couldn't stand patrolling the Boiler Chamber.
"Dog shit. Dog blood and guts. The whole shabang," another guard chuckled, albeit weakly. His gaze landed on any space his shift partner didn't occupy. "You placing bets this year too? Last year kinda had you fucked…"
"Yeah, fucked right in the ass and everything. But lemme enlighten you, Dill." The man was practically soaking through his clothes. His hairline swallowed up sweat like no tomorrow and a heated pink filled his round face. Regardless, he ignored the discomfort and continued gruffly, "Boys been talking around here. A dog snuck poison in last year, a whole damn Blazer the year before that. But this year? This shit's going straight to Hell, for all the tributes."
Dill squirmed a bit, also sweating by the gallon. "Man, come on Hank." Dill's face didn't know whether it wanted to twist with amusement or nervousness. "You don't believe any of the shit these guys pass around. Shouldn't, anyway. They're just bored like the rest of us. Like to hype us up and waste our money on the losers. Ain't nothing coming in this year. Cargos should be on lock and everything."
"Heh, that's why you're gonna get fucked in the ass this year," Hank said. With a grunt, he abandoned his post next to Dill and moved over to the south end of the chamber, plopping down onto the nearest bench. He yanked off his cap, fanning himself. "What's really got me fucked is the heat in this fucking place, Goddamn!"
Dill was quick to join his grumpy workmate, heaving a sigh of relief for his throbbing feet. "It's the damn boiler." He knocked his head at the aforementioned contraption. It was a massive monster of molten metallics and highly pressurized steam. It took over nearly half of the floor's space, a jungle of pipes running through the area and weaving overhead. Despite Hagur-343's highly advanced structure, there were a few low grade appliances slipped in for the sake of saving money.
Dill squinted at the infernal thing. "Waste of damn space, if you ask me. All it does is eat away at oxygen and make your musky ass smell even muskier."
Hank flipped him off.
"I think that thing's gonna conk on us though," Dill said, lips pinched. Right on time, a series of clangs and rattling shook the boiler, nearly shaking the ground beneath their feet. Usually, the horrid sound died after a few moments, but it stretched on longer than either of them had ever heard before.
"Uh...is that supposed to happen?" Hank asked, already rising from the bench.
"H-Hell if I know. Do I look like an engineer to you?"
Suddenly, the rattles morphed into a high-pitched whistle. Followed by two more. Another. And then another.
A loud groaning noise.
Dill and Hank paled as they watched the boiler slowly expand like a balloon, barely holding itself together. Not good.
"Not today!"
Before Dill could blink, Hank was already sprinting upstairs and leaving him behind. "Wha--don't leave me here you asshole!" He scrambled up quickly, nearly tripping over his own feet when--
Pshhhhh!
Pipes started bursting open, thick and broiling hot steam filling the chamber. The two guards slammed the door shut behind them, breathing heavily. When they looked at each other, the sinking realization dawned them in unison. At the rate that was leaking, the pressure would go shooting up the pipes and straight to the chamber up above.
The courtyard.
---
Location

: Hagur-343 |

Courtyard
Time

: 3:48 PM |

Free Period
There was the usual ambiance of overlapping voices and sour grumbling of prisoners, feet trampling back and forth and harking laughs vibrating in throats abused by decades of nicotine and life.
And then it happened, though no one could explain it.
A skirmish emitted through the door leading out of the courtyard, drawing the attention of court marshals. They jogged outside of the chamber with an urgency in their step, a few briefly stopping to order the prisoners to remain where they were.
"It exploded!"
"What? Just now?"
"Where's the mechanic?"
"Don't breathe it in!"
"Move the dogs out!"
Words crashed and blended into one another, all meaning behind them lost on any ears that heard them, but the frenzied tinge to their tone wasn't missed. An acrid stench and smoke started seeping through the air vents. Dizziness overcame a handful of guards at the exit as they fell to their knees, nearing the brink of unconsciousness. A smothering heat inundated the atmosphere.
"Everyone! Get...get out! Now!" Another guard struggled to remain on his feet, waving frantically at the exit while trying to drag limp bodies to safety.
Tag:

Elle Joyner

,

CloudyBlueDay

,

KatSea
Last edited: