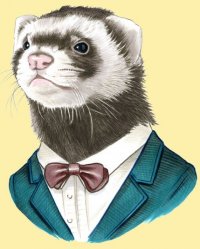 Ferret Dad
Original poster
Invitation Status
Posting Speed

1-3 posts per week
One post per week
Slow As Molasses
Online Availability

Afternoons and evenings, some weekends.
Writing Levels

Intermediate
Adept
Advanced
Prestige
Douche
Adaptable
Preferred Character Gender

Male
Female
Primarily Prefer Male
Primarily Prefer Female
Genres

Fantasy, Science Fiction, Post Apocalypse, Horror, Romance, Survival...

Definition Note: "Gender" being defined as the total package. IE: How one defines who they are. This is of course your physical sex, but also gender identity, masculinity & femininity, et cetera. So if you're going off the definition "based on one's sexual organs", firstly, the word you're looking for is "sex", and secondly, that's only one part of the total sum of Gender. So use this definition.
------------------------------------------------------------------------------------------​
Another thread of mine where I ask a question out of curiosity in what is normally hot bottom topic territory. Last times it was on
religion
and
politics
. Now it's on genders in fiction. Let me stress that part:
In fiction!
Not the real world. Although if the real world affects your views of fiction in this manner, it would be interesting to know how.

Rules:
These should be obvious, but I'll restate them anyway.
Don't turn this into a derpbate thread. This is not the place to tell people that they're stupid for thinking things differently than you, this is a thread to explore different points of view. It's a safe zone from debate. Therefore...
You can ask questions about why someone thinks the way they do, but don't criticize it. This is not the thread for that, and I highly recommend against making that sort of thread. These threads exist to learn things about each other's views of the world and personal tastes, not to declare moral superiority or righteousness over each other.
There is no wrong or right answer on this particular topic, as it has to do strictly with your personal feelings about fiction. So go wild about it. I'm genuinely curious and want to see several different points of view, so I can expand my total sum knowledge of the topic and thus expand my tools to write about it.
Remember that the moderators have thread ban tools. If you play poorly here and everyone else is getting along, they can simply remove you from the discussion without removing the discussion. So play nice, or the mods will take away your sandbox rights. Nobody wants to play with the kid who shits in the sandbox.
Questions:
--Does gender matter to you in fiction? Why or why not?
--What is most interesting to you about this particular topic?
--What's your favourite genre in fiction?
--Is there any particular example in media (novels, games, films, et cetera) that stands out to you as portraying genders excellently?
--Is there any particular example in media (novels, games, films, et cetera) that stands out to you as portraying genders extraordinarily poorly?
--Does the topic of gender affect your own character creation process or world building process in role plays?
--When role playing, playing video games, or using other forms of interactive storytelling, do you have any particular gender preference for the characters you play?
--What do you think of gender & sexuality tropes? Do you like any of them, do you dislike them? Do you tend to use any of them yourself? (Please don't vent about Hollywood here. Because you get to do that with the next question. This is directed specifically at you.)
--What do you think of mass media's attempts at portraying genders in film, games, comics, and so on? Overall good? Overall bad? Lots of variety, or none at all?
--Do you love ferrets? Because I love ferrets, and everyone should love ferrets.
Happy Holidays!