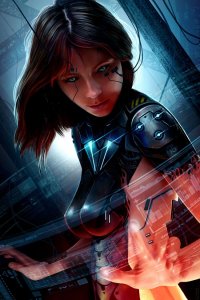 The Murrstress
Original poster
LURKER MEMBER
FOLKLORE MEMBER
Invitation Status

Not accepting invites at this time
Posting Speed

Multiple posts per day
1-3 posts per day
Writing Levels

Adept
Advanced
Prestige
Douche
Adaptable
Preferred Character Gender

No Preferences
Genres

Scifi, Fantasy, Modern, Magical, Horror, Noir, apocalyptic, Grimdark, yaoi, yuri, anything really.
Do You Know Why The Caged Bird Sings?
​
In the year
2031
, scientists in Russia managed to perfectly combine a human embryo with a avian zygote- leading to humanistic creatures with perfectly formed wings, bird-like eyes, and IQ scores that would need an entirely new type of test to chart their intelligence. The first child born with gossamer wings and bright amber eyes called the world to a battle over what science was allowed and barred from doing.
In the year
2056
, this child grew, his name was Yuri, and proposed to his girlfriend of thirteen years. Another squabble was brought to the forefront, over this being marrying a regular human being. In the end, they married.
2091
, Yuri's wife died in a car crash while he was attending a science lecture in the Ukraine- there were reports that perhaps it was murder.
2111
, Yuri became part of a board of scientists who went back to the project that created him and produced 300 or more individuals that were like him, against some peoples beliefs, these beings were slowly accepted into society.
2122
, Yuri, still seeming at the age of fifty, outlives most of the scientists who had helped create him and the others.
2133
, the population of what the beings are now referred to as "Avian Beings" grows to 530, due to reproduction.
2166
, Yuri's death at the age of 135 (Which became the guideline for these being's life expectancy), the population of avian beings, booms to new heights at two thousand.
2179
, Without Yuri, many rules and restrictions started being passed on the avian beings until they were pushed into gated communities, segregation was steadily making a comeback.
2190
, a new type of sickness, named "Avian Influenza" ran rampant throughout the countries, knocking their population down to three thousand, from what had been 6,000.
There were rumors that human scientists had created this breed of flu to create a more manageable number of these beings to work with.
2200
, A new type of slavery begins, avian beings are nothing more than servants in households- or attractive pets for the wealthy.
2245
, another flu, strike, this one becoming extremely dangerous to both humans and avians due to the sickeness's ability to mutate, and avians' relation to humans. both populations take a tumble.
2266
, Both populations are at the same range. Three million for both species.
INFORMATION ABOUT AVIANS

Avian beings have similar ethnicity to humans, there can be many different appearances for these beings to have. They can be pale, freckled, dark skinned, what have you
Avian beings were usually created with the zygots of birds, usually from the
parrot family
. (Look at the link), you can have mixed heritage of birds
Avians are similar to humans, yet there are differences, such as the different eye colors, the wings (Which usually are quite an impressive size, compared to their overall height- usually wing spans range from six feet to nine), as well as their organ and bone structure. Large pectoral muscles, a larger heart than that of a human, and their lungs and windpipe are more similar to those of a birds- all for the engineering to make flight easier. Sometimes, some avians have a small patch of downy-like feathers on their chest, sometimes tail feathers have been reported. Their unique structure requires medical professionals who know how to work with their bodies. Vets work in a pinch though.
Avians do not give birth to live young, they lay eggs, which hatch after about three months.
Their life expectancy is longer than humans, and their intelligence is also higher- though due to their high IQ, they can get bored with learning if it isn't at a pace they require- another reason why special schooling is required
EXTRA INFO (Will probably be added to along the way as well)
​
*The avian population and the human population are highest in the US, China, and England.
*There are still wealthy people and now there are wealthy avians too, as well as poor people of both species.
*Slavery of avians isn't entirely looked down upon, but nor is it discouraged
This RP takes place in the year 2268, all systems of money are slowly losing power to those who don't have enough. Bartering is encouraged. This is an apocalyptic setting, where you either struggle to make enough money to live by, or you live comfortably in a nice setting

I'd prefer if the posts for this RP are at least a good 4-6 paragraphs long, though I won't be too strict about it. Be creative, have fun. Use grammar, no god-modding. The usual rules that I'm sure you're all used to.

**************
CHAR SHEET



Name:

(Obvious)


Age:

(Life expectancy for humans is around 95-105 now and days, life expectancy for Avians is 100-135)


Species:

(Put human or Avian) *If avian, look up the types of birds that are out there. Parrots, Raptors (Birds of Prey), Corvidae (Crows, ravens, jays, ect)


Gender:

(Obvious)


Height:

(Obvious, though Avians aren't very tall, due to their unique bone structure which is hollow for flight, usually around 4'0-5'8 at most)


Weight:

(Obvious, though Avians also aren't very heavy)


Appearance:

(Obvious-pictures aren't discouraged or required, either explain or show what your character looks like!)


Personality:

(Obvious)


History:

(Give me some backround to your character)


Wealth/Status:

(Poor/middle class/wealthy/slave)
​