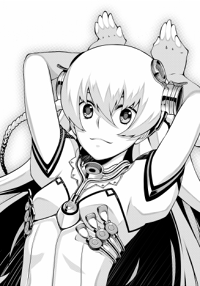 Edgeknight
Original poster
FOLKLORE MEMBER
Invitation Status
Posting Speed

One post per day
1-3 posts per week
One post per week
Writing Levels

Beginner
Elementary
Intermediate
Adept
Adaptable
Preferred Character Gender

Female
Futanari
Primarily Prefer Female
Genres

Scifi, anime, mecha, magical girl, superhero, cyberpunk, yuri
Mankind had entered an era of uncommon prosperity. Advances in cybernetics and neural interface technology have brought about incredible leaps in medical prosthesis, and continued advances promise the freedom of augmentations, not simply replacing parts of the body, but improving upon them. Though many are leery of this transhumanist push to improve upon nature and take control of Man's destiny, technology marches on, surrounded by a swirl of ethical and moral debate.
The world is not without conflict, as small-scale wars and skirmishes continue to happen, and augmented soldiers begin to be fielded, although many veteran recipients of cybernetic limbs merely appreciate the improved quality of life and refuse to return to the front lines. Ideology, power, resources, people will fight over the same things they always have. At least, until a new variable arrived to upset this status-quo.
Without warning, colossal alien hives appeared over several countries, and began an unprecedented and apparently unprovoked attack. Millions lost their lives, and many national borders were effectively shrunk or redrawn by the territory claimed by the invading monsters and the deadly mists they spread. Facing a threat on a level far beyond the mere national disputes of the past, the world has banded together, however uneasily, to provide a unified front against the new threat. Resources are poured into new ways to combat a new threat, and generations of advanced combat cyborgs are fielded as a vanguard and support for conventional troops, to drive back the alien tide.
The year is 2070. The war with the monsters rages on, and rumblings on the fringes turn toward using their cyborgs for additional purposes. And so, the curtain rises...
I am a sucker for music. Expect to see a lot of messing with it if I remember to do so.
The Setting
Set on a Strangereal-style world, torn by war and the invasion of alien monsters. The nations of the world have, for the most part, set aside their differences to battle this invading and overwhelming threat. The best technology mankind has to offer has been combined with the best mankind has to offer to create a corps of powerful combat cyborgs equipped to best fight, survive, and win battles. Whether flying the skies as modern-day valkyries, rolling through infantry or providing artillery fire support, or skimming across the high seas, these cyborg combatants bring a surprising punch in an extremely small package.
Technology has generally advanced a good deal, with cybernetics being commonplace, telecommunications being reliable and global, and the average standard of living improved considerably. That said, average. Depending on where you live, the reality may be quite different.
This is intended to be a collaborative RP, so the setting itself is in flux. If you'd like to create your own nation or part of the world, feel free. If you'd like to expand upon something already established, it's probably best to talk with whoever first introduced it, but don't feel like you can't. Here are a few major players to get us started.

One of many large megacorporations granted extraterritorial status, Front Line is a major producer of cyberware and military hardware in general. Part of their aim is to be a source of innovation in this war, and a major contributor to the world's arsenal. Front Line's primary base of operations is an arcology spanning several city blocks, and the entire city surrounding it. While not everyone there is a company man, many are. Law and order are maintained by the corporation's own private army and security force. Their cybernetics tend to reflect life with a sleek, modern design, often with glowing highlights.


Devastated by particularly large hives during the invasion, much of their territory has been lost, and what remains is crowded, with many areas falling into slums or disrepair. As one of the major front lines, Voskad's national temperament is often a bit...desperate, and they push their people and technology harder than most. Experiments many would consider amoral are certainly not uncommon, although they are kept as secret as possible, lest their allies balk at how they develop some of their successful technologies and techniques. As one might expect, Voskad boasts such claims as being the first to discover the lethal disease associated with the Mist, as well as the effective countermeasures both in terms of protective clothing and cybernetic surgery.

The Voskadi people, on the whole, are often a stoic and determined lot. They are aware of the heavy sacrifices they are asked to make, and much of the population who hasn't remained either out of necessity or duty has spread out as refugees into neighboring countries. Both the people and their government are making the best they can out of a bad situation, and while spirits may not be high, things could be demonstrably worse, if not for the strong efforts to maintain peace and protect what cities and culture remains in the wake of such destruction.

As a general note, one would no go wrong in borrowing influences from Germany or Slavic countries, for characters hailing from Voskad.


Horrible alien monsters that have so far been given no official name, usually known simply as "monsters" or by any number of similar appellations, many of which further involve adjectives not suitable for polite company. They appeared as if from nowhere, though the two leading theories are that they dropped from space, nearly undetected as an apparent and major meteor shower, or that they arrived by some form of dimensional rift or wormhole.

Attempts at communication so far have ended in failure, and the true nature of the invaders remains unknown. They are mostly known by their large, city or fortress-like hive structures, which often integrate themselves into existing cities or major terrain features, and by their war machines. Their weapons take a variety of forms, some seeming more like vehicles layered in strangely-angled armor and colored flatly, until they begin pulsing with luminous patterns to dazzle visual tracking in combat. Others are much more obviously organic, taking the form of sometimes titanic beasts at least similar to animals, to the point they're oftened classified by what they resemble. Smaller humanoid types are a recent development within the alien ranks, and seem to be a direct response to the forces most effectively deployed against them.

Most larger aliens have a sort of weak point or "core" which can be found and attacked to quickly eliminate them, as destroying this core causes them to die, leading to some speculation that such may be a key to the aliens' true forms. Dead aliens begin disintegrating into flakes of glimmering material. how quickly this decay occurs depends on the method used to defeat them, with destruction of a core resulting in near-instantaneous disintegration of the body. Alien remains are toxic, poisoning the land in a manner similar to the Mist, although usually to a lesser degree.

The Mist spread by the aliens is a dangerous miasma, and not just because it can cloak their advance. It is toxic to humans and other terrestrial life. The lucky ones die, as large crystalline growths consume their body. Reports from the front lines suggest the unlucky ones are instead somehow mutated and converted into aliens themselves, though they are unsubstantiated rumor at best. Areas under continual alien occupation usually transform utterly, with the normal environment replaced with one of glimmering metal and crystal. One should not forget the danger inherent in such places, even if they are beautiful. Sealed protective gear and proper air-filtering apparatus provides a very strong protection against Mist disease, and cyborgs seem to be particularly resistant by their very natures. The only known treatment to crystallization is to remove affected parts of the body and replace them with cybernetics.

Player Characters
Your characters will be members of a squad of combat cyborgs, one of many such multinational units gathered together to combat the alien threat. At least some of them may have served together for some time, and may already know each other to some extent, while others may be relative newcomers to the squad or even to military life in general.
The aim of this RP is not simply combat, violence, and adventure. In fact, the best I can likely manage on my own is a war drama pastiche. There certainly will be combat, and there will be potential for political intrigue or other such heavy and serious topics. but i hope those will be more of a backdrop for slice of life hijinks of a vaguely military flavor, an otherwise generate entertaining scenarios where the characters' personalities and quirks bounce off each other.
With that in mind, how good your character is in a fight isn't the most important thing. Their motivations, quirks, and interests matter as much or more. Where are they from? Why did they become a cyborg? What do they think of the war and their companions? Consider these and other questions, when you work. Characters aren't created in a vacuum, either, so I encourage everyone to comment on each other's characters, particularly if something in someone else's sheet gives you an idea on ways your two characters could interact.
While my main influences are a ton of mecha musume anime, this game is equal-opportunity, and your character may be any gender you wish. ...Yeah, it's something of a silly thing to say, but it's worth actually saying.

Your character isn't just an ordinary cyborg. He or she is chock-full of advanced, military spec cybernetics. Most cyborgs are more machine than flesh, to a startling degree (think Raiden in Metal Gear Rising, or any of the many characters whose bodies are almost completely artificial in Ghost in the Shell). Given that the primary remaining organic components are the brain and some internal organs, an android, should such a thing even exist, could easily pass for just a run of the mill cyborg without careful medical scrutiny. Your body is far faster, stronger, and tougher than that of an ordinary human, and while you still need to eat to sustain your brain and other functions, you are in part powered by an exotic power source which can conveniently keep your fancy body functioning.

Creating a combat cyborg is expensive, and the surgeries are extensive, invasive, and...well, strange. You've had most of your body replaced by mechanical augmentations, and although you still have full sensations, it still takes some getting used to. The extensive nature of the surgeries ensure that practically all cyborgs are volunteers. Cybernetics aren't quite one size fits all, and for the world's elite fighting forces, they're all custom jobs to some extent or another. After-care is also quite important, and a typical cyborg sees a long period of rehabilitation and physical therapy to get used to their new body, and to relearn their own strength. No matter what anyone says, it isn't quite the same, and it takes some practice to pick up an egg or glass without breaking it, or open a car door without ripping it off.

Most cyborgs live fulfilling lives, although combat is just as mentally straining as it always is. And some have difficulty adjusting, feeling as if their new body is still "wrong", or some level of phantom limbs, even despite the artificial neuromuscular systems and tactile senses. Some have reported strange floating sensations, particularly when lying in bed. In extremely rare cases, rejection reactions are known to occur, although cybernetic rejection syndrome on the scale of a full-conversion combat cyborg chassis is inevitably fatal.

Despite all of this, cybernetics don't eat one's soul, or inevitably drive one insane with transhuman disregard for those still bound to weak, fleshy bodies. You're still human, no matter how much you've changed. The overall tone for cyborgs and cybernetics is one of optimism, or at least egalitarianism.


Cyborgs are tough, but they're not invulnerable. And they still have something which passes for blood. The exact color and function might change, but bleeding out is still something of a legitimate worry. The more common injuries for a cyborg in combat involve being blown, torn, or cut apart by weapons wielded either by another cyborg or a monster. Cyborgs can take a lot of punishment and keep going, even so. They can lose limbs and not be too inconvenienced. Their bodies can be repaired easily enough, at least back at most bases. So any fight you can walk away from (or even be carried away from) can be considered a good one.

Generally speaking, you wouldn't die unless something has severely damaged or destroyed your head or torso. If you want to lose limbs and suffer what would otherwise be horrific injuries, go right ahead.


Cyborgs are designed for modularity, particularly in the sort of equipment they can carry into combat. Sure, many do specialize in specific forms of combat or weapons systems, but they can still change their loadouts around to suit a different expected situation. A character's overall armor and weapons need not remain completely fixed, although it's best to remain within a variation on a theme: the high-flying ace certainly could equip heavy artillery gear, but they wouldn't be very good at using it at all.

Actual equipment and abilities can vary wildly. Most cyborgs are generally outfitted with kits that allow them to function well in either the air, on land, or in or on the water. The specifics, however, can be quite different. some opt for melee weapons and means to close distance with their enemies. Others prefer devastating ranged weaponry. Defenses could focus on heavy armor, or simply on not being hit, or on not being seen. senses can be augmented, either improving vision for better range and acuity, or gaining entirely new senses, like radar, night vision, or thermal vision.

Character equipment loadouts can only be changed on a base, they can't just "hot swap" in the field, so forethought in preparation is often key. Any major systems which are integrated into their bodies are usually not as easy to replace. Every cyborg also has a "civilian grade" set of limbs for walking around off base or otherwise reducing their overall ability to be dangerous to those around them to levels much closer to an ordinary human.

Character Sheet
I'm keeping this fairly simple, although you may add any additional detail you so choose.
Name:
We've got to call your character something. Also include any nicknames.
Rank:
I'm honestly not sure we need this, particularly as I doubt anyone will really play formally with the military rank structure, but it gives people more to call you.
Age:
Anywhere from the teens on up. It's anime, nobody cares that you're too young for the enlistment age if we were trying to be realistic.
Nationality:
Where are you from? If you're making your own country out of whole cloth, a brief blurb on what it's like would be appreciated.
Appearance:
A picture is worth a thousand words, so use one if you have one that's fitting. Artwork is highly preferred over photographs from life. I don't care if it's specifically "anime" styled or not, though. You may also include a written description, particularly to outline any details not in the image.
History:
What was your life like? How long have you been in the military? Why did you decide to become a cyborg? You don't need to go into a ton of detail, but please write a few paragraphs about major life events for your character, so far.
I won't require describing aspects of a personality directly, but feel free to let some shine through in your history, or toss some up anyway, particularly if you think it'd help make things more interesting for the others.
Cyberware and Gear
Describe your character's cybernetics and other preferred equipment here. What do they typically carry into combat? Do they have any special augmentations beyond the standard set? Do they favor a specific manufacturer? (If they do, is there any reason why?)
Genre influences

My primary inspirations are things like the Strike Witches series, Sky Girls, Kantai Collection (more the anime than the original game), and a little Sentou Yousei Yukikaze. The visual style for combat cyborgs, at least in my mind, leans toward the Busou Shinki or Frame Arms Girl lines, although this is probably because I am a real sucker for Shimada Fumikane's mecha musume design work.

The alien enemy can probably be considered a synthesis of those from the series mentioned above: Neuroi, WORMs, the Abyssal Fleet, and the JAM. They also will likely have some influences from the monsters in Knight Run.

Please forgive me if you're not familiar with any of this, and just be aware that this game is likely to be absolutely soaked in cutesy anime bullshit.

Expectations

I do not have any set in stone posting expectations, but please try to post every few days, or so. Activity isn't the only sign of a healthy RP, but it certainly is one. Conversely, don't feel like you have a limit to posts, either. If two players are going through a conversation or other scene, you don't need to wait for everyone else to keep going, particularly if it's specifically between only those characters. Also, if you do know that you won't be able to post for a while, please let us know OOC.

I want to encourage open discussion of things, between everyone. If you have an idea, don't keep it to yourself so it can be a surprise. Share it OOC so we can all help work toward it. Despite just how goddamn much I've written for this, I do want to encourage collaboration and equal contribution, rather than a situation where I'm the GM, and control the setting and all the NPCs. So, if you'd like to add or change something, just ask. If there's a plot you want to run, introduce it. It's a little more of a sandbox-styled game, although I'll try not to let it bog down completely in slice of life shenanigans or "players, make my game for me."

This is currently an all-ages affair, so the typical rules apply. No roleplaying smut with someone outside your age group, although I don't expect sex between characters to really even be a thing. And if it is, have some decency and just fade the scene out before anything happens.

Things may get violent and rather gory, with characters losing limbs or worse. If anything of that nature, or things like characters being naked together in communal showers might bother you, speak up and ask that we tone it down.

Despite all of the above, this is not intended to be a serious war story. The intent is honestly more to hew to the influences I mentioned earlier, and have cute mecha musume cyborg girls doing cute things.

Although I do not intend or expect dice to be a major involvement in this roleplay, I may sometimes roll a d100 to determine something or other privately on my end. In other words, there will be no official or enforced mechanics, but i may still do something for randomness at times, and if you like the idea, you can too.

If you have a bit of music you think helps set a scene, whether that be something silly or your character saving the day, or just general battle music, please feel free to shove it into a post.

Last edited: