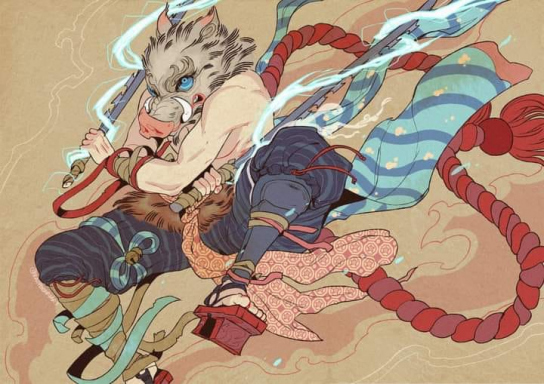 Feral Wanderer
Original poster
Source: Cookiehana on DeviantArt
​
Welcome to DEAD!
The Demon Eradication Alliance Department (DEAD) is in charge of the elimination of demonkind by using demons. You are a Demon or a Handler.
Either way, you are now a hunter of the Dark Corners of Hollow City. Your job is kill without regret, even if they look human, because if a single demon were to roam free... we would all be doomed. So go forth, for mankind and for the sake of those lost.
And don't think too hard about where demons come from.
---
This is DEAD, an RP where you kill demons. Think hard about who you are and what you believe, because maybe things aren't so straightforward.
Yes, that means that I am keeping track of your choices. Yes, that means I will hold you accountable. However, I'm not a mean GM by any means. I just want to make an experience that may be more than meets the eye, and things happen in the background.
What I'm Looking For: 4-8 players. I may take more, depending on interest.
How Long will this be? About a month, or one Job. If things are progressing well... maybe there will be a sequel?
Are we using dice? Maybe! Before we start I will discuss if we want dice as a group. I have a system in mind, but only if players agree.
Where's the OOC? I have a
discord server set up
, and we'll have one here on iwaku, but discord tends to be more lively.
So! That means I need to give you some overviews on lore, worldbuilding and what you know!
[TABS]
[slide= Hollow City]
Hollow City: Humanity's Last City
Hollow City exists within the Barrier, isolated from the world at large. And for good reason; there's nothing outside. About 500 years ago, the whole world was involved in a catastrophe known as the Demon Incident. The Hollow City was raised from the scraps of technology found by the survivors, and flourished to the point that there almost seems to be no recollection of the near apocalypse in the minds of the citizens. The only reminder left is the moon, filtered through the Barrier, turns red at night.
The city is run by The Council, a group known only by their masks. They form different departments, and each are in charge of a different aspect of keeping the citizens safe. The Council is magnanimous, and always are fair to their citizens. No citizen criticizes The Council.
Hollow City is full of all walks of life, and most don't ever struggle to find happiness within the city, frequently filled with any store full of just about anything one could need. Money isn't an issue in Hollow City, and The Council ensures everyone can maintain their livelihood through trade or bartering.
The only places an unknowing citizen should not go are the Dark Corners. Places the Barrier cannot touch at night. Due to the Barrier running on solar energy, it diminishes at night. Citizens are appraised of where the Dark Corners are via the daily news broadcasts. They tend to fluctuate, but can be pretty much in similar spots every night. Those whose homes are caught in it at night tend to move out and get a new home closer to the city center before the home becomes a Dark Corner. News reports give alerts to citizens to allow them ample time to prepare for their homes to become parts of the Dark Corners. Citizens who stay in Dark Corners overnight are never seen again.
[/slide]
[slide= The Council]
The Council; The Most Just
There are five total Council Members. Economy, Governance, Law, Justice, and Demon Eradication. Each wears a specific mask for each. The one pictured above is Justice (She/her). This is Economy (He/Him), this is Governance (They/Them), this is Law (They/Them), and this is Demon Eradication (She/her). No human alive has ever seen The Council's faces. None ever will. The Council hides their face to protect us all.
Each title is self explanatory, and frankly since the only one the RP pertains to will be Demon Eradication, we will focus on that department and their Council Member.
Demon Eradication is in charge of Demon Management and Disposal. When the city was first created, it was the primary department which took charge in order to create stability within the city. Over time, Governance took over and started to sort people into their Future Prospects. However, because the city gives out Prospect Tests, the Demon Eradication department will recruit people with the potential to stand up against Demon threats. What exactly qualifies people to this department is a secret known only to the Council Member.
The Council Member will frequently visit lower ranked Demons and Handlers, personally assigning tasks to each section. She also likes to bake and also has treats in the break rooms. She requests to be called Cecil, though those that disobey the Order to properly address Council Members will be punished. Severely.
[/slide]
[slide= D.E.A.D.]
D.E.A.D.; Those That Fight The Dark
Congratulations! You've passed the requirements to become the cream of the crop. No, the cream of the cream of the crop!
Only those qualified to become a Handler can join the Demon Eradication Alliance Department. That means that you've been hand-picked by a Council Member! Unbelievable! Your job as Handler is to maintain your squad which will be 1:1 with actual Demons! However, there's no need to worry. These Demons have been Leashed. A secret ritual performed by your Council Member for no charge. Isn't that magnanimous of her?
A Leashed Demon cannot disobey their Handlers. A Leashed Demon will be tied to all Handlers in a Squad, so while some Demons may become partners with squad members, this is because being Leashed allows a Demon access to human emotions. Relationships with Demons outside of work are forbidden. Those that disobey this directive will be punished and purged from all records.
Handlers can be blessed with what is known as Magitech that manifests powers similar to a Demon's, such as fireballs, or gravity manipulation. Magitech is made specifically for an Agent and cannot be used by anyone else. Those that use Magitech outside of official capacities will be punished and purged from all records.
Your job as an Agent is take on jobs from the Council Member of your Department herself. These jobs typically are to kill or clear out a Dark Corner, but can also be guarding a Dark Corner from infiltration from the Demon Menace.
[/slide]
[slide= Demons]
Demons: The Demon Menace
Demons. Humanoid pathetic creatures who play on Agent's pity right before killing them. Make no mistake, demons will kill you without hesitation. Their powers are strong, and are masters of manipulation. When you see a demon, do not hesitate. Kill it. Demons may look like family members, but that's part of their illusionary magics.
Leashed Demons may feel sympathy with their non-Leashed brethren. Only Veteran Leashed Demons are allowed to dispatch a demon on their own. Newly Leashed Demons may let demons escape. All demons are serial killers. Do not let a serial killer loose in the city. Do not let the Demon Incident repeat. Kill them all. Leashed Demons will not remember a time when they were not Leashed, Agents are not allowed to try and cause them to remember. This is because Demons who remember their past may go on a rampage.
Leashed Demons are collected by the Council Member. No Agent is allowed to collect Demons for them to become Leashed. None.
[/slide]
[/tabs]
Character Roster:
Gohlam
: Hell's Clean Up Crew, Status: Alive
Aya Dimous
: Agent of Shadows, Status: Alive
Sebastian M. Lima
: The Average Agent, Status: Relocated
Arzos
: The Friendly Demon, Status: Alive
Corben Hass
: The Tattoo Agent, Status: Alive
Desdemona
: The Fox Demon, Status: Alive
Maalkan
: The Cleaver Demon, Status: Alive
Arkenos
: The Bottomless Hunger Demon, Status: Alive
Sidney Cross
: The Smiling Agent, Status: Alive
Rules:
Be cool. Drama is for the RP, not for the OOC.
Are they the GM (me) or Mod Staff? If yes, listen to them!
I'm not a mean GM, if you're reasonable, I'm reasonable.
Under 'Allegiance' in the CS write, 'The Council'. I need to know you're reading the rules.
Yes, I will be reading sheets. I reserve the right to reject a sheet if it needs work.
Iwaku rules are in full effect.
Have fun![
Name:
Age: (Above 18 for Agents please.)
Appearance: (yes I prefer anime, but written and real FCs are accepted.)
Allegiance:
Race: (Human? Or Demon?)
Personality:
History: (If you are a Demon, your history starts after being Leashed.)
Magitech/Demon Magics:
Last edited: