[DASH="#00FFFF"][BG="#23238E"]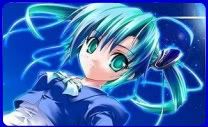 Aquaeous
Aqueous was a little overwhelmed by the change in scenery so she obeyed Rose in somewhat of a awe-inspired daze.

"Nope. But he looked familiar. Made all sorts of memories pop up in my head." Aquaeous had explained when Rose questioned about Ferocious. After that, however, the blue haired girl remained quiet, looking around with wide, curious eyes.

"Why are we looking for him?" she mumbled incoherantly as Rose insisted on going inside. Aqueous blinked away her stupor from the stadium and looked at Rose, annoyed.

"Why? I like it out here. You're so bossy. Why do I have to stick with you anyway?"
[/BG][/DASH]