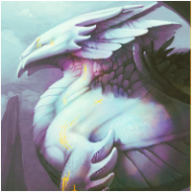 Kayyan'Haien
Original poster
LURKER MEMBER
FOLKLORE MEMBER
Invitation Status
Posting Speed

1-3 posts per week
Writing Levels

Prestige
Douche
Preferred Character Gender

Male
Genres

High Fantasy, Modern Fantasy, Epic Fantasy, Yaoi, Political Intrigue, Supernatural, Post-Apocalyptic
---
The Shardscape: Mistforme
[dash=#5e8a6f]
The day is young, and where the sun has yet to filter through the foliage, there is a scattering of mist upon the forest floor. As though a spectre rising from the mist, one man rides before a host of 20—regal, noble, and pale upon his stolid warhorse.
"As you might well know at this time, tragedy seems to have befallen our camp." This lone man is Gaeýridë a'Zo-Hanyll, Lord General of the Tretalleri host and Grand Lancer of this expedition. "Nine days past, scouts were sent ahead of our host for reconnaissance. At the agreed upon time of their return three days past, they were absent."

"Three days we waited on the chance that perhaps their return has simply been delayed. It has become abundantly clear in the days since that all is not as well as it seems."
The clearing is filled with the sound of rasping as Gaeýridë hefts his spear. It is a spear of lordship, the body made of steel forged from fallen stars, the haft wrapped in blood-bolstered ivory, the very tip encased in the dust of the bones of long-forgotten ancestors.
"Your Flag is before me today for one purpose—I command you: find these missing men." Gaýridë shifts upon his saddle, his horse gently turning with his movements. As unfeeling as his face might seem, there is an evident unease in his bearing. "You may wonder why there are twenty of you searching for a party of 3, but let it not be forgotten where we stand."

"We stand at the edge of the Dominion. The Silvered Realm lies no more than twenty miles southwest of us."
Gaeýridë shakes his head and takes a breath.
"Remain vigilant. Should you find any of those High-Elfin wretches restrain yourselves not. Their trespass on our lands is an open declaration of war."

"And though peace may be preferable,"
says Gaeýridë with a grim tone,
"There is no place in the Dominion for those Elfin scum"
Gaeýridë turns his horse about and begins to trot back into the heart of the warcamp. He stops and turns to face the men he has delegated.
"Make what preparations you might need for this mission, but be quick. When the sun shines at its peak, we shall convene here once more and we shall send you on your way."
[/dash]
WTF is this?
This, my dear friend, is a nigh-on entirely homebrew D&D 5e campaign. This is a campaign meant for both the tabletop gamer and the writer. One that, mind you, is not meant for the faint of heart.
TL;DR of the basic premise of the beginning of this campaign is that you are a member of a contingent of Bone Elves sent out to find and retrieve if possible, a scouting party of three that has gone missing. However, if you think that that is all you are going to do, and that a mundane rescue operation is all you will experience, you are gravely mistaken.
Awesome! I'll bring my Half-Orc Paladin of Bahamut!
Ehehehe... How do I put this nicely? NO.
Remember that part up there about this being an almost-entirely homebrew campaign? Well, here's the thing. Currently, this campaign will take place in but a slice of the history and the realm of my world of Sekhar. What does that mean, you might ask? Well, it means that for now, this campaign will not only be race-restricted, but also class-restricted for lore reasons. That is, all player characters made at the beginning of the Shardscape campaign must be Bone-Elves.
Well that sucks balls. I'm still interested, though. What are these Bone Elves you keep talking about?
I thought you would never ask. The Bone Elves are an imperial race of elves, somber, stoic, supposedly humourless, and, as some would say, obsessed with death. What is the most important thing to know about them? They are the leaders of the mightiest empire the world of Sekhar, in its remembered history, has ever and will ever know. Also, they hate the High Elves, their neighbours in their homeland.
[fieldbox=Relevant Information, #5e8a6f, solid, 5, palatino]So, all that preamble wasn't enough information for you? Well, you came to the right place. I have
oodles
of information for you. However, before we take things much too far, I believe that this is a pretty good point to launch into what I expect of my players.
My Expectations
I expect my players to:
Take a dive into the lore of the world
Create a rich character background integrated with the aforementioned lore
Communicate any questions about the lore to me, instead of making assumptions
Communicate any discomfort with any aspect of the campaign
Communicate any long-term unavailability
Communicate any changes or deviations they wish to take from the norm as defined by the lore of the world
Participate in a way that forwards the plot
Refrain from blatantly steering the plot in a direction that is inappropriate in relation to the lore of the world
Now that that's out of the way, let's get to
actual
information about this campaign, shall we? Of course, now that we know that all characters must be Bone-Elves, this also comes with a racial restriction on available classes:
Available Classes
Fighter (Except for the Eldritch Knight Martial Archetype)
Barbarian
Ranger (With the express understanding that Rogue spells are not arcane but druidic in nature)
Rogue
In addition to these four classes available to the Bone Elves, there are two custom ones. (names are clickable links)
Bone Elf Information
Again, the names are clickable links. And just to be clear, the Bone Elves call themselves the Tretallë.
And there! That should cover about everything you need to know! Oh, and one last thing, this whole campaign will be held on Roll20.
[/fieldbox]
Last edited by a moderator: