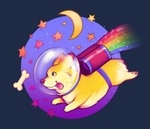 #canadaland
FOLKLORE MEMBER
Invitation Status
Posting Speed

1-3 posts per week
One post per week
Writing Levels

Adept
Advanced
Adaptable
Preferred Character Gender

No Preferences
Niowyn of the Ta'Lassa Tribe
---
The Street of Stags was full to the brim with life - along this single cobbled street Niowyn saw more people than she had ever seen in one place in her lifetime. Not even the battle at the Hollows, with every one of its villagers rallied to the walls or elsewise seeking shelter in the town center, compared to the bustling, almost writhing, sea of people before her.
Her hands wrapped around one of the leather straps that hugged around her shoulders to support the gourd of water on her back as she weaved through the crowd of people, doing her best to dim her senses to the overwhelming presence of life around her. The dull throb of blood that pumped through the veins of people was normally easy enough to ignore, but here in the Shroud, amongst the sea of people... that throb had intensified into a parade of drums difficult to ignore. As she walked, she practiced a grounding technique Celothel had taught her for moments when she found herself encapsulated in the immaterial world of Essence, bringing the ceaseless barrage to her senses back to a tolerable level.
The House of the Magi - not the Arcanist's Archive, as Celothel had been eager to remind Niowyn in their last moments together - was a rather unremarkable structure. The House of the Magi was but a house of stone and timber, what she had always imagined the castles Nathyen had told stories of might look like. Her attention hovered on the Archive - an impressive building that dominated the Street of the Stag with its roof ending in a large dome. Flanking the dome were four pillars that ended in spear-like tips that towered over the city wall behind her, and had been visible from the start of her walk up past the Casual Pint. The dome rested atop a ring of stone that seemed to predate the dome and the pillars that surrounded it, and as Niowyn grew closer she could just barely make out carvings of epic scenes of battle, coronations of kings whose names she did not know, and magical beasts.
In the morning sunlight, the House of the Magi was cast in the shadow of its compatriot, a fact Niowyn was thankful for in the heat left by the warm spring air and bustling crowds. A line had formed at the House of the Magi, composed largely of young boys and girls intermixed with a handful of men and women Niowyn's age or slightly younger. At the gates of the House, which were made of the same aged stone as the ring upon which the dome of the Archive rested with similar carvings, two figures robed in the same purple Celothel wore called the line ahead one at a time administered a quick test Niowyn could not quite make out, and either handed them a slip of paper or cast them out.
Niowyn collected the recommendation Celothel had written her from the pouch on her hip that sat below her gourd and clutched it in her hand as she drew a meditative breath before joining the line. Her gaze wandered, admiring the buildings soaring above her and watching as people zoomed past her - she truly was far away from home in this palace. And although she was excited for what was to come next, there was a small twang of nervousness in her stomach. Celothel had talked about her and her people as though she was some sort of magic anomaly… one that was meant to be treasured and revered - but what if the people waiting for her at the front of the line didn't think so? The Order had become a necessary step in discovering the truths of the Ta'Lassa's past and something even more ominous - stopping the death of magic. No was not an answer she could accept.
One by one she drew closer to the imposing figures standing at the gates until she found herself in front of them. One a woman, the other a man, with faces hardened and cold as ice. It was nothing like the familiar friendly smiles of the Ta'Lassa that welcomed you the moment you stepped inside the village. Niowyn nodded her head in greeting as she said hello and extended the parchment in her hand toward them, "from Celothel Ashfall." The man's face flinched slightly, as though to react to the name, and as the woman's hand brushed alongside Niowyn's to accept the parchment, her eyes showed intrigue, confusion, and surprise, before ripping the paper from Niowyn's hands.
"Glad to see she is still doing
something
while she squanders College coin doing whatever it is she and that Shielder of hers desire," the woman quipped, volume and tone suggesting to Niowyn that the woman had not fully intended for her to hear. "Tell me, what did Celothel look like? What was her Shielder's name?"
"Deormund was her shielder's name and she was a beautiful and talented woman, blonde. Had a burn scar on one side of her face." Niowyn responded flatly, not impressed with the remarks the woman before her made. "Why is it that you ask?"
"Celothel has not been to the Shroud in many years," the man interjected before his companion, brow furrowed and face creased in a frown, could respond. "She has sent a number of prospects to us, and we must ensure these recommendations are legitimate like we would for any prospects sent by those in the field. That is all."
He gestured aside his companion, who called up the next prospect in line, and waved Niowyn forward towards the gates of the College.
"Now I trust Celothel's word well enough," he said, with a frown that was as calculatingly charismatic as it was apologetic. "But, again with routine, I must also verify your skill. Have you received any formal education, either within the Shroud or perhaps elsewhere in the west with, say, the Earthworkers north of Alderstone?"
"Understandable given the prestige of this place." Niowyn offered with a small smile as she walked alongside the man toward the gates of the college. For a moment she lost herself in awe of the massive structure before her but her attention snapped back when her training came into question. "Earthworkers?" she repeated aloud with an inquisitive eyebrow… and then she laughed lightly and waved the question off. "I suppose the only
formal
education I've received is from Celothel herself… but I was surrounded by gifted individuals who could use magic in the tribe I was born and raised in."
"It says here…" the man said, voice trailing off as he read through the document. "Celothel noted you are skilled in both water and air magic, might you just demonstrate?"
A squat finger pointed to the gourd on Niowyn's back.
"I assume that's filled with water, yes?"
"You assume correctly." Her response came quickly, with a playful tone to it. "Made lighter with the use of air magic. But of course, let me demonstrate
something
for you."
As the final words left her lips, her eyes began to gleam and a stream of water sprouted from the gourd and danced in the air like leaves in an autumn breeze. The water spiraled, continuously pouring from the gourd until it took the shape of a few stampeding horses headed toward herself and the man next to her. As the horses galloped on thin air, they quickly crystallized into sculptures before them, frozen in time.
Niowyn cocked her head toward the man and with a wry grin said, "is that a good enough demonstration for you?"
"Very good," the man said, and Niowyn noticed that his face was doing more to hide his surprise than his tone. "Better than most journeymen, in fact. Then again, I'd expect nothing less from one of Celothel's recommendations."
He reached into the pouch at his side and produced a roll of parchment and a quill. The parchment was marked with writing Niowyn could not quite make out, but she could see where the man checked that she was eligible for admission. He scrawled along a line across the bottom, two names - first his own in a messy signature, the second illegible at her distance. He handed Niowyn the document after rolling it back up and tying it with a thin length of twine, nodding.
"Right through these gates you'll hand this to the scrivener at the first desk," he explained. "You will be contacted within the week for formal instruction scheduling at the behest of the College, but for now we will get you situated within our records. Your tutor will be Hamath Immet, Last of the Line of Maidenholm, and Keeper of the Fifth Seal. He is skilled in wind and water, though in time you will notice such distinctions matter only beyond these walls, but I believe he will sharpen your inherent talent."
Niowyn accepted the parchment, nodding in acknowledgment as the man explained the process. Her curiosity piqued at the name of her tutor - Last of the line of Maidenholm. The drowned city of Elves. She remembered reading about it in literature from the libraries of Gol Badhir. She even had scribbles and writings of her own on the place. But the last of his title, the Keeper of the Fifth, was not something she was familiar with. "The Keeper of the Fifth?" she asked.
"A question better answered by him - as you are not yet a member of the Order until passing through to the scrivener, I am not at liberty to say," the man said, gesturing to the doorway. "Fret not. You will have a chance to speak with him today."
"Thank you" she politely nodded and headed through the gates and as she passed over the threshold on the ground, it was as though she had stepped into an entirely different world.
The hallway was narrow, with a long runner in deep purple and intricate golden patterns throughout it. The walls were dark and adorned with antique-like candle fixtures that lit the hall. At the far end of the hall where it gave way to a room, there were two individuals standing in line. In front of them was an elevated desk with a shrewd looking man sitting in a chair that was three times too large for him staring down at the people in line. His hand waved impatiently in the air to call on the next person and the line moved up by one.
Niowyn stepped lightly and joined the back of the line. From where she stood now, she could see clearly behind the shrewd man at the desk - the room was in the shape of a hollow cylinder with floors upon floors like rings in a tree with great wooden staircases that connected the levels together. The architecture here reminded her of that from Gol Badhir. Her drifting eyes caught amber and purple robed figures coming and going from the levels below her and as she soared upward, she was elated to see that the walls were lined with shelving that housed thousands and thousands of books. But there was something odd about the upper levels - an eerie light, emitting from candles that housed no flame. It brought a chill to her neck.
"NEXT" the shrewd voice boomed above her. Niowyn shook her head lightly and looked back to the man at the desk who was now annoyed. Had she drifted off in thought while he had called on her? With a few gingerly steps forward she was at his desk, which was littered in papers and notes. It looked like her study back home. "My apologies… I was lost admiring this place." Niowyn produced the parchment given to her by the man at the gates and handed it over to him.
"Yes, yes, the College is quite admirable," the scribe tutted, snatching the parchment from Niowyn's hands and squinting at it, highlighting the already apparent frown lines etched into his cheeks and forehead. "And is hardly a shadow of the Archive you saw heading this way. Niowyn, is it? Yes, yes, Hamath Immet. Good."
A quill scratched furiously against the parchment, though Niowyn could only see the very tip of its feathered counterweight. Opposite the scribe floated down another, fluttering about as if carried along in a gentle breeze, ink dripping from its tip onto the oaken floor below which Niowyn could see was dotted in similar, dried splotches.
"Take that, sign here, and meet with Master Immet in his studies on the third floor. He is not expecting
you
specifically, but he has been expecting a student each day with the prospects coming through."
He thrust forward a document different from the one Niowyn had signed, written in immaculate script outlining her privileges and responsibilities as an initiate of the Order of Arcanists. Skimming it, she noted little of substance between the lines of flowery, legal-like language beyond her access to the College and the Archive in their fullest save the top floors. Below, confirmation that she was to be instructed by Hamath Immet rested in a flowing script that was of a different hand than the one that had penned the rest of the document, and a line for her to sign.
"In addition to these privileges come costs of tuition," the scribe explained. "We are far from the old ways, and so you will not be charged for biannual sessions as one might have in the past. We instead take payment at the end of each month for services rendered and resources used. As outlined in the paper below, the cost is two thousand crowns a month, or goods and services in equal exchange as to be determined by an independent assessor. Signing this document obligates you to at least one month's payment, which will be collected in full within the fortnight at a time to later by delineated. Do you understand the terms and conditions to which you bind yourself by signing this document?"
Niowyn nodded along as the man explained himself. It was evident that he had been reciting this speech for many moons with how scripted it was. There were so many finer details, including a tuition, that Celothel had left out in their travels. But she didn't blame Celothel, there were so many other things she was teaching her that the finer details were minute in the grand scheme of things. "Yes. I understand"
"I guess it's a good thing I have my fortunes from Gol Badhir" she whispered to herself as she signed her name - Niowyn of the Ta'Lassa Tribe - to the parchment before handing it back to the scribe.
The scribe raised a quizzical eyebrow as his gaze reached the line where Niowyn had signed. He nodded to her, the formality of his position seemingly forgotten for a moment.
"Be sure to mention that to Master Immet," he said in a hushed tone, one that would not carry to the small line that had formed behind Niowyn. Before she could respond, he let out a sharp "NEXT!" and waved her aside.
Niowyn quickly moved to the side as another individual behind her quickly filled her place. She clutched the document outlining all of her privileges in her hand and took a small moment to look down on it with a smile, this was real… Her life was about to change.
With a smile, she headed down the ring hallway toward a staircase and made her way to the third floor where Hamath Immet's study was. Along the way she passed others wearing robes similar to Celothel's with the addition of a red coloured robe, both which she had noted from the lower levels. There were far more red robes than there were purple, so she could only assume that those in purple were of higher positions. Niowyn grinned, of course Celothel was as revered as she seemed.
The library of books drew closer and closer as she climbed the floors of the College. There was an ache in her chest that yearned for her to go forward and pour her soul into uncovering the histories that awaited… but Hamath Immet was waiting for her. Not
her
specifically, as the old shrewd had so eloquently pointed out, but waiting nonetheless. Reading would have to come later. After a short time, she found herself in front of a door with his name etched into a nameplate on it. With a light knock, and a small "hello?" she pushed open the door slightly and peeked in.
"Come in," replied a calm voice that emanated not from the room, but rather the gap in the doorway itself.
As Niowyn pushed the door open further, there was no speaker standing just by the doorway. Instead, a purple-robed man sat at a small writing desk at the end of a narrow room that might more readily have been called a corridor. It was well-kept, scrolls organized neatly into containers and pouches along one of two shelves that lined the walls to Niowyn's left and right. The other housed a collection of tomes, most of them labeled with hastily scribbled titles and not the sort of ornate handwriting she'd seen of similar works. Opposite the desk rested a plush chair that showed its age in its sunken cushion, slightly leaning legs, and chipped edges.
The man in the purple robes was the only splash of color in the room, she noticed as she approached the desk and made to sit at the chair at his gesture. He was slender, the robes seeming to swallow him as made evident by how they folded and bent themselves at his motions, finding no scraps of flesh to rub against. A well-kept ginger beard and locks likewise stood out against the dull backdrop of his study, and somber, perceptive brown eyes gazed at Niowyn as she approached. His lips tugged into the ghost of a smile, one expressed more in how it lit his eyes than moved his face.
"I take it you are my new student?" He asked, cocking his head to one side.
"That is correct" she replied as she came to a stop at the back of the chair. She couldn't help her wandering eyes from adoring the shelves and their possessions to the left and right. Before sitting, she gestured with her hands in a tribe style greeting common to her people "Niowyn…" there was a small hesitation as she thought back to what the shrewd man had whispered to her… "of the Ta'Lassa Tribe."
Niowyn pulled the gourd from her back and set it beside the chair as she sat and smiled softly at the man. "And I take it you must be Hamath Immet? It is a privilege and honour to be here."
To Niowyn's surprise, Hamath replied with what was an approximation of the proper response to her greeting, smile manifesting itself more apparently upon his face.
"Well met, Niowyn," he replied, the smile apologetic now. "I have yet to actually meet one of your people, but your customs and such are well-documented. So my apologies if I made a fool of myself. Might I ask if I may sense you? I take it you understand what that is, yes?"
Excitement caught her as she watched Hamath respond to her greeting, although sloppy, it was recognizable. Her excitement turned to a bashful smile at the thought of her tribe's customs being documented in texts. "There is no need to apologize… I'm just happy to have met one more person who even knows who I am. Although, my people are quite popular among the world of Magic as it would seem."
"For future…" Niowyn reflected the response in the proper manner to demonstrate. She smiled again and brought her hands to a clasped position in her lap. "Yes… yes, you can sense me. The terminology is only something that I've learned recently and the actual use of the skill in a formal way even more recently than that. How we explain the use of magic back home and how we apply it is very… very different from what is practiced here."
"A common occurrence," Hamath said. "Where I come from, magic was very different to what is taught here as well. Such is the way of the world when any sense of common culture is lost. But yes, pardon me a moment."
For a moment, nothing about the room changed. Then, suddenly, Niowyn could feel a presence that was not quite her own prodding at her mind. Rather, the part of her mind through which she felt the air and the thrum of water, the same one she touched when she reached for the flow of magic. Then, just as suddenly as it had arrived, the presence was gone, replaced with the low din she was accustomed to sensing.
"I shall hazard a guess and assume you were recommended to study here by Celothel, would I be correct?" Hamath asked, fingers forming a steeple atop his desk, sleeves sliding down to his elbows.
At Niowyn's nod, Hamath mirrored the affirmation and cocked his head to one side once more.
"She has a habit of sending ones like you our way. I remember her fascination with bloodlines when we were initiates together. It seems it is a curiosity she has maintained, in her own unusual way. But I get ahead of myself. Doubtless you have questions, and before we begin with formal studies, I find it best to purge as much of that curiosity as you can so that I might also understand that it is I can assign you to keep you engaged. So, Niowyn, ask away."
Niowyn smiled softly, her fingers curling around themselves as her hands sat neatly in her lap. "I have questions upon questions… but there are two I am curious about to start. When the first people outside of the gates mentioned your name, it came with a title. One, the last from Maidenholm and the Keeper of the Fifth Seal. In my adventures through Gol Badhir I read about the drowned civilization…" she paused for a moment, thinking back to the libraries of the Dwarven fortress. "... and how it was mostly inhabited by Elves. Can you explain that one to me?"
"It is a common misconception of history that Maidenholm was immediately drowned in the Unmaking," Hamath said, somberness in his voice off-put by the lingering mask of politeness that lingered in his smile. "We think of it as one concrete event, one that took place instantaneously everywhere all at once. The truth is, for the better part of two generations the world decayed. First came the conquest of Alderstone, and the establishment of Piersym's court. Then the wars began, long before anyone knew of any sort of otherworldly presence driving the would-be Demon King. First Gol Badhir in the north, then all the nameless cities and townships further south near the Pass. Further and further east the armies went, conquering as they saw fit. The first accounts of the Others came to many in this time, but the elves were on the wane. The Shroud…"
As if to accentuate the point, Hamath gestured around him.
"...the Shroud stood defiant. Maidenholm did not. More than twenty years after Piersym began to unmake the world, his armies arrived at the gates of my ancestors. The elves had left us to our fate when first they heard of his uprising in the west, leaving no trace. We did what we could to prepare, and then the end came. Many of the families of Maidenholm perished in the siege, but mine - the rulers in place of the elves - survived long enough to do the unthinkable. They were the ones who ordered the city to be flooded. If history is to be believed, none survived the flooding, and in the centuries since my ancestors congregated with other survivors from the fiefdoms of Maidenholm in the Shroud, continuing the traditions of the house. Not content with that for long, they took the family back north to rebuild, and New Maidenholm stands now for their efforts."
Niowyn sat quietly, listening intently to history unfolding before her. Normally this topic would excite her but the sorrow in Hamath's tone echoed that of the elders in her tribe that recounted old Ta'Lassa tales. With a light breath, as though to recompose herself, she spoke "... too many were lost to Piersym. Entire cities… villages…" she paused, pain creeping in. "... tribes and people."
"Thank you for telling me. I know that it wasn't easy, as it isn't easy for me to talk about how the Ta'Lasssa… how
we
lost ourselves so long ago." Niowyn's shoulders tucked up near her ears and relaxed in an overexaggerated tone as though to shake off the heavy tension sitting in the room. "And what about The Keeper of the Fifth Seal. What does that mean?"
"How familiar are you with Aetherstones?" Hamath inquired, a bushy ginger eyebrow raised in curiosity.
"Not many are, even here," he said in response to her shaking head. "Even with the keep and all, they think it's just a fancy title given a pretty stone."
Hamath plucked a small crystal from a leather strap about his neck tucked beneath his tunic, holding it up so that light might catch its surface. To Niowyn's surprise, the crystal did not reflect the light back atop the table, but seemed to drink it in. It hummed and glowed as if it had a pulse - first a throb of light that receded into darkness, before repeating over and over. All told, it was no larger than the span from thumb to forefinger and both cut with sharp edges yet adorned in soft curves that strained Niowyn's eyes the longer she tried to perceive it.
"There are a handful of these left in the known world," he said, tucking the crystal back beneath his tunic. "Were you to try and sense it, it would be like trying to clutch a piece of glass slick with water between your fingers. Solid to the touch, but difficult to maintain a grasp for long. We know the elves made them, but we know not how they work, or what they might even be made of. Though they appear solid, they are in fact hollow all the way through. If I would split it open, it would either explode outward like some alchemist's contraption, or unleash some Other-twisted creatures, it is difficult to tell. Some of these aetherstones are particularly potent, potent enough to give us a sense of what might be going on inside them - these we call Seals, and there are perhaps as many as ten of them in the known world. Some are yet unrecovered, some lost in the days between the Unmaking and now. This has been entrusted to me for protection, though I must admit calling it the fifth seal is… rather arbitrary. It is simply the fifth we have discovered."
It was an unconscious movement when Niowyn reached for the crystal, though not to take it, but rather to marvel in its mysterious beauty. A thing of the past, a piece of history, created by elves and shrouded in mystery. It was a relic. "Incredible…" she managed under her breath.
"But you don't know its purpose?" Niowyn looked up to Hamath before she sat back in her seat and her shoulders shuddered with amusement as she laughed softly. "Hopefully the thing doesn't burn a hole through your chest at some point. But it is rather fascinating… The World of Old is lost upon us but fragments of its soul and life are everywhere. I want to discover them. All of them."
"
All
of them?" Hamath said with a polite chuckle, and in it Niowyn heard the first ounce of genuine warmth he had yet to display. "It is a wide world, and much of it remains undiscovered. Or, perhaps more accurately, has been buried and made lost once more."
He thrummed his knuckles atop his desk, cocking his head to one side as he examined Niowyn with his somber brown eyes.
"For now, I think I will have you read a number of texts you can find in the library," Hamath began, voice becoming curt and formal. "These are all baseline texts most initiates read before the time they come of age, so you might find this to be an accelerated course of study, but I think you'll take to it well. Most are on the history of the Order and its general best practices with magic, as well as the role of Magi in society both before and after the Unmaking. I'll include a handful on the history of old world as well, to keep you motivated."
His eyes twinkled with faint amusement as he produced a quill and parchment from one of his desk drawers, scribbling down the texts along the paper before sliding it over to Niowyn.
"Any other questions?"
Her hand reached for the parchment, pulling it toward her. Her finger scanned across the texts and a ping of excitement struck her heart. There is where it would begin, her journey to the Old World and the rediscovery of her People. The keeping of Magic. Niowyn coupled her hands together in her lap and with a wry grin answered his question, "I guess the only question left is, when do we start?"
---
L: The Arcanist Order | A collaboration with @ze_kraken