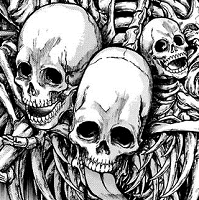 Invitation Status
Posting Speed

Multiple posts per day
1-3 posts per day
Writing Levels

Intermediate
Adept
Advanced
Adaptable
Preferred Character Gender

No Preferences

Erskine Rimebarth
---
"Quiet Reminiscing"




Mention(s):

N/A

---
I
t was strange how even the most alien of environments reminded him of home.
Still, like the grave, the waters only flowed as a reaction to the actions of those that traversed them, sending out weakened ripples that would fade back into lifeless serenity. It reminded him of the muck in the trenches after a battle, the resting place of rainwater, blood, and filth from which life had abandoned. While he might have feared drifting back into those memories on most occasions, there was a certain comfort when it came to reflection on the Dead Sea.

A whittling knife in hand, the dwarf had chosen a piece of driftwood as his entertainment for this portion of the voyage. His anti-sociality was not by any means a permanent change in character, but a mood had come over him since they had taken to the waters. Much like the haunting visions of the past, Erskine couldn't put a name to this mood, only that it was a heavy one that threatened to leave him as active as the Dead Sea around him. There was no plan of attack in mind, the dwarf allowing the knife to make its own shallow cuts on the wood and trusting that something might emerge from it. It had been a while since he had sat down to carve something that wasn't a crossbow bolt and from a casual glance, it showed. The initial cuts were sloppy relying more on hand strength than letting the blade do its work, and yet with time, the old lessons were learned anew.

Maighread had been much better at this than he, her hands deft and nimble in comparison to the meathooks he owned. He could still see the mischievous twinkle in her eyes as she playfully poked fun at his misshapen creation. It was amidst these memories that he realized that he had not thought of his beloved for such a time. Not out of neglect or indifference, but because he had not been strong enough to acknowledge that she was gone. The horrors of the Hell Maw would never leave him, yet they were nothing compared to having lost her. That had changed recently, after advising Aria on what little he knew of romance. It had provided just a bit of closure, just enough for the wound to begin to heal.

Pausing in his work, Erskine took a look at it and found it to be... confusing. He stifled a laugh as he admired the fish-like curves of the carving which terminated into a long needle-like point at the other end. Trusting the knife had given him a pointy-headed fish, but there was a certain charm to the oddity. After all, he wasn't exactly the most typical of people.

"Perhaps Sir Jiminy will enjoy this?"

He mused aloud, already knowing the answer before the first syllable left his lips. It was upon lingering on the figurine, trying to determine where its place in the universe was, that the dwarf realized that he was much more akin to it than he realized. Just as this carving would never be the tree it had begun life as he could never be the same dwarf he had once been... and that was okay. They would find their places eventually, but for now, it didn't matter.

There was a certain comfort in the stillness of the waters around them. Although they lacked the flow of life, each drop of the murky water was a memory of times long past.