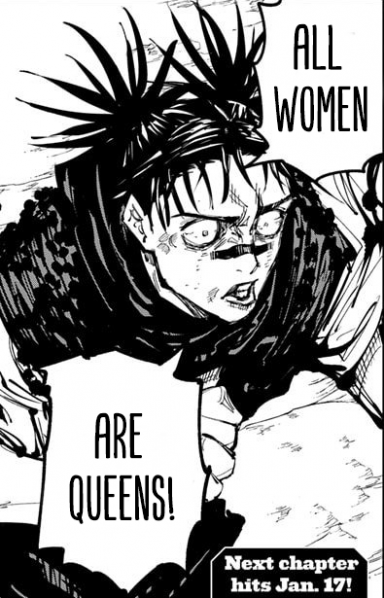 Only Jujutsu sorcerers are the true humans.
Original poster
Invitation Status
Posting Speed

One post per day, 1-3 posts per week
Online Availability

28:21 to 25:30
Writing Levels

Give-No-Fucks, Intermediate
Preferred Character Gender

No Preferences
Genres

Fantasy, modern fantasy, Magic.
"No, No no, no, no."
A large man said frantically, over and over again as he scoured through the rubble that was formerly his family's home. It didn't take long for him to come across what he was looking for. Seeing it made him sick, it caused hid fists to clench and tears wail up in his eyes. A little girl and a woman laid still, bodies covered in white dust and blood. They didn't move, they wouldn't move no matter how hard he shacked them. "Abigal! Marie!" He scooped Marie up in his arms, the little girl he one day dreamed of seeing married was now gone forever, and her Mother shared her grim fate. He then heard it, it was laughing, the bastard thought this was funny, it was all a fucking joke!
"
Wow, never thought I'd see the mighty Behemoth cry. That's what you get for having a family I guess, am I right Doug? Sorry, I mean Behemoth, not sure what to call you now. You look upset, you going to do something about it or you going to sit there and keep cry over spilled blood? Just stand there for me, I'ma send you to Hell with them. Do you a little favor."
The 6'3 man set his child's lifeless body down and stood up. He looked toward the voice, his brown eyes conveyed his anger, his pure rage. They were cracked with red and dilated, all Douglass Hamel saw was Simon Crane. Both better known as Behemoth and Master Seismic to the people. No words came from Douglass's mouth, he only activated his mutate ability and covered his skin in a grayish-black organic metal. He then made a sound, but it was nothing a human would normally make, but an animal. Douglass screamed at Simon, roared like a king in the jungle and charged him.
He was knocked down time and time again, suffering internal damage from the seismic waves of energy being thrown his way. Yet still, he kept going, getting back up until he pushed through Master Seismic attacks and clasps his hands around the little bastard's puny throat. It was quick, like the flick of the wrist, Simon Crane neck snapped and he was dead. Behemoth had committed murderer, he crossed the line, and he couldn't give a damn. It was actually cathartic, he never imagined it was so..so easy. He understood that day, the only way to stop these maniac's for good was to snuff out their miserable lives.
---
1 Year Later
---
​
Behemoth sat in the meeting room at the table alone. It was a circular shaped table made of steel, similar to the roundtable of the fabled Camelot. He had it that way with same intentions in mind, he wanted all members to see eye to eye with him and all feel equal during discussions. He was wearing his yellow costume, except his cowl which was off and resting in front of him on the table.
Behemoth or Douglass, whatever you prefer to call him was a tall, bulky, an opposing figure in and out of the costume for sure. His eyes said something about him, that he's seen things, to many terrible things speak of. He was a different man from his days as a young and naive hero, he was hardened now, a veteran in the battle against evil. He was waiting for his team, a team of killers he gathered who all agreed that evil deserved death. No exceptions.
This hero, if you can even call him that, was open about who he was, his secret identity had been outed a year ago. Everyone knew Douglass Hamel was Behemoth, and that revelation sent him down this dark road. Last year, he lost his family and in the aftermath, he burned bridges with old friends and made new ones. His new friends got it, they understood what it took to save the world.
The meeting was taking place aboard The Crusader, a spaceship that hid between dimensions, hiding from most, if not, all forms of detection. Aboard the ship one was allowed to live like they would at home. Everyone had a bedroom that they could call their own, even if they didn't use it. The Crusader also had a fully stock pantry, kitchen, training room, medical center, showers and whatever else one was expected to need during their time aboard. No matter where his team was, they were to carry their badges with the that identified them as Crusaders allowed them access to the ship by generating a wormhole. His Crusaders had until 7:00 am to arrive, or he would be digging in their asses with a pitchfork, metaphorically of course.
@psycho
neptune

AshenAngel

Mundane Monster
@Justin

ThatGuyOverThere