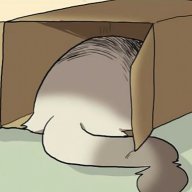 Cat Lady of Questionable Sanity
Original poster
Posting Speed

Multiple posts per week
1-3 posts per week
One post per week
Slow As Molasses
Writing Levels

Adept
Advanced
Adaptable
Preferred Character Gender

Male
Female
Genres

Action-adventure, adult characters, alternate universe, anime, crime drama, cyberpunk, darker themes, drama, dystopia, eastern, edo, epic quest, fairy tale, fantasy, feudal, futuristic, grimdark, heian, high fantasy, low fantasy, magic, modern, modern fantasy, modern scifi, paranormal, psychological, romance, scifi, supernatural, urban fantasy.

Bright light rose over the high-rises, glowing so deep a fiery red that the buildings became but a black silhouette. Slowly, the sun sank behind the city, throwing its last dying rays of golden light out over the glass towers. Stars dotted the changing sky, surrounding the bright white face of the full moon. Street lamps stood tall along the already dark sidewalks, casting eerie shadows and dingy fluorescent light on the pavement. A cool breeze whipped by, carrying the sharp salty air from the harbor and throwing it over the city like confetti. The work day ended as the sun dropped behind the cityscape, many heading home to quiet lives with husbands or wives and children to have dinner and enjoy family time before turning in for the night. Those who didn't have family to return home to, those who lived a different life after work hours were over, went out to enjoy some fun. They would crowd the local restaurants and pubs, and bars and clubs, jamming out to the little bands that played there from around town and drink until they could drink no more or dance or eat in the company of friends. The only person the parties were missing was Nick.

Nicholas Warren, commonly known as Nick, was a young man who knew his way around the city. He walked aimlessly along, paying no mind to his surroundings. He had been this way many times and had long since seen enough of it. He smirked, his hands in the pockets of his gray jeans; he had the feeling it would be an interesting night. Gravel crunched under his dark gray and red boots, his blue eyes narrowed in focus on the path ahead of them. Nick was traversing the shops downtown, making his way casually through the bustling crowds. No one he passed paid him any mind aside from a woman who caught him eyeing her purse.
Rounding the corner made by one building, Nick went to the building across the street. It was a pawn shop, full of all sorts of gadgets and gizmos and antiques. But it wasn't the antiques Nick was after, as much as they were worth, nor was it the money in the cash register. What he wanted was a specific object. With but a glance to make sure no one saw him, Nick picked the lock on the back door and checked the hallway just inside before entering. He opened each door along the length of the hall, making sure the rooms were clear before he headed into the main room that served as the shop, unaware of the silent alarm.
Last edited: