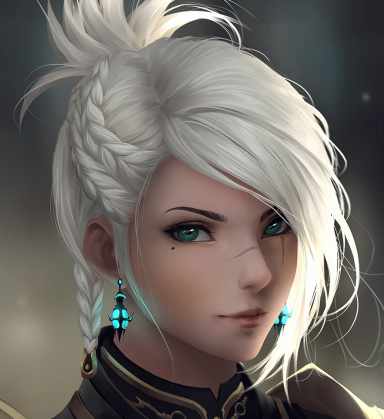 Fierce Rebel
FOLKLORE MEMBER
Invitation Status
Posting Speed

One post per day
1-3 posts per week
Writing Levels

Intermediate
Adept
Preferred Character Gender

Female
Genres

Fantasy, modern and magical.
Leonie Valkrich
North Bellsford, Zinc Road
​
---
Leonie was surprisingly to say baffled. The AI - Prosper- approach to her didn't make her feel much better. Though neither bad, it was just that the woman wasn't sure how to react to the AI. She was even slight irritated that it called her ma'am. Though she had managed to recover from her dizziness, her irritation and bad taste in her mouth didn't make her mood that much better.
"Just keep silent and watch for hostile movements."
She half sneered to the AI. Normally she would be more friendly, but it was an AI. Then that meant that she wouldn't need to worry that it would turn against her, right? No, she had no time to think about such trivial matters. Whispering the lyrics of a song, she hoped that she could drive the thoughts away.
Noticing that there was an alien that offered his support, Leonie blinked once. Its name was Norb, but she wasn't sure if she should take the creature serious. It had something adorable, but the woman wasn't in the good mood to make jokes. She just wanted to get out of the mess. Glancing at the weapon that the alien, Norb, held up Leonie felt the need to kick it. Half closing her eyes, she would keep her foul mood in check. The mentioning of a plasma weapon after her last experience with such weaponry just didn't make it all better.
"I doubt this will be a good day."
She muttered underneath her breath as she glanced at her right to keep an eye on movement. If her 'luck' was going to keep going like it had been going on so far, then she wouldn't be surprised if the enemy forces would decide to use their current location as a dropping zone.
Instead of such a thing, something else happened. Glancing over her shoulder, Leonie listened to the man that introduced himself as Martello. Turning half around, Leonie tried to flash a smile as she would nod back to the man as he spoke to her :
"We'll listen to any orders either of you have for us."
Wasn't that not just great? More people that put trust in her. No, it wasn't great. Not at all! Fuck, it was just making everything worse, Leonie reasoned in silence. They were going to listen to her ordering them around? Her heart skipped two beats as she realized what that meant. Biting her lower lip, she didn't want it. None of this shit. Where was dad? Was he okay?
"Fucking hell man... I just want to go home now."
Leonie thought to herself as she tried to keep her thoughts hidden and hold up a calm attitude. Whispering the lyrics of a song, in order to drive away the pestering thoughts that made her feel only more miserable, Leonie didn't care if it was really old-school music.
"We fight to live, we live to fight. And tonight, you'll hear my battle cry. We live our lives on the frontlines. We're not afraid of the fast times"
Noticing that Nikolia was walking forwards, Leonie gave a short command to the militia to follow him. Her gaze moved briefly at the others. Hoping that they wouldn't give any trouble and provide help, Leonie wished that the leadership wasn't with her. It would've been so much easier to let somebody else deal with the responsibility. She had already enough on her mind! Silently following Nikolai, Leonie tried to stop thinking about home. Who could even say that she had still a home? Perhaps it was already de--
"Hm?"
Stopping, Leonie listened to what radio of Nikolia told them. Lowering her rifle for a moment, the woman gritted her teeth.
"Damn it..."
Mumbling, Leonie narrowed her eyes. Eyeing the buildings, she thought of something.
"Okay, listen up people... and others."
Slight raising the volume of her voice, Leonie would turn half around to be able to look at most of the company.
"I'd be willing to bet that if we don't back down. You and I will be the ones that are holding the victory at the end. When it's over, we can say, "Well done". But not yet, 'cause it's only begun. So, pick up, and fight with me, we're the only ones. To fight this thing, until we've won."
Just as she ended her small speech, Leonie realized something. Had she just... Not important now!
Then the woman glanced first over at Martello.
"You and seven others move up at that building. Try to keep cover and not expose yourself."
Using her left arm to point at the building at the left.
"Hold up and don't fire unless you see something suspicious."
Her tone was calm and sounded confident, much to her own surprise as she didn't feel that confident.
"Five others and you,"
Leonie turned half around to glance at Prosper. She paused as she had already forgotten the AI's name,
"try to blast any fuckers up. If possible try to draw their attention first as opening. Move up in the other building."
Licking her lips, Leonie's voice gained a grim tone.
"The rest? I suppose that we got to welcome them. Take cover and don't fire unless you get a clear shot or until shots are fired! Best if we don't need to get into a brawl because we wasted our ammunition. Get moving!"
Leonie instructed.
Jogging to a vehicle, Leonie would crouch and press her back against it. Checking if her weapon was off safety, she wished that they had a sort of communication. The quick made tactic was just that she hoped that with the people and the AI in the building at her right would draw the first attention. Then those at the left could use hopefully an opening to finish some and she and the others on the street taking care of the others. As she seemed calm, her face was slowly losing color.
"I wonder..."
Biting on her lower lip again, Leonie wondered if she should make a prayer. Hopefully dad was safe. And if he wasn't...
Then there was a fat chance she was going to meet him later. A thought that made her want to just give up. Biting harder, Leonie tried to focus on the current situation.
"Okay, stay calm. Any moment..."