Fluffy
Guest
Original poster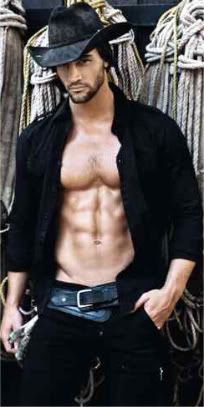 Leon rode upon horseback to a town that needed his help. This town was dusty looking, but still in his sights. All this travel had caused him to run out of water, as well as food, so he was relieved to see a place that would provide him with it. Washing up didn't sound like a bad idea, either. The sun was merciless, his body slick with perspiration underneath his button up shirt. His black jacket was taken off once the frigid night was over with.

Around his neck was a bandanna, designed with unfamiliar symbols and colours of black and gray. It symbolized the organization, or cult some call it, that he was involved with. Days after he was born, he was chosen to join this band of gunslingers. Once he hit age seven, he was to never see his family again. He wasn't even sure if Leon was the name he was born with...

All he knew, is he had a mission. As to why he was sent by his lonesome, he didn't know. He hoped that more people would join him, because this job seemed too great for him to handle by himself. They were dealing with supernatural creatures here, and lived only to stop them. They were soul collectors for the Devil, however, the gunslingers didn't quite know where these harvested life forms went to. What disturbed everyone the most was the grotesque image these collectors caused to the mortal bodies. It has scarred observers for life, even driven some to suicide. This madness... It had to end.

Leon rarely even smiled, or laughed, because he's been stuck with such a serious position in life. One could say he was just downright emotionless. Some of his allies found the fun in their assignments, even took pleasure from it. To Leon, there was nothing worth grinning about, even if they were the saviours. He taught himself to stare at these issues with a straight face, because emotion was weakness, no matter where or how you directed it.

The cowboy and his horse stopped at the entrance of the town so he could confirm it was what he was looking for. 'Welcome to Ethaia' was painted on a wooden sign; exactly what he was looking for. "Can almost rest, Dixie," he told his brown steed. She snorted in response, as if she understood exactly what he said, and then began walking again further into Ethaia.