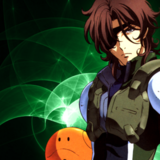 Gundam Meister
Original poster
Roleplay Invitations

Not Taking RP Invites at this Time
Posting Speed

A Few Posts a Week
Writing Levels

Adept, Advanced, Adaptable
Genders You Prefer Playing

Male
Playing Style- Passive or Aggressive

Aggressive in case of GM'ing passive in terms of Playing in someone else's roleplay
Favorite Genres

Mecha, Superhero, Anime, Adventure, Magical
Genre You DON'T Like

Yaoi, Romance, Furry, Yuri, Smut
The year is 2018 a.t.b. / Revolution Year 229-230 December...Emperor Richard Von Britannia has passed on...leaving Princess Harmonia La Britannia on the royal throne among large descent from the nobles...She was originally twentieth in line to the throne at the time of her ascent. Emperor Richard in his high throne in the Imperial Capital Pendragon chose to pass it along much down the line after Crown Prince Kyle Don Britannia was caught in affair with a eleven woman. Scandals have broken out through the Empire as the seventeen year old empress takes her seat on the throne. Many still view Prince Kyle as the rightful ruler though him himself gave her his blessing. Backing her is the old loyalist faction of Richards. A sturdy group of strong noblemen from Britannian's heartland. Prince Kyle's beloved younger sister likewise has his support as well which brought in the Progressive faction seeking to advance Britannia into a new era.

However...among the crowning ceremonies, and preparations there are whispers going among the military personnel, and nobility. Planned coups, leaks, and unrest in the citizenry. Though unions hold little power in Britannia due to Imperial rule being absolute the citizens still back, and make many of Britannia's raw materials. It is the people who man the armies the Emperor sent to take Japan. And they are the same ones distrusting further abuse by their new empress as kind as she is she is inexperienced. Though due to a ceasefire The European Alliance has ceased hostilities with Britannian Occupational forces in Spain, and France. Britain, Scotland, and Ireland remain under occupation under General Bradley Hanon. These citizens are gathering in large numbers more frequently. Riots are forming and while the knights of the round have managed to forcibly quell things from going out of hand. It its these citizens who now are making for a push to lessen the noblity's strangle hold led by Henry Long. A manufacturer of steel in northern Britannia though he is not a noble he is wealthy enough. Coming up from a horror story in the slums of the worst areas of Britannia Long is a living legend even to those who do not support him. He rose, and became a king pin in economics even at one point attending to a crisis in the name of the late King Richard.

Among the nobles things don't seem to be fairing better many nobles view the new empress as incompetent, and a liability. Supported by even some of the Knights of the Round these nobles are secretly arming themselves. Preparing for a possible rallying call...war is coming it is inevitable be it in the capital, or across the whole company many nobles are plotting to take a hold of power in this new vacuum. It is on the west coast that this sentiment is the strongest. Many of the Britannians there dislike that they now have to trust in a new child queen put into power by the will of the late Emperor due to scandal, and in fighting between his oldest children. Knightmare brigades are secretly being made fueled by veterans of the Japanese campaign, and even some from the nobles who fought in Europe.

Things are becoming clear...civil war is being ushered in...whispers...hate...and anger fuel the fires. When things come out what will survive? A whole Britannia...or a lesser one?

===

Hello everyone this is going to be an alternative universe roleplay revolving around the Code Geass Universe. Lelouch, and crew won't be around for this roleplay this will be purely done with player made characters using canon, or semi-canon Knightmare frames. You may feel free to request custom units if you're a knightmare pilot, but I may restrict some depending on what are asked for. We will (all) be playing the Noble Faction seeking to overthrow Queen Harmonia La Britannia off her throne. If the above is worded poorly, or you don't understand basically a young princess has ascended the throne after her father's death. The Prince marked with scandal chose to put his sister on the throne for reasons only he would know. His immediate younger siblings are all embroiled with in fighting further weaking their unity. You may play a noble, a soldier (likely an elite if you want a major part in the story, or at least a talented soldier), or a knight of the round/noble's knight. The overview of the roleplay will be a three way war between the three factions for control of Britannia. The citizens will rise up shortly into the rp due to a harshly put down riot. A syndicalist uprising seeking to 'break their chains'. The current knightmare generation goes up to six maybe some early sevens. Custom/High spec suits like the Lancelot, Galahad, Guren are all going to belong high ranking pilots, or knights of the round. Things like the Mordred will only belong to a knight of the round who would join us, or a player who is able to claim it proper if they capture its pilot later. This is because there is no logical reason for the Britannians to have the Lancelot in the hand of some backwater noble with little combat experience.

The Britannians currently control territory roughly equivalent to R2 minus Russia, and France. Spain is currently under control half, and half due to the ceasefire.

If you have any ideas, or questions you want to discuss you may feel free to ask.