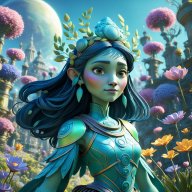 Creator of Worlds
Original poster
DONATING MEMBER
Invitation Status

Not accepting invites at this time
Posting Speed

One post per day
1-3 posts per week
One post per week
Online Availability

Everyday
Writing Levels

Intermediate
Adept
Advanced
Adaptable
Preferred Character Gender

Male
Female
Genres

Fantasy, Modern, Magical, Sc-fi, Horror, Steampunk, anything really


A light laps at the edge of your conscience as the darkness is lifted from your eyes. You appear to be in a workshop of sorts, cogs and steam engines are strewn about the benches. As you take a closer look you see a masculine looking woman with medium length ringlets wiping her burly hands on the front of her apron. She notices you suddenly and walks towards you. The woman begins to speak in a soothing tone.

"There was nothing but a vast silent void before you came here. Your memories of who you once were are fleeting and few. Please understand, every person who comes to Calces, has a purpose," She paused then for a moment, "This place is not a purgatory, by any stretch of the imagination. No, it's place among the many dimensions which make up this universe is one of enlightenment. Forgive me, I have not properly introduced myself yet, my name is Judeth Harbourne, I am the Master Clock-Maker in our continent of Calces. You see, I craft magnificent vessels just for the new souls, like all of you. I suppose you have noticed how translucent you appear, eh? Well, I can fix that right up!"

Judeth began to search about in a satchel off to the left before speaking once more, "Now, in my recent travels, I have collected and repaired fifteen specimens for you to choose from. I have a variety of hearts to embue your soul matter into, than we can move onto putting that heart into a clockwork body of my design!" She than grabbed up the satchel and hurried towards the group of souls.
"Please, pick your heart, it will decide what life you will receive in the world of clockwork." She holds out the bag for you to take a heart.

​
Last edited: