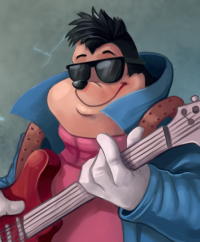 The Janitor Bear of Iwaku
FOLKLORE MEMBER
Invitation Status
Writing Levels

Give-No-Fucks
Adept
Adaptable
Preferred Character Gender

No Preferences
Genres

Horror, Modern, Modern Fantasy, Multiverse/Panfandom, Mystery, Paranormal, Scifi, Survival
Junko squinted at the girl before her, wondering if she had not just launched into speaking another language. She heard some words she recognized, such as "king" and "bloody," but putting them all together like that might as well have been gibberish to Junko.
She let out a deep breath, waving it off.
"... Don't worry about the Ultimate thing, I get a little carried away sometimes. Not sure what the heck you're talking about, but, hey, you're a queen or something? I can dig it. The queen of fashion and the queen of... uh, rollerblading!"
"... Anyway."
Junko smiled warmly, desiring to move the conversation along.
"I kind of was hoping for a method that was, you know... easy. Or understandable. I think what you mean to say is... it's not a method I'll probably be able to use. Bummer."
Junko sighed.
"Ultimate Bummer."
But then, a new voice came from behind Junko.
"Excuse me."
Junko turned, eyeing the new individual. Bald and wearing simple garb, the man had pointed ears like one would expect of an elf.
"You were asking about ways to travel to other worlds? You may just be in luck. I know of a reliable method."
"S-Seriously?"
Junko happily clapped her hands together, taking a leap toward the elf as if she was dancing.
"My name is Junko Enoshima, Ultimate Fashionista! I can pay you with the clothes off my back!"
The elf smiled.
"I promise it will only be a meager sum. Please, come this way."
He gestured down the street, which Junko was happy to follow, leaving Miko totally forgotten.
@darnerdemons
​