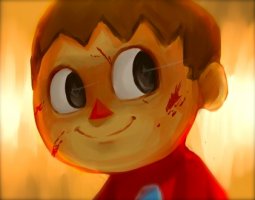 Hi-def
Original poster
LURKER MEMBER
FOLKLORE MEMBER
Preferred Character Gender

Male
Genres

Fantasy, Horror and Sci-fi. I'll try basically anything though. I also love strange and unusual RP genre concepts. Different is good!
Character Quotes
Memorable things your characters have said IC in forum RolePlay games. It can be something epic, funny, weird, clever. Whatever. They can be actual quotes OR Mental quotes.
Here are a couple from my recent characters.
​

Captain 9lives
:

"While I would love to compose this letter myself." He said shaking his wooden stump of a hand at her "I am indisposed."
Creed:
"I'll take three poached eggs with a side of bacon and sausage. An english muffin, well toasted, and some hash browns." The waitress turned to Helaine, but Creed wasn't finished "Also, a short stack of those buttermilk pancakes, no make that a tall stack, and for desert a slice of blueberry pie and apple pie, with vanilla ice cream."
Cameron Green:
They were everything that Cameron, and the others, were not; Good Vs Evil. If he didn't feel righteous before he sure as hell did now.




What are some of your most memorable Character Quotes?
​