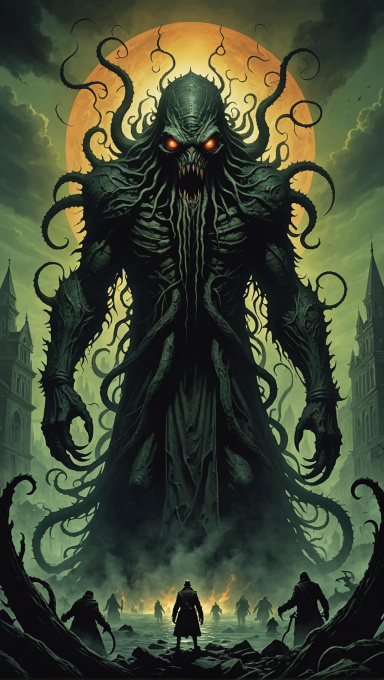 Waiting for Wit
Original poster
SECURITY DEPARTMENT
FOLKLORE MEMBER
Invitation Status

Looking for partners
Posting Speed

1-3 posts per day
Multiple posts per week
One post per week
Slow As Molasses
Online Availability

On fairly regularly, every day. I'll notice a PM almost immediately. Replies come randomly.
Writing Levels

Adept
Advanced
Preferred Character Gender

Primarily Prefer Male
No Preferences
Genres

High fantasy is my personal favorite, followed closely by modern fantasy and post-apocalyptic, but I can happily play in any genre if the plot is good enough.
There are few things more horrible than waking up at the bottom of one of the deepest cracks in the world, where even the sunlight only dared venture for a few brief hours a day during the peak of summer. It was the kind of place where people never went. Even the animals rarely ventured into places like this, where the roof of dirt that had been placed over the Old World caved in, and wild strains of magic drifted in between the ancient structures that still resisted the ravages of time. None ventured here. Not unless they were insane, suicidal, or had been thrown off the top of the cliff by a gang of furious criminals.

Of course, Tristan hadn't actually seen the event take place, but he didn't need to in order to know that was exactly what had taken place. For one thing, there were very few other individuals who would think it was a good idea to throw a living person off a cliff. For another, it was still possible for him to watch the event transpire, through the eyes of a bird that could witness, and occasionally move through, the past and future.

The gang had wanted him, whoever he might be, to land alive. Otherwise they would not have ventured so far down from the upper parts of the city to conduct their throwing. But that did not mean they wanted him to survive the fall. No, they wanted him to land broken, beyond repair, in one of the exposed parts of the old world. They had wanted him to die one of the most cruel deaths they could imagine; death by magic.

Tristan had no particular desire to watch what was about to occur. There was nothing more painful than when magic invaded the body, creating and destroying and replacing at its own whim. He would know. He had experienced it himself. In a way, he was one of the lucky ones. He had lived, even if the magic had stolen his human form, giving him the body of a falcon. Most people who contracted magic died long, long before the process was close to completion. What was worse, even if this man survived the process, his body was broken. He would die moments after the wild magic released his body from its insidious grasp. No, this man's fate was all but sealed.

But it wasn't completely sealed. Tristan knew this, too. He perched on a nearby branch, ruffling his feathers. The magic always took something from those it infected. From most, it took their life. From some it took their senses, their emotions, their courage, or their fear. These would not aid the man. But from others, others like Tristan, it took their body. Tristan had lain dying when the magic had found him, beyond all hope of a cure. The magic had taken his human body, and given him a perfect bird form in its place. It had, in a way, healed him. And, as Tristan watched, eyes peering into the future, he saw as the man's broken body began to right itself. Whatever the magic was taking, the wounds were vanishing along with it.

If the magic left both mind and life intact, it would give something back. Something that might make life a little better now that the infected one would have to life far from any vestiges of human civilization. Magic. There was no way of telling what the magic might give in exchange for what it took. Tristan had been given time, and the ability to mold his body temporarily to his will. But sometimes what the magic gave was deadly. The man's chances were still small.

Yet Tristan settled to wait. It was a whim, nothing more, but he had learned that all he had left now were his whims, and there was no point if he didn't follow them. He waited in that little space, flying out occasionally to hunt, or forage on the ground for sweet-tasting herbs and roots in a half-human form that was easy to create, and easy to maintain, as the days slowly passed. He waited for the man to wake, to see what he had lost, and what he had gained. If he was still sane, he would know what he had lost. People always knew. Then it would be a matter of seeing if he could survive without it.

Tristan knew when the man was going to wake. His eyes had seen it, when he was far away, stubbornly pulling at a thick root that was hiding a small animal's stash of treats. Tristan turned and ran, transforming fluidly between bird and half bird to negotiate the sharp descents and narrow passageways that led back to the crack. When he got there he moved forward, crouching over the man.

It didn't occur to Tristan that there was indeed one thing more horrible than waking up in a place only the dead had any right to visit. That was waking up in such a place with the half-bird, half-human face of a curious shapeshifter only a few inches away from your nose, wide orange eyes unblinking, and wicked curved beak clicking rhythmically in curiosity, but which could be easily mistaken for hunger.

At least, it didn't occur to him until the man woke.