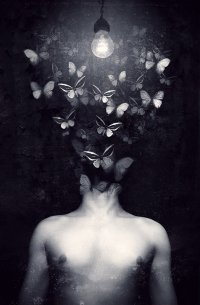 Anti-Hero
Original poster
In the small Nevada town of Treeage (Triage) the local courts have done something no Changeling organization has done before. Safety. Haven. A shield erected with the joined Wyrd of every changeling in the city to bar the Gentry from entry blocking off all but two sanctioned entries to the Hedge. All of it was made possible by the current Autumn Queen, Aurora, who has shocked the community with her second act of authority after the shield, the abolishing of all Courts.

The resounding shock wave has sent the Summer Court into a tailspin, whispers of assassination and rebellion on their lips. The Spring Court scrambles to maintain order, all uneasy with the sudden change of rules. The Winter court has held back its position, biding their time while they watch the streets of their city bristle with barely restrained hostility. The Autumn court holds true to Aurora, and have taken to soliciting the unaligned Changelings in the city for support. The more who join the Oath, the stronger and larger the shield becomes.

This was the situation last Friday.


On Tuesday the 15th, in June, the body of the former Summer King, Garrick Stonebone, was found mutilated in a back alley. The murder weapon was a dagger of cold iron, lodged in his chest, but perhaps most gruesome was the absence of his heart...carved from his still warm body sometime in the early dawn. Now nothing is safe. The Summer Court has taken up active hostility against the Autumn court which is striving desperately to uncover the secret behind Stonebone's murder. The Spring Court has taken casualties and is divided on sides as active warfare erupts between Autumn and Summer. Winter has all but vanished, scuttling back into their safe havens and holes, watching and waiting for the smoke to clear. The shield is fractured, but still stands, but as more changelings in the oath die, it grows weaker. Aurora is trying to maintain order until the next Autumn arrives and the oath can be renewed, but she is fraying, her support wavering, and strangers have answered the call of such momentous Lost politics, arriving in droves to Treeage to join the fray, observe, or manipulate the chaos to their own ends.

Some have gone missing, giving rise to the rumor a Loyalist or more have set up shop, using the infighting as cover to smuggle out unsuspecting Lost to their former Fey masters.

No one is safe, no one. And as Summer wanes, the conflict has intensified.

Which side will you choose? What impact will you leave?

Will you resist? Or will you commit...to the Joining?



The idea is to loosely base this game off the WoD system "Changeling: The Lost" There will be no dice rolls associated with this game, and the sheets will be used as guidlines to measure abilities, contracts, and inventory.

Anyone interested in playing? I need at least five or so to get this off the ground.