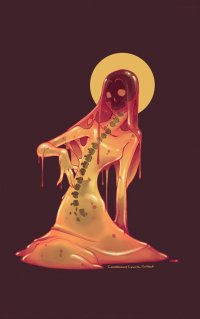 A Very Hostile Pudding
Original poster
Invitation Status

, ,
Posting Speed

1-3 posts per week
Writing Levels

Give-No-Fucks, Beginner, Elementary, Intermediate, Adept, Advanced, Adaptable
Preferred Character Gender

Male, Female, Transgender, Futanari, , Primarily Prefer Male
Genres

Cyberpunk, Horror, Bizarre/Surrealism, Paranormal, Romance, Fantasy, Sci-fi, Supernatural, Grimdark.

It is good to hear from you, friend.

I'm glad you've decided to take me up on my offer.

I assure you the evening will be enjoyable.


For at least one of us.


Do you like games, friend?

Are you a good investigator?

How well do you know your fellow dinner guests?




Shall we find out?
​
---
Welcome to Chameleon, a horror mystery roleplay set in the 1880s.

You live in a decent sized town in an English-inspired forest. The name of the town and the exact location are not important. What is important is that your characters should all know of each other but may not have spoken very often. I'll leave that up to you.

A few miles outside of this town and nestled even further into the forest is Nettlewood Manor, popular in hushed conversation for its many attached rumors. The lord is a recluse and has not been seen in many years. People swear the place is haunted. Others will mutter that Sir Bennett is a vampire or another such silly beast of legend. The rumors, of course, are fueled by the odd disappearances that happen from time to time.

But for all the gossip and the ridiculous chatter, the townspeople can all agree on one thing: Corwin Bennett is incredibly rich. So when you, the blacksmith or the baker or the midwife or the drunkard, receive an invitation to the lord's estate with the promise of dinner and a proposal 'you shan't refuse' well...

Curiosity, if not greed, is a powerful thing.


---
Not much knowledge about the 1880s is required to join this roleplay. All you need to know is that ladies wore bustles to make their butts look big under their dress and men wore suits and loved top hats.


Now, there is a catch to this roleplay.
I've chosen you all as players because I know you'll be able to follow this rule well.

At some point in the roleplay, you will be playing the villain.
When and how will not be revealed to you until the appropriate time.
There will be a lot of PMing involved and I need your cooperation.

Aside from that, other things you should know:

There will be a lot of scheming and secrets and I encourage you as players to scheme with each other in secret and to have your characters scheme as well.

Your characters will probably die in this roleplay. So sorry~

This is a mystery roleplay with psychological tendencies. Let's keep the atmosphere at that, shall we? Let's not have super human, fearless characters deflating the fun balloon.


I think that's everything. If you have any questions, leave em below or PM me.

I'm not going to put up a character sheet template. Give me as much or as little information as you want, as long as I know your name and appearance. You can also PM me your application if you want to keep seeecretssss.

Let's aim to have these characters up by the 17th.
Last edited: