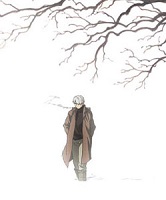 Invitation Status
Posting Speed

Multiple posts per day
1-3 posts per day
Online Availability

Usually the morning
Writing Levels

Adaptable
Preferred Character Gender

Male
Female
Transgender
Futanari
Primarily Prefer Male
Genres

Fantasy, SciFi, Modern, Magical, Horror, Dark Comedy, Yaoi, Furry, Gothic, Robotics, Action, Adventure, Mystery, Crime, Faction, Romance, Yaoi/Yuri etc. Fandom - OC x OC, Canon Character x Canon Character, Canon Character x Crossover Canon Character

[tabs][tab=Overview]Orion Ataxia is the newest leader of CATALYST one of the main rebel groups in the country of Exena. He's code named Frostbite by the citizens of the city; a play off the name that Exena's government gave him in an attempt to frighten the citizens 'Stalking Frostbite'. A recent addition to his group, a neko, will join CATALYST on their newest mission. It's just too bad that the government has more hidden secrets than first thought.
World Summary
The government of Exena has taken control of the planets weather. Now they are frightening their citizens into believing that there is a disease spread by snow. But the government is up to more than just that. A secret force has been spreading out through the city in an attempt to keep anarchy down.[/tab]
[tab=Cast List]Name: Nikolas Skye Borke
Nickname: Goes by Skye; He likes it better
Age: 20
Appearance:
He doesn't actually wear glasses or have a glowing heart, but the rest is correct.
Species: Neko (1/2 cat, 1/2 human)
Personality: At first, he's very watchful and untrusting, but he is very protective of those he becomes loyal to and decides to trust. He's very calm in most situations, but when put under emotional strain he can sometimes panic and overreact or try to avoid the situation.
Other Misc. Info: He has a scar across her back that she doesn't like talking about. He also had a small necklace that means the world to him and he trusts very few with it.
Played by:
@DJae Writer Chick
Name: Orion Ataxia
Code Name: Frostbite (Stalking Frostbite – Government name)
Age: 26
Appearance:
Species: Human/Unknown
Personality: Orion is the charismatic leader of CATALYST. He tends to be quiet. He's patient, but his temper can come out in explosive bursts when his enemies hurt his people. He has a shy personality when not coming up with missions or on the battlefield. However, his ability to lead is obvious. On the battlefield he is confident and wary. Off it, he believes in giving second chances and trying to ensure that there are as little casualties as possible.
Other Misc Info.: He's shy about his face and tends to wear masks that cover the lower half while on missions. Besides self-esteem issues, this is also a precaution to make sure the government doesn't know who he is.
Played by:
@adabotcon
[/tab][/tabs]
Last edited by a moderator: