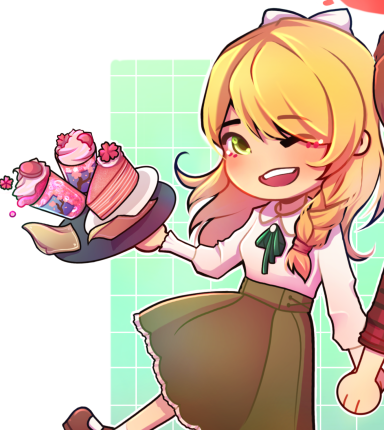 touch me, midas, make me part of your design
Original poster
COMMUNITY LEAD
COMMUNITY DEPARTMENT
DONATING MEMBER
FOLKLORE MEMBER
Invitation Status

Looking for partners
Posting Speed

One post per day
Multiple posts per week
1-3 posts per week
One post per week
Slow As Molasses
Writing Levels

Adept
Advanced
Adaptable
Preferred Character Gender

No Preferences
Genres

Romance, modern, high fantasy, comedy, post-apocalyptic.
Kuo Mika always counted her blessings.
Life was too short to spend moaning and bitching about everything that went wrong. After all, it was the nature of humanity itself to keep kicking itself in the foot, tripping every once in a while to remain humble, right? Sometimes, you just had to get up, brush yourself off, flip the bird at life then dye your hair a new colour to cope. Soon enough, peace and satisfaction with the world followed. She was lucky, anyway. She had her own business, which actually turned a decent but definitely humble profit, one that she ran with her beautiful, gorgeous wife-to-be. She could afford to put food on the table, mascara on her lashes and expensive BDSM harnesses on her curves. Life was good.
This, however, was not a blessing.
In her chunky, black heels, she'd managed to avoid stepping on Genmaicha's tail just barely, only realizing that the grumpy old lady had curled up for a nap right underneath her favourite prep counter in the kitchen, only a bit of her fur sticking out. In avoiding her inconvenient furry little grandma, however, she managed to completely misstep, dropping the large bag of aromatic coffee beans on the floor, making it completely burst open. If the café hadn't smelled like coffee earlier, it certainly did now, the overwhelming, aromatic beans scattered all over the newly mopped tiling. Genmaicha, unaware that her positioning had caused the entire mess, barely moved, even when pelted by a significant amount of beans. That nap was too good to escape willingly, it seemed...
Sighing deeply, Mika pressed her well-manicured hands to her face, her palms massaging her jaw. "NooOoooooOoooOOooooooooooooooo-" she whined, desperately trying to be optimistic but also hating her life. Before moving on to transporting supplies into the kitchen from the pantry, she'd sweeped and mopped the entire thing, so the beans were definitely clean, but.......
UGH. CLEANING?! AND SO MUCH OF IT RIGHT BEFORE OPENING?
Hearing Allie approaching, Mika threw herself at her, arms wrapping around her in a shameless display of affection, as if that would stop her from seeing the insane mess she'd made 10 minutes before they opened Café Gingerspunch for the day. "Good morning, my love, hello hello~" she purred, nuzzling her face against Allie's, "The kitchen will be clean as sooooon as I finish giving you your government mandated forehead kisses, I swear."
She placed the first of many morning kisses on her fiancée's forehead, while those precious coffee beans slept on the kitchen floor.
@Dusk
Last edited: