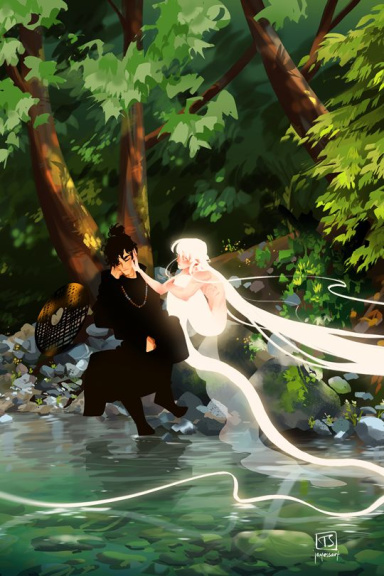 Chaotic Lawful
Original poster
SECURITY LEAD
SECURITY DEPARTMENT
DONATING MEMBER
FOLKLORE MEMBER
Invitation Status

Not accepting invites at this time
Posting Speed

One post per week
Slow As Molasses
Writing Levels

Adaptable
Preferred Character Gender

No Preferences
hi
Nemopedia = Super slow & adept - advanced. No romance. Prefers forum threads.
Writing sample.
Heya! I assume that you are on the hunt for a partner, which is good as I'm as well! Above you can find a super condensed summary of what a partner can expect from me. To put it into more words, I'm looking for a partner who doesn't mind waiting before I respond, but is also willing to gush and discuss plots with me on a not-so daily base. Sometimes I'm swift with my responses, other times I have to dig up bones. You can poke me if it takes too long!
Currently I'm mostly looking for more casual roleplays. Something lighthearted, something easy. I'm pretty much up for anything, except romances. Nothing against a little bit of romance, but I absolutely can't write a predetermined romance, or write with romance as a focus. I'm sorry if that is your thing! You will probably have to look elsewhere.
Anyway, onto plots. Just to give everyone a clearer idea of what I want to write and also to give a stage to a few of my roleplay itches. If you are interested in any of the plots, or just in roleplaying with me shoot me a
PM
!

Plots, Premises, Settings...
hi
Escaping Atlantis; cyberpunk
Atlantis is a prototype city located under the sea where prosecuted criminals are allowed to build up a new life. The city is well-known for making use of a controversial citizen points system that grades civilians on the social, professional, medical and political spectrum. With a chip implanted under their skin every breath taken and move made is registered. As one may imagine there is little privacy left for those who participate as they are essentially morphed to become the 'ideal' human. The more points are earned the more privileges they get and vice versa. Our characters are raised in Atlantis but are sick of the oppressing system and wish for freedom. They try to escape the city someway, somehow.

The Sea; another sea plot? Yes. Horror, thriller, dark fractured fairy tale
A small fisher's village has always used the story of the Little Mermaid as a cautionary tale representing the ruthlessness of the sea. For every possession taken from the sea a price needs to be paid and the sea always takes whatever is owed. With the decline of superstition traditions were soon lost to the villagers and the stories ebbed away into fairy tale. That until a strange creature was caught, humanlike, but with webs between its toes and digits and gills at their head. Taking the human back all precaution is thrown into the wind and so are the warnings of the elderly. The skin between the fingers are cut and the creature is given a name and forced on their legs, made to live amongst the men.

However the sea always takes back what it owes and a price needs to be paid for the life taken away.

The Forest; Fantasy, fractured fairy tale
Many myths and tales are told about the forest near the village. The most well-known of them all was of Alice, who entered the forest and fell down a rabbit hole to never return. Many feared to enter the woods, the children fearing the stories and the adults fearing whatever was lingering inside of it. When one day a stranger stumbles out of the forest the villagers are righteously suspicious. Tattered and weary, but strangely well-groomed for a wanderer the stranger claimed that they had lost their name within the forest.

Escape the Room; Super generic plot of people getting stuck in a game and trying to escape.

Harry Potter universe; Preferably set after the Hogwarts school years and not set in Hogwarts.

PM to ask me; I forget and this list will get too long otherwise
Last edited: